THERAPY? / THIRTY SIX STRATEGIES, Sub89 Reading
THERAPY? / THIRTY SIX STRATEGIES, Tuesday 14th April 2015 at Sub89, Reading
It's ten months since I last saw Thirty Six Strategies but that pails into insignificance compared to when I last saw Therapy? – that's more like decades. Oddly its Thirty Six Strategies who have changed the most since the last time. Original drummer Mobs has been replaced behind the kit, original singer Kirsty's spot is now taken by Marie Vockins and both of the guitarists have moved on too leaving just original bassist Ian Glasper. Except for tonight – original guitarist Neil Cox is back for just one show on a tour which seems them as the opening act for Northern Ireland's alternative metal / punk / masters.
Something of a confession now. I'm busy taking pictures of Thirty Six Strategies tonight, so much so that I don't really get to appreciate the band fully. Of course I have an ear out too and am pleased to catch a good number of the songs from their debut singles and album getting an airing tonight. They sound like a cohesive unit, DC influenced riffs, intelligent lyrics and well crafted catchy songs are the order of the day. New singer Marie has a strong voice and the band put on quite a show with everyone having their turn at the front of the stage. The assembling crowd seem to really appreciate their style  and based on tonight's performance I'd say they'd won over some new fans. Therapy? certainly seemed to love them, mentioning them in their thanks during the last song of the evening. Maybe next time I'll leave the camera at home for a change. In the meantime I suggest you check them out for yourself. Their debut album 'Strategy Three' is a great introduction and with another 33 stratagems to go they should be around for a while yet.
Thirty Six Strategies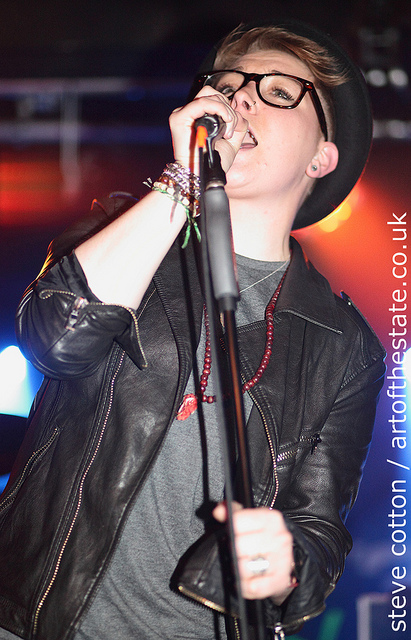 Marie Vockins from Thirty Six Strategies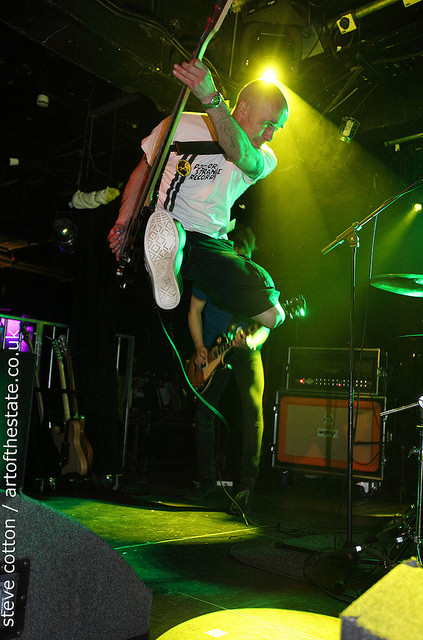 Ian Glasper airborne, Thirty Six Strategies
Therapy? kick off in fine style with a classic that gets the crowd going from the off. Singer guitarist Andy Cairns is in great form and bassist Michael McKeegan is smiling like he's having the time of his life. They keep the tempo up throughout their set only pausing at times for Andy to tell an anecdote. Like the time he was asked to help a friend choose the right university for his child with the choice being between Reading and Brighton. Brighton was chosen despite him referring to Reading as Reading On Sea and extolling the quality of its literary archive! Standout songs for me included a suitably manic version of 'Knives' which led to man in front of me to aggressively tap his own head when Cairns sings "Bad trip tattooed on my brain" plus a pretty head spinning version of Teethgrinder full of complicated rhythms and a relentless guitar. More accessible is Potato Junkie with its crowd friendly singalong line of "James Joyce Is Fucking My Sister". 'Trigger Inside' gets such a rapturous reception from the crowd I start to wonder (more like worry) how many of the crowd identify with the lyrics. A quick break at the end of the set followed by a three song encore including a blistering set closer of 'Going Nowhere' and everything finishes perfectly on time, everybody seems very happy with the set list. Big smiles everywhere on the way out.Therapy? nailed it.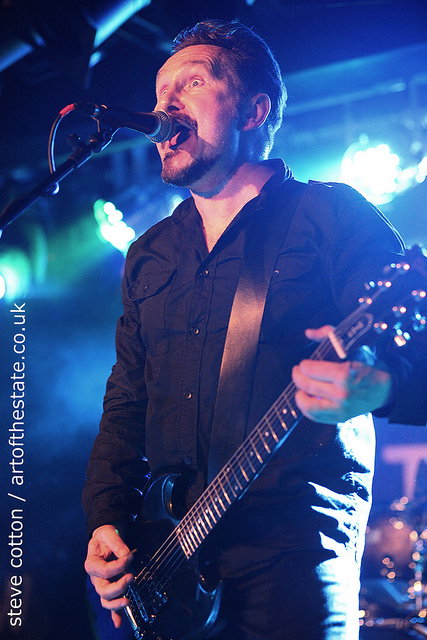 Andy Cairns, Therapy?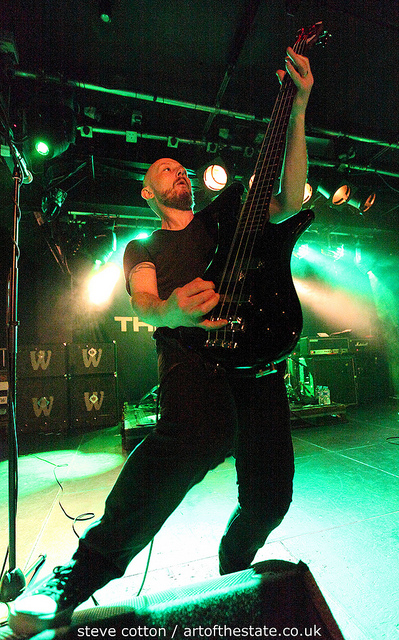 Therapy? at Reading Sub89