CHRON GEN / THE DEFECTS / VICE SQUAD / T AND THE MUGS, 100 Club, London
CHRON GEN / THE DEFECTS / VICE SQUAD / T AND THE MUGS – Friday November 4th 2016 at the 100 Club, London
It's great to see T and The Mugs join what is essentially a triple headliner at the 100 Club. Opening up is here is never that easy with a notoriously late arriving crowd but the strength of the line up means there's a decent enough audience for them as they start. They deliver a decent set of proper punk rock with plenty of banter (a bit too much in the case of one guy down the front who clearly has some issues). It's suitably raucous and rowdy and they fit right in on the bill.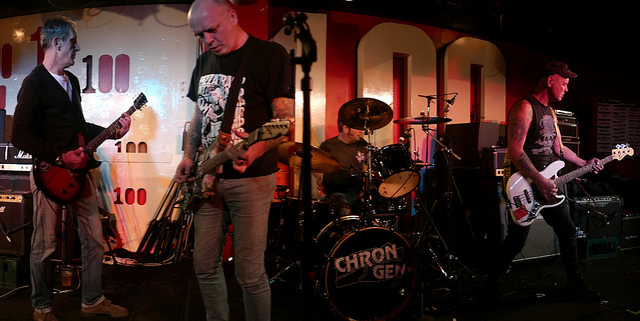 T and The Mugs
Vice Squad are up first from a trio of bands that rose to prominence in the early 80's. Nowadays they have a much rockier sound but they've still got plenty of punk rock roots and a decent DIY attitude. Guitarist Paul Rooney appears wearing black and white face paint (reason unknown!) while Beki Bondage is, as ever, front and centre of the proceedings as they kick off with the aptly titled 'Defiant'. The whole band seem to having great fun playing and run through a bunch of classics – both new and old equally memorable. 'Sniffing Glue', a more recent composition about life back in the day stands up well alongside the classics like 'Last Rockers' and 'Citizen'. Vice Squad played a blinder and there's still two more to come.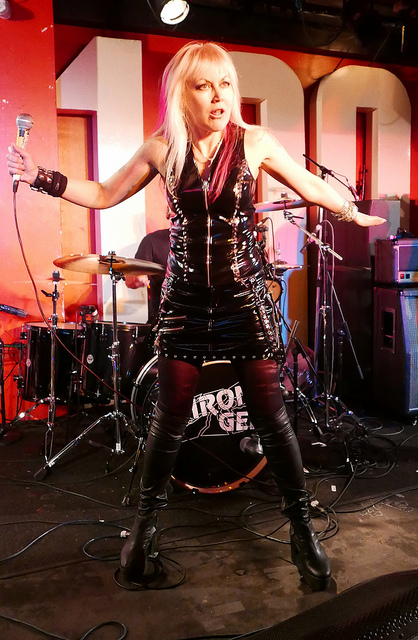 Beki from Vice Squad
The Defects are another band whose recent output is just as memorable as their early material. Case in point is opener 'Hill Street' – this band know how to write a chorus. Singer Buck is as affable as ever, confidently keeping the crowd entertained while they play songs off their ridiculously stuffed with great tracks 'Defective Breakdown' debut LP (Metal Walls, Survival, Head on Collision, Dance) before a cover of the Ruts "In A Rut' and the song with the singalong chorus that beats them all. 'Brutality' has everyone singing along with its refrain of "SS RUC" and some nifty pedal work on the guitar sound.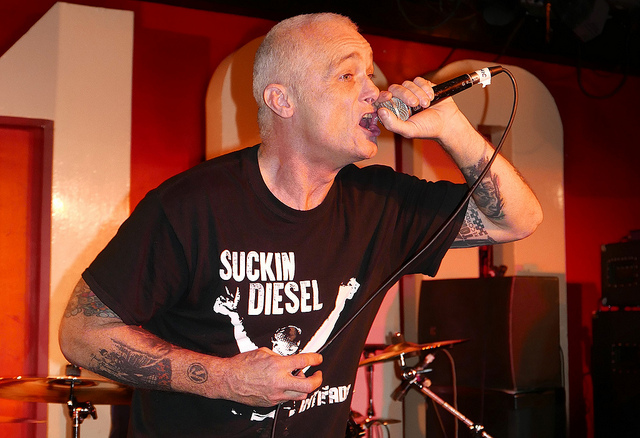 Buck from The Defects
Chron Gen kick off at a fast pace with a storming version of 'Lies' and 'Jet Boy Jet Girl' – mirroring the opening of their 'Chronic Generation" debut LP  and follow these up with 'Reality' before heading on to new material. Now I'll be honest here, I'm not a fan of the new LP – I've given it a real good go but it's just not my thing. I guess it's a progression but for these ears its too pedestrian and rocky for my liking. Time will tell what others think but I was pleased to hear 'Hounds Of The Night' being bang on the money after a brace of songs off 'This Is The Age'. It was great to see how much energy the band still had tonight and a slew of classics, "Pretend", 'Behind Closed Doors', 'Clouded Eyes' and, of course, the era defining 'Outlaw' left me feeling very happy despite them dropping my personal favourite 'Wasted Love'. What a great line up, hats off to them all.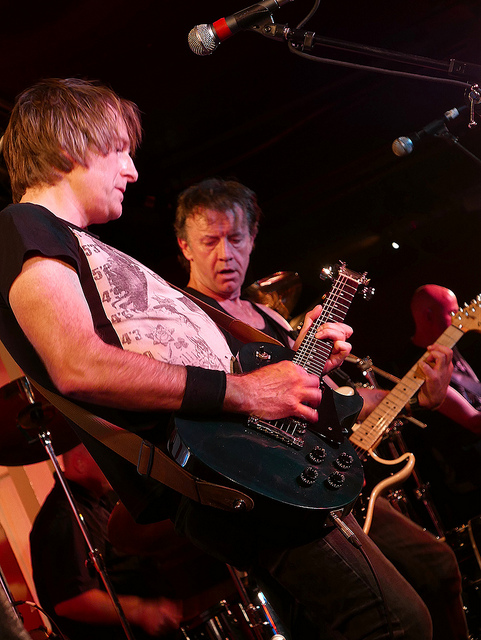 Chron Gen at the 100 Club