Bring The Paint Festival, Leicester 2022
Bring The Paint Festival, Leicester, May 23rd to May 29th 2022
May 2022 saw Bring The Paint return to Leicester's streets with the addition of 48 large scale murals which have really cemented Leicester on the map as a city with a reputation for attracting some of the best names in worldwide street art. Here's some of the most iconic works from both this years festival and previous years captured in late June.
Super A's take on the inside workings of two of Ardman Animations' most famous characters Gromit and ShaunThe Sheep will certainly be many people's favourite image. So familiar but look a little closer and you can see real animals inside the figures on the side of a three storey high mural opposite the car park in Pelham Street.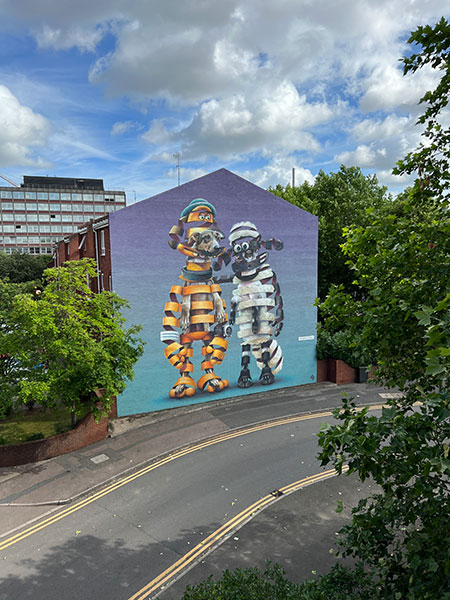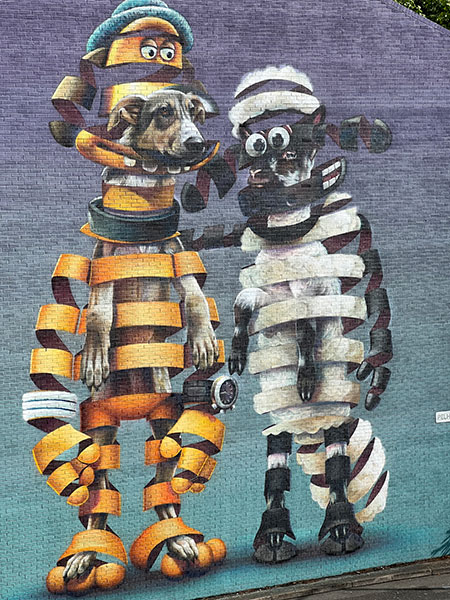 Nuno Viegas's work really nails the 3d effect set off beautifully against a bright yellow background and made the whole trip worthwhile on it's own. Proved a little difficult to photograph without cars beneath – an early start recommended to capture this one.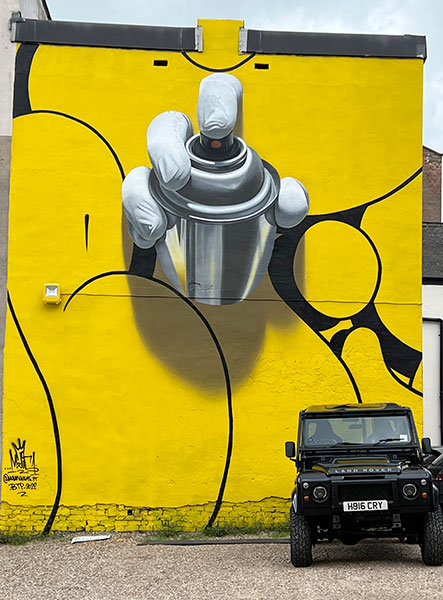 1UP aka One United Power, a hard to define pool of individuals based in Berlin who come together to create havoc can be found in a couple of large scale locations including this piece in Great Central Street. Of course, there's plenty of 1up tags and stickers to be found all over Leicester too.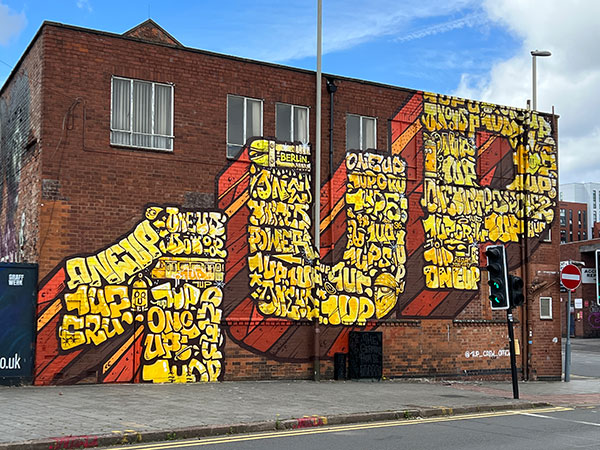 Church of Best | Ever's striking image of two skeletons can be found in the narrow yard of Brick and Beam and 'Impermanence' really shows the pair of artists skill in working such a confined location into a stunning and unexpected piece of art.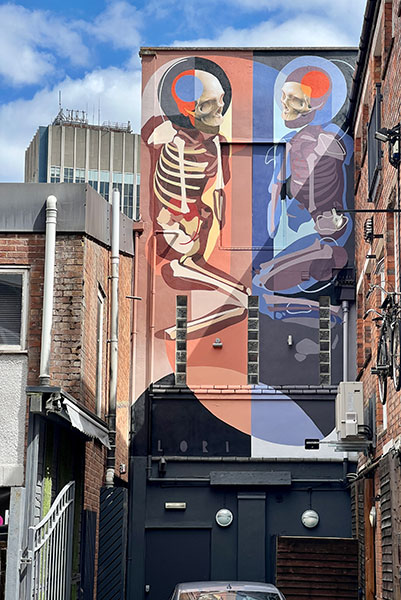 Voyder has an instantly unique and recognisable style and these two pieces painted directly onto a brick wall are great examples of his work. Part classical portraiture mixed with what seems to be wiping condensed water off the glass, complete with drips these spectacular additions can be found in Carlton Street.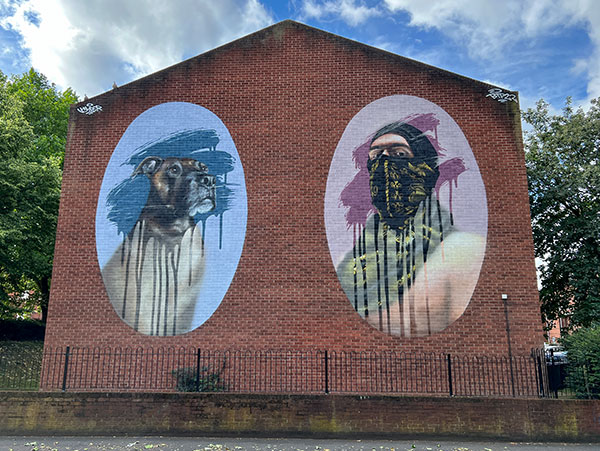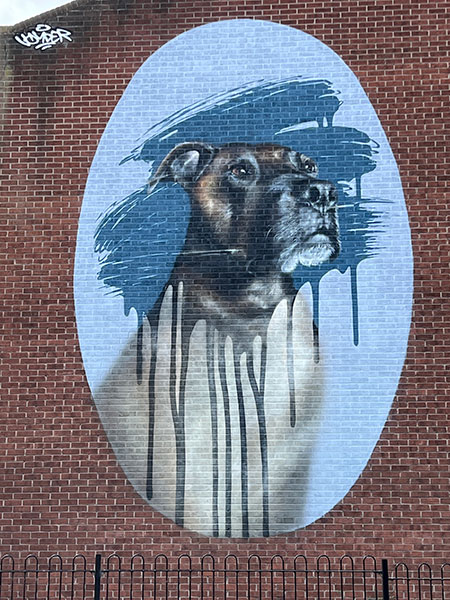 45 RPM's work can be found inside a car park / car wash and elsewhere…I hadn't been to previous incarnations of Bring The Paint so I'm a little unclear on what was new for this year but this first piece looks fresh out of the can.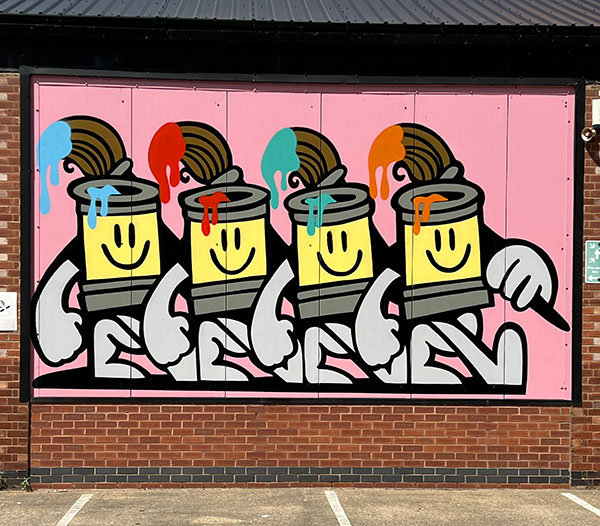 Nearby was this complementary super clean piece with equally vivid colours by Roo.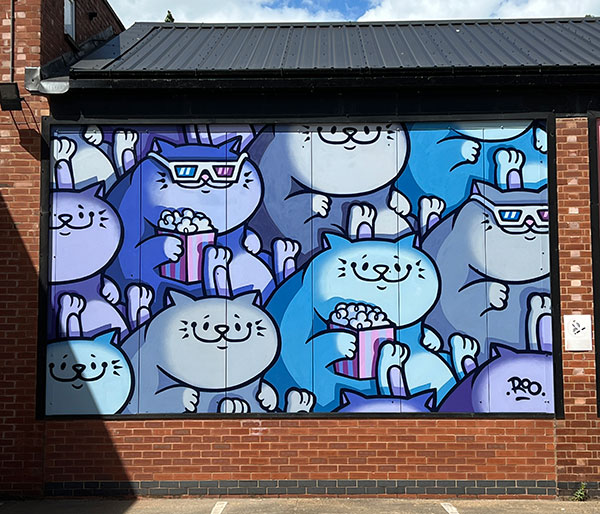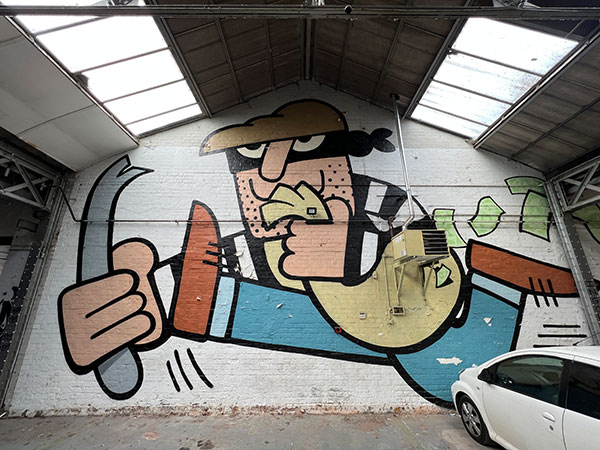 Flying Fortress brought his Teddy Troops to the streets of Leicester. He's been a long stay member of the street art / graffiti scene so it's great to see some of his work in the flesh. It was years ago I bumped into some at Dface's Outside Institute in Paddington. I think this piece was painted in a previous edition of Bring The Paint but it still looks super fresh.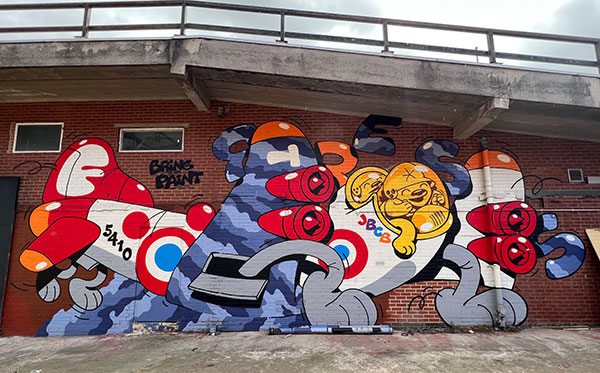 I'm already looking forward to what will hopefully be another edition of Bring The Paint next year. This visit felt like getting to know the streets and understanding what was new and what was already there took more work than expected. Next year I'll look to spending a lot more time in Leicester!