Banksy – Cut and Run show at GOMA, Glasgow
Banksy – Cut and Run – 25 years Card Labour
Announced at 12am on the 15th June on the Glasgow Herald website came the surprise news that Banksy has his first solo show for 14 years – and it's on already!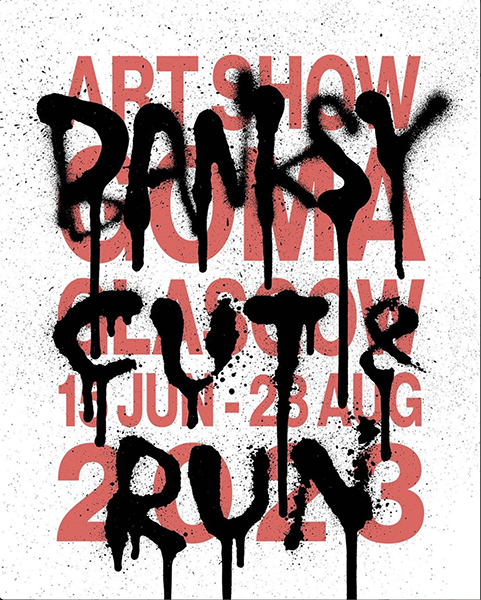 Details are still relatively scarce but here are the facts to date:
Cut and Run official website and booking links here.
An exhibition of stencils from 1998-2023
!5th June to 28th August 2023
Gallery of Modern Art, Glasgow
Admission: £15 Adults / £5 children / £10 Student, OAP and low waged / Carers free
Opening hours and conditions of entry – check the cutandrun website for the latest info.
Background to the show.
Banksy gave an exclusive interview to the Glasgow Herald ahead of the show. For the full interview see their website here.
Interestingly in the interview he provided his reason for choosing Glasgow – it's home to his favourite piece of art in the UK, which also happens to be a favourite view of mine every time I visit Glasgow.
A label on an exhibit reads:
'Welcome. If nothing else, you're going to see one masterpiece today – you just walked by it.
"For anyone who isn't aware – the statue out the front has had a cone on its head continuously for the past 40 odd years. Despite the best efforts of the council and police, every time one is removed another takes its place.
"This might sound absurd and pretentious (just wait until you see the rest of the exhibition) but it's my favourite work of art in the UK and the reason I've brought the show here."
This is the statue of the Duke of Wellington he is referring to: