Above got in touch to let me know he is has produced a new print to specifically help the homeless including a centre based right here in the UK. Read on.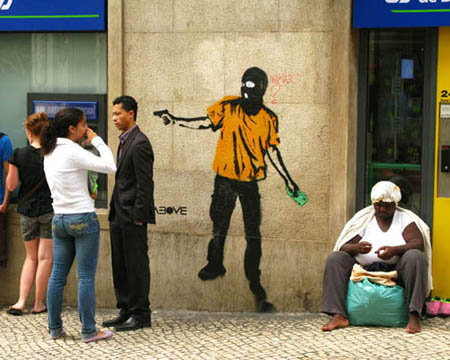 In a concept similar to "Robin Hood" I am taking an active role in helping those less fortunate. I am selling the "GIVING TO THE POOR" print at an affordable cost hoping to get as many people involved in this benevolent project as possible. 100% of ALL PROFITS will be donated to both these Homeless shelters. I have carefully selected these Homeless shelters because of each of their long-standing active role in the Homeless community. Each respective Homeless shelter stands out among others because they accept and strive to help those without a home regardless of RELIGION, RACE, POLITICS or SEXUAL PREFERENCE. Learn more about each of their specific Missions and Values here. E.C.S. SHELTER (http://www.ecs-sf.org/about/mission.html) and C.H.-CENTER (http://www.cardinalhumecentre.org.uk/editorial.asp?page_id=69)
PRINT INFO: "GIVING TO THE POOR"
PRINT SIZE: (61cm. X 50cm. / 24in. X 21in.)
IMAGE SIZE: (50cm. X 40cm. / 20in. X 16in.)
PAPER/INK: INNOVA ARCHIVAL WATERCOLOR PAPER / EPSON IRIS 100+ YEAR LIGHT FAST INKS
PRICE: *129.00 US DOLLARS. + SHIPPING (*100% OF ALL PROFITS WILL BE DONATED TO THE HOMELESS SHELTERS LISTED)
EDITION SIZE: 250, SIGNED, DATED AND NUMBERED BY THE ARTIST
LIMIT: 2 PRINTS PER PERSON.
PLEASE HELP THOSE LESS FORTUNATE AND GET INVOLVED HERE >>> http://goabove.com/main/