Who could have done this piece 😉
It's old news now but yesterday I went to take a look at the highwayman up on the roof of the Great Western Studios complex near Westbourne Park. The location of the piece itself is quality – it's situated between the snarled up elevated section of  the A40 London artery and the main rail line into Paddington (and clearly visible from both). As a high traffic spot to get seen there's few better locations (the fact that it was visible to anyone attending the Notting Hill Carnival is also an added bonus)!
Highwayman on the A40 'Westway'
There's some clever work going on here that may not be instantly obvious. First up the circle in the centre used to be the sign for the Great Western Studios (which are now relocating). It's been repainted to match the colour of the tower and coincidentally looks like a setting sun or moon behind the figure. The stencil itself neatly ignores the fact that there's a recessed window behind the horses head. That's a nice trick to pull off. The sheer scale is also something else. Whilst the figure and horse is similar to a Zorro image the face resembles more of a traditional highwayman – with the addition of a paint roller… On the reverse of the building a simple text slogan is painted in pink reading 'Live Fast, Drive Slow'.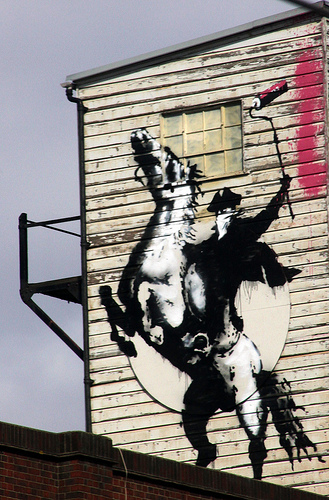 Highwayman (picture taken from the nearby rail line)