Lazarides Grifters show / Art Of the State the no.4 UK arts & culture blog?
I don't know what it is about my luck and the Lazarides gallery. The last three times I've been the gallery has been 1). closed (website opening times now amended), 2). first floor closed on a two floor exhibition and 3). on this, my most recent visit, the top two floors were closed on a four floor exhibition. Lesson learnt – call before I visit!
So I'd like to show you some photos of the Grifter's exhibition (especially as the street work accompanying the show has been excellent) but pretty much all I took was this one of Invader's excellent neon installation.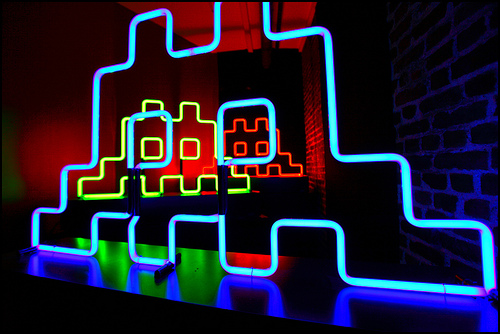 Invader at the Lazarides gallery
All is not lost, however, as the ever magnificent Wallkandy has captured all the main action inside and out.
In other news Art Of The State is up from last months number 10 to number 4 in the 'Top 25 UK Arts & Culture Blogs' list compiled by Manchester's Museums consortium's creativetourist.com site. Which is nice. The calculations involved sound very scientific – using Google's InLinks and Postrank amongst other measures. The Guardian's Jonathan Jones now occupies my previous number 10 spot. Eat my dust Mr Jones.
Rest assured when I'm at number 39 next month you won't hear a thing about it! 🙂