Banksy's Film 'Exit Through The Gift Shop' and some perspective on the Robbo incident
Yesterday Banksy announced via his website that a Banksy Film 'Exit Through The Gift Shop' will be coming soon to cinemas. The brief information on his site reveals the film has a 'mental age' of 13 and runs for 85 minutes. This has confirmed a massive amount of recent internet rumour and the movie is scheduled to be shown at the Sundance Film Festival in Park City, Utah in the next week.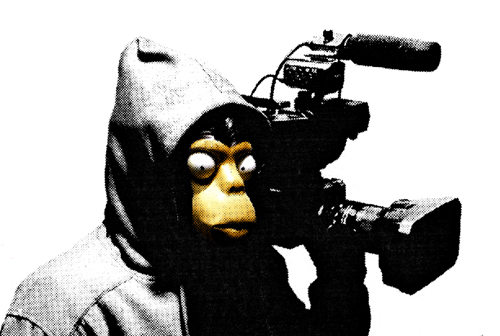 According to the response to the Guardian's enquiry Banksy's identity will not be revealed in the movie despite rumours to the contrary. It does, however, promise to be 'the worlds first street art disaster movie' and looking at the trailer it seems to have taken at least some of the footage from the ill fated Life Remote Control project. The BBC report the film will open in UK cinemas on the 5th March.
As part of the build up to the films initial screening Banksy has been busy in Park City with a series of new pieces going up in the area. Here's a taster from Banksy.co.uk where you'll find more work.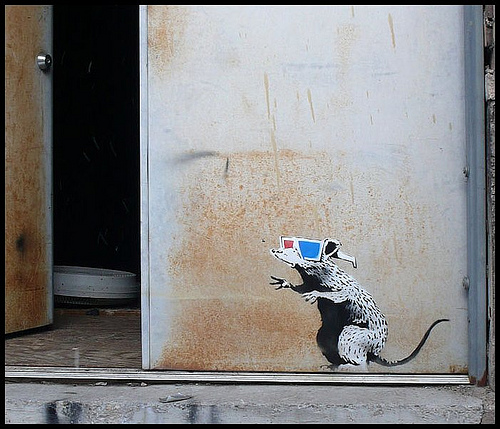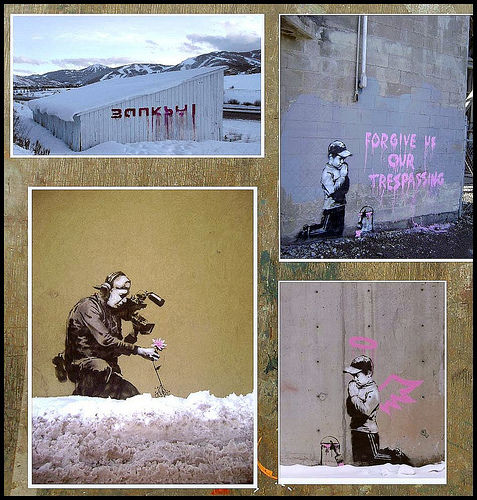 Also on the website Banksy has placed an image which provides a little bit more perspective to the recent 'Banksy Versus Robbo' incident. To be honest I've avoided commenting on recent events regarding this because there was a distinct lack of facts available. Now both sides have in their own way made their positions a bit clearer which helps moves things on a bit. The way some sites / newspapers have reported this you'd think it was an all out street art / graffiti war and for some it is but not it seems for the two principle protagonists.
Banksy's website also now contains an image of how Robbo's piece presumably looked before he went to work on the location. Robbo's work is still clearly visible but it's hardly in perfect condition.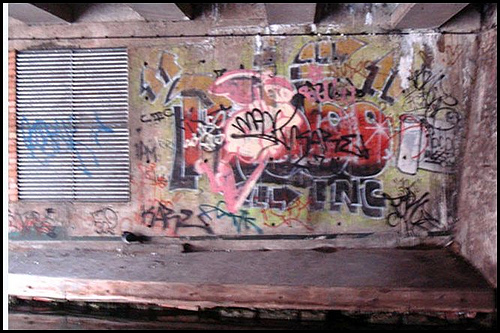 When Banksy did his thing over the remains of Robbo's piece the intention looked to me not to obliterate it but to incorporate what was left in a new piece that looks like the worker is pasting up graffiti wallpaper.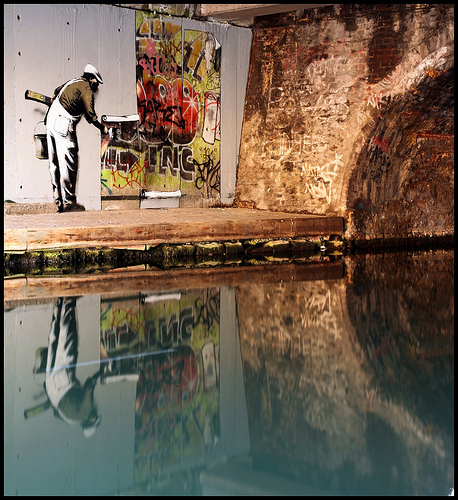 Yes, I know –  that is still 'going over' and yes that's going to piss a lot of people off because this piece has been there around 25 years (but to be honest I've seen far worse dissing than this). Robbo hit back with great style making Banksy's worker paint his name. He's neatly reclaimed the spot and despite the date written to the right of this latest intervention (see the text '1983 to 2009') I think he's continuing holding the wall down well into 2010 now.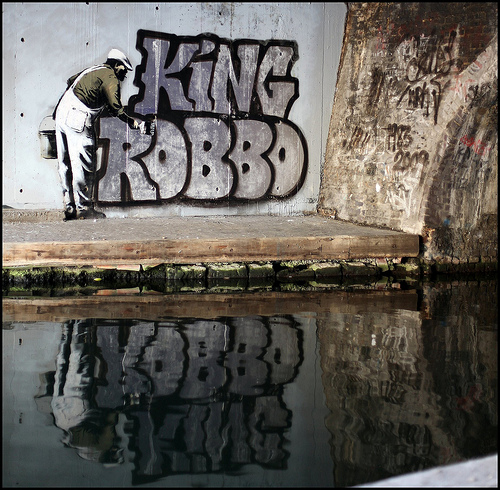 Last week it was reported that this feud was still running when this piece was also modified (see the original here).
I guess it may not be the last time a Banksy gets hit up but its worth reading a very recent interview Robbo did in which he discusses the spat with Banksy. Here's a quote:
Beside of the matter of principle, do you consider your conflict with Banksy as "war" or "fun"?
Robbo: I consider it fun, I'm playing him at his own game and winning. When i was younger i would have looked at the situation differently and i would have been really PISSED and taken out all of bnksys work with no respect.
A nice bit of perspective. You shouldn't, however, take that quote on its own – you can read the whole interview here (Robbo's career is a lot more interesting than just a spat with Banksy) and make up your own mind. I got pissed off with the whole spat thing when I saw a piece by Arofish had been on the receiving end of the anti Banksy campaign. Someone had slapped 'Robbo' over it in a style not good enough to be by Robbo. Arofish didn't deserve this. He never started out on street art as a career move but out of a genuine case of using it to get a message out because he gave a fuck about people.