Art For Haiti / Above in Cuba
From the agents of change:
An exhibition by some great and kindly artists to raise money for the victims of the Haiti earthquake.
This cause needs all the support it can get so please come down.
There will be amazing artwork from all price ranges!
All money raised goes straight to DEC – http://www.dec.org.uk/
Or alternatively you can donate money here – http://www.justgiving.com/ausecours
SUNDAY 21st Feb. 4 – 8PM
@ Blackall Studios, 73 Leonard Street, London, EC2A 4QS
To request a PDF and price list please email – haiti@agents-of-change.co.uk
http://www.ausecours.org/
http://www.flickr.com/photos/ausecours/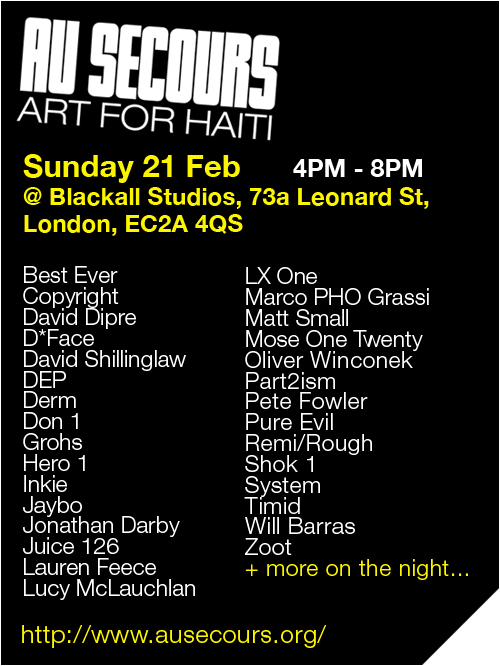 On the same subject Above has created a site specific work in Haiti raising awareness of the situation from a Cuban perspective. To be honest you'd have to be living under a rock or reading the Daily Express* in the UK to not know about the plight of Haiti but its good to see street artists moved and concerned regarding the victims of this tradegy. See Above's video here.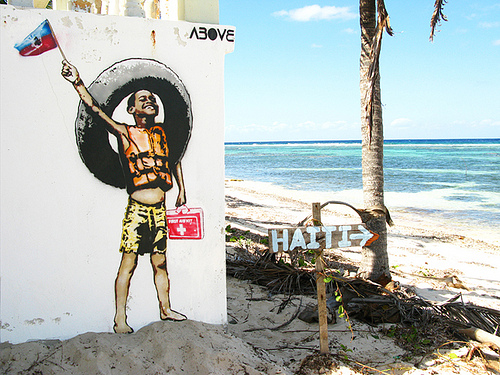 * The Daily Express didn't even put Haiti on their front page on the day when it was thought 100,000 people had died – shame on them. They went with yet another exploitative Madeleine McCann story (again).