Candy Shop – A Burning Candy pop up show, 8th May to 22nd May 2010 at 10 Palmers Road, London E2 OSY. Thu – Sat, 1-7pm. Check highrollersociety.co.uk for details.
Don't know Burning Candy? They are responsible for work like this all over London: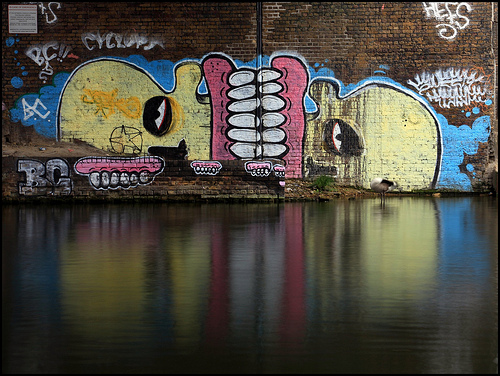 The show blurb puts it well:
Ignoring the limitations and expectations of the graffiti art scene, London based Burning Candy have made a name for themselves as being amongst the most prolific and creative street artists in the UK. As individuals they are some of the biggest names both on the street and in the galleries that exhibit their work. However it is their collaborative work producing epic genre-defying murals that has cemented them as an unstoppable powerhouse.  To coincide with DOTS, a Burning-Candy-film-in-the-making, High Roller Society proudly presents CANDY SHOP, an exhibition of selected works by each of the crew's 9 core members: CEPT, CYCLOPS, DSCREET, GOLD PEG, LL BRAINWASHED, MIGHTY MO, ROWDY, SWEET TOOF, and TEK 33.  The exhibition, which runs from 8 May – 22 May, showcases the chaotic harmony of Burning Candy's street-inspired individual works in a kaleidoscope of crazy colours, mediums, and styles.
Over the past four years, the prolific Burning Candy crew came together naturally through shared ideals of what they each wanted to achieve as artists, both in the studio and on the street.  They all believe in big colourful graffiti that challenges passers-by in a positive way, and that doesn't take itself too seriously. Think one-eyed King Kong-sized monkeys with gnashing gums and clothes pegs for teeth, clenching a half-crocodile, half-owl in one hand, and a slimy pink super-brain being speared by a pitch-fork in the other, looming over trendy Londonistas as they skip to their day jobs and prowl the pubs. With a passion and obsession for graffiti at their core, Burning Candy's ingeniously collaborative street creatures have both fueled and furthered their individual studio work, where the usage of endless mediums has caused an oddly desirable thirst for more in their extensive following.
As a very loose synopsis, Dots will prompt the crew members to exceed even their own expectations and produce a work that is bigger and more inspired than anything they have done before. To achieve this, the film will follow each of the artists as they visit the spiritual home of their artistic style, taking both Burning Candy and the viewer on a journey around-the-world as they learn more about where their art has originated, explore it's importance in their lives and discover how they can take their ideas further.
To help raise funds and make Dots a reality, Burning Candy has put together a limited edition set of 9 screenprints, one print from each member of the crew. The prints, which are 2-colors, A5 sized, and an edition of just 150, are each beautifully presented in a bespoke hand-screenprinted box. But, these prints aren't only artwork; anyone who buys a box set will also own the rights to 0.05% of the film's revenues for the next 10 years. High Roller Society will have a limited amount of Burning Candy Box Sets available to purchase.  A percentage of the proceeds from both the box sets and the crew's art works will go toward the film, as well as to a member of Burning Candy who has recently fell upon difficult times.  CANDY SHOP opens on 8 May to anyone and everyone willing to sink their teeth into Burning Candy's deliciously twisted treats.