Banksy Exit Through The Gift Shop DVD pack / Banksy in Hastings?
Has Banksy been to Hastings? Found on Rollerzorro's flickr stream (which is full of interesting Banksy items). This piece also appears on the frequently on the money the banksy forum.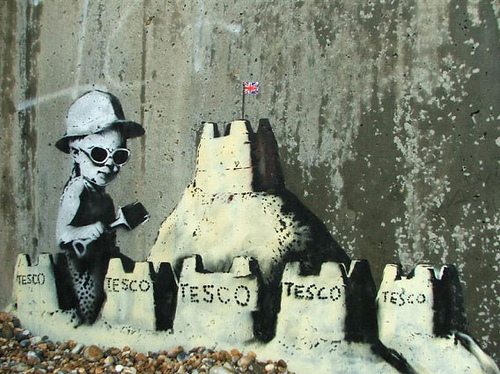 source: Rollerzorro
Also appearing yesterday were images of the soon to be released (Sept 6th 2010)  Banksy film 'Exit Through The Gift Shop', featuring 2D glasses amongst some other little goodies in a special pack. It's still a little unclear (to me at least) which version you will get if you have already placed an order on places like Amazon but they are showing this picture on the order page and it has a RRP of £19.99 reduced to £10.93 so I guess this is the one to go for.