The Clash's London Calling album cover is widely considered to be one of the best album covers of all time. Its a photo that is far from technically perfect but it captures a moment of rage beautifully. Photographer Pennie Smith didn't rate the shot good enough because it was out of focus and Clash bassist Paul Simonon  quipped "I wish I'd lifted my face a bit more" but that's part of its appeal. It's not perfect, it's done at speed and that looks true of this new Banksy piece on a pretty much always busy road directly opposite the headquarters of a large international news organisation. It's not the first time that this Clash photo has been used in street art (k-guy and Junkerade have been there in the past) but instead of chucking paint around this guy is smashing an office chair. What's it about? Well to me it looks like someone has had more than enough of the nine to five.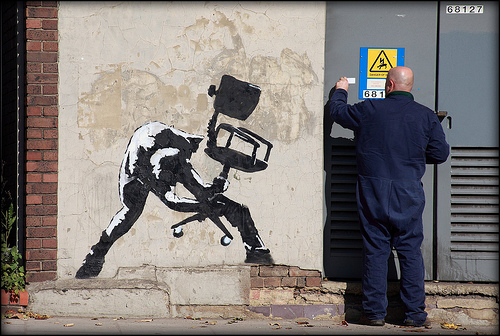 Banksy London Calling riff ( photo Steve Cotton / artofthestate.co.uk )
In other news the Haring dog piece featured in yesterdays post has already been covered with boards by the owner. Here he is yesterday happily posing for a photo. He's an artist himself so I was going to post a link to his work but now he's prevented anyone seeing this work I don't think I can be bothered anymore.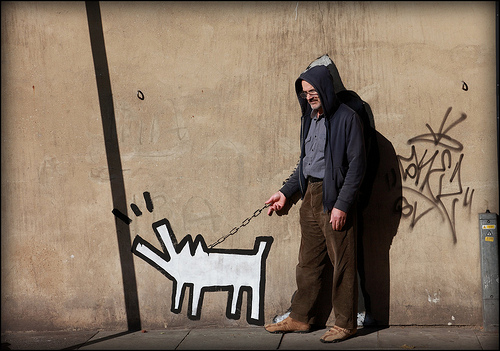 Banksy Haring Dog and Owner ( photo: artofthestate.co.uk )