Moniker International Art Fair
I stuck my head around the door of the
Moniker International Art Fair
last week. It's objective is
"to advance networking between international galleries, artists, collectors and buyers with Moniker becoming an annual event, establishing a solid reputation and raising the profile of street art and their related subcultures to new audiences. The dates chosen coincide with Frieze Week, the largest and most established art fair in London bringing in over 60, 000 visitors to the city from an international art crowd. Moniker offers a cutting edge compliment to Frieze, while attracting buyers seeking a modern forward thinking approach within this ever changing, highly dynamic, expansive 21st century international contemporary art scene".
Yeah, whatever.
There's a line in the 'Exit Through The Gift Shop' trailer where narrator Rhys Irfans describes street art as poised to become "the biggest counter cultural movement since punk". Not on this showing its not. New pieces intermingle with a wealth of hiked up secondary market prints and originals from galleries around the world all in little white booths. It all looks like its trying to take itself very seriously – is it an alternative to the concurrently running Frieze fair? Hardly, it apes their format, white walls, hushed tones, pretty well mannered ladies ready to take down your details and security referring to you as 'sir'. It's about as street as Pall Mall.
In amongst it all there are some things worth seeing. Ben Eine has a strong showing with a wall of slogans in various fonts and a complete street scene recreation of his first two letter shutters. Herakut have a room set full of their art and Polly Morgan, artofthestate's favourite taxidermist, has a recreation of what may be her studio. There's a few artists smattered around the place I'd not heard of before that are worthy of your attention and you can get the excellent VNA 13 there but overall the whole thing seems vastly removed from the world literally just outside its doors. It smacks of an attempt to become accepted by the art establishment, to become just another genre to be bought and sold. That's not what I think street art is about but maybe I'm not in tune with where others think this scene should be heading.
Genuine street art never has a price tag on it.
If you haven't done so already have a look at
Nuart 2010
for an excellent and genuine street art exhibition. Now that's what street art is about.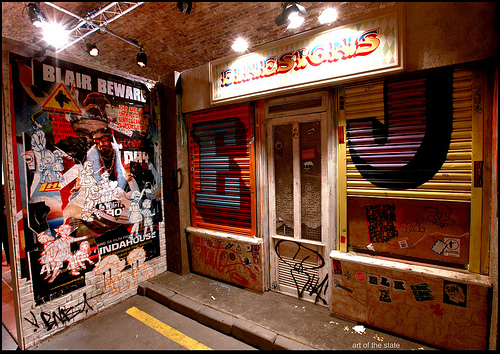 Ben Eine street installation at Moniker
Herakut room scene at Moniker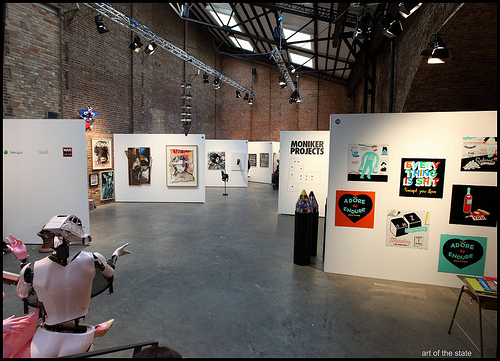 Moniker International Art Fair