Banksy works in Kensington gallery show
Last night I decided to pop my head round the door of the Andipa Gallery in Kensington to have a look at the preview of the Banksy / War Boutique exhibition. I should point out right away that to my knowledge this exhibition is not supported by Banksy in any way, a fact the gallery has had no problem in making clear in their advertising. What it comprises is a show of Banksy works sourced by Andipa on the secondary market along with original works from War Boutique.
The Banksy works on display are a bit of a mixture. There's a couple of more recent pieces but much of it appears to be relatively early work, some of which looks like it was never intended to be displayed in a gallery in this way. While its not really the best way to get an appreciation of his current output it is pretty much the only Banksy gig in town at the present time and I know a lot of people visiting London like to see work in the flesh. It's free to get in and the gallery have never been anything other than friendly despite it being pretty obvious I'm not there to buy anything (the prices will probably make you lose a little bit of control over your bottom jaw). They also don't mind you snapping away unlike quite a few other galleries I could mention. So here's few snaps from last night.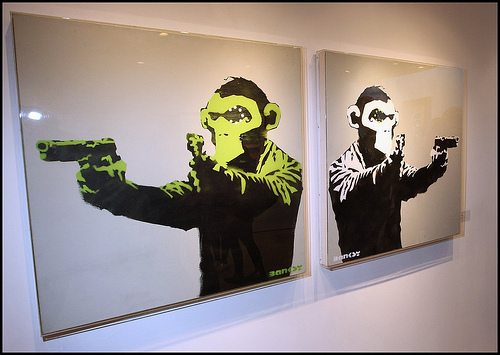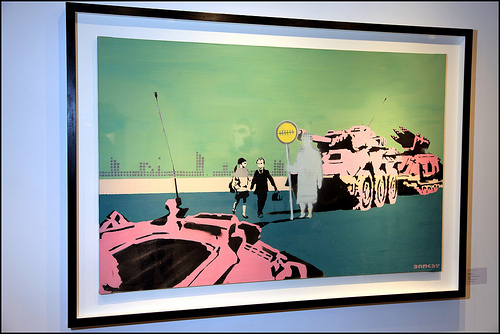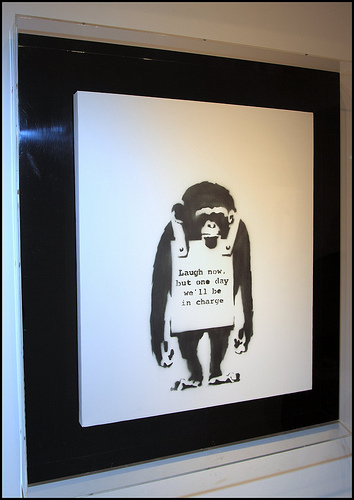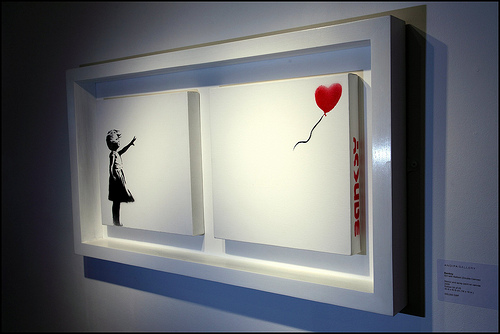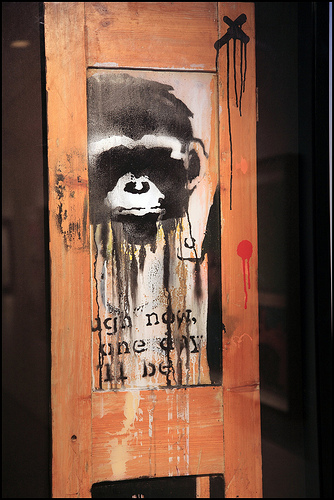 ( All Banksy photos: Steve Cotton / artofthestate.co.uk )
Downstairs there's an accompanying exhibition by War Boutique who specialise in re-workings of items such as stab proof vests and protective military clothing all redesigned to suit modern urban living. So we get a city worker in pin striped body armour and a gas mask and school uniforms that include knife proof materials. These are particularly moving when you see the school crest of Walworth Academy whose pupil David Idowu was stabbed to death in a park after being spotted by students from another local school. I understand the point of the work but I don't think I'd want its constant reminder on my wall. War Boutique have a couple of prints on sale including a tasty one of a tank with a nod to pop art style and a glittery effect. Some of the labels I read indicated that money raised was going to various causes but deep pockets will be required, this is Kensington after all….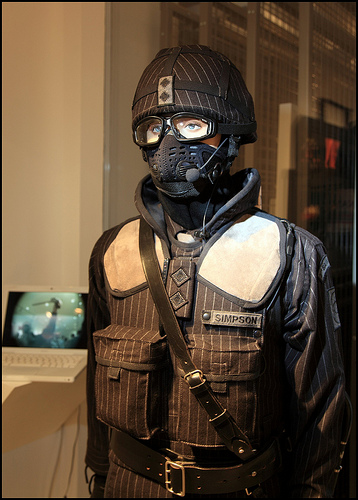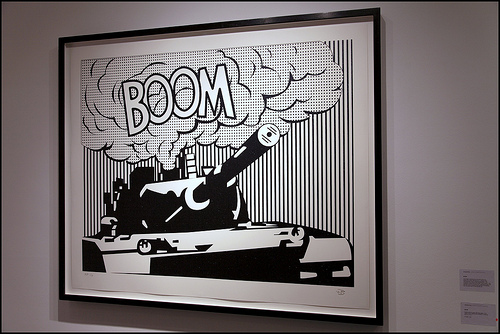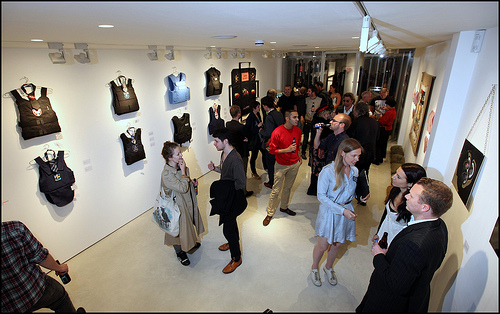 Andipa Show ( photos: artofthestate.co.uk )