New works on Banksy.co.uk
A couple of new updates have appeared on Banksy.co.uk this morning. Right on the home page, exactly where it should be, is a tribute to Brian Haw who died from lung cancer on the 18th June. Brian was a veteran campaigner and set up his peace camp in Parliament Square over 10 years ago on the 2nd June 2001. He and his supporters fought off many challenges to have the camp evicted but successfully retained a presence right opposite the seat of government to remind those inside every time they passed by of the human cost of their actions. Banksy donated a couple of large canvases to sit with all the other placards back in 2005/6, one at least of which was famously removed by the Police during an operation that scaled down the size of the protest.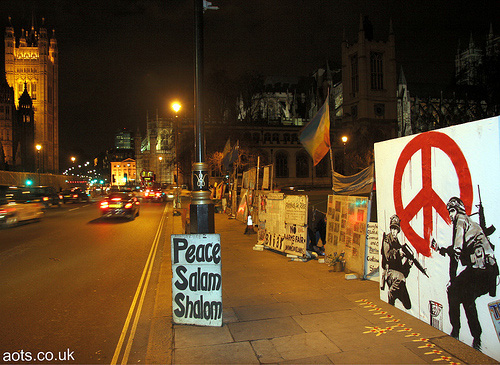 Banksy canvas at the peace camp, Parliament Square, 2006 ( photo: Steve Cotton / artofthestate.co.uk )
Elsewhere on the site there is a new street piece featuring a young boy, identity protected, creating bubble letters spelling 'Tox'. I don't know where it is yet so please don't ask! Tox is famous as one of London's most prolific graffiti tags and the subject of an ongoing court case.  Sentencing is due on 1st July with the suspect having already spent 150 days inside.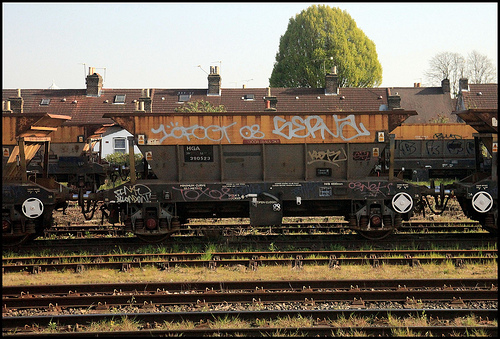 Tox and 10Foot, West London ( photo: Steve Cotton / artofthestate.co.uk )
The difference in sentencing for those who order others to kill and those who paint on things remains ridiculously obscene.