Banksy TV Guide – Exit Through The Gift Shop / The Antics Roadshow / Graffiti Wars
A few TV listings for your consideration this weekend. Either stay in for the curfew on Saturday night or set your recorder if you're planning on late night shopping in Comet or Currys. All part of Channel 4′s 'Street Summer' season for which they're probably editing the 'edgy urban' advertising trailers right now due to other events.
The Antics Roadshow, Saturday 13th on Channel 4, 10.45pm:
"An hour-long special produced by Banksy charting the history of behaving badly in public, from anarchists and activists to attention seeking eccentrics. Contributors include Michael Fagan talking about breaking into the Queen's bedroom: 'I looked into her eyes, they were dark'; and Noel Godin, who pioneered attacking celebrities with custard pies: 'Instead of a bullet I give them a cake'. Explaining his reasoning behind the show, Banksy said: 'Basically I just thought it was a good name for a TV programme and I've been working back from there'. Narrated by Kathy Burke and produced by Jamie D'cruz, The Antics Roadshow examines the stories behind some of the most audacious stunts of recent times and what motivates the perpetrators, from mindless boredom to heartfelt political beliefs. It includes a world exclusive first interview with the man responsible for putting the turf Mohican on Winston Churchill's head".
Exit Through The Gift Shop, Saturday 13th August 9pm, Channel 4
The network airing of Banksy's first film.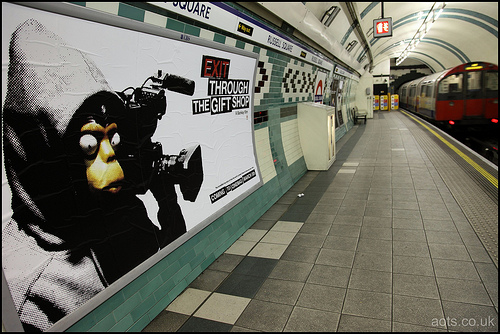 Banksy Exit Through The Gift Shop Tube Poster (photo: Steve Cotton / artofthestate.co.uk )
Graffiti Wars, Sunday 14th August, 10.30pm
With Robbo and Banksy's feud (if you read the last line of Channel 4′s write up below you should know that Robbo is in a very grave condition at present far more serious than this 'graffiti war').
"Graffiti – the work of mindless vandals or creative practitioners? To some it is art, to others a sign we've lost control of our cities.
Since Roman times graffiti has been a form of anti-establishment rebellion. But today it's transcending social nuisance to gain cultural and artistic credibility, unprecedented prices at auction and even presidential and prime ministerial approval.
However, at street level a bitter war is being waged between graffiti writers, street artists and the authorities. While graffiti writers face trial and prison sentences for their art, some street artists' work is lauded and protected behind Perspex.
This issue is at the heart of a graffiti war being fought on the streets of London between one of the founding fathers of the British graffiti scene and the most famous street artist in the world.
In London over the past 18 months the tension between the camps has played out in a battle of spray cans between freehand graffiti writer King Robbo and his nemesis, the stencil-using street artist Banksy.
The graffiti war between the two men began in the early 90s but was re-ignited by what was widely seen as an unforgiveable transgression of strict graffiti rules by Banksy.
It was an act that pulled 80s legend King Robbo out of retirement to retaliate in the place where it all began, the streets.
The film goes behind enemy lines as the war escalates, until tragic and unforeseen circumstances bring about an unexpected ceasefire"