Yesterday, in a side street close to Marble Arch Tube station, a piece of Banksy history grumbled into view on its way to its temporary location outside the Cumberland Hotel. In place for apparently just six hours it was maybe the best preserved example of one of several trucks painted by Banksy circa 2000.  Its sides revealed many of the key themes from his early work.
The artwork itself is in great condition. The owner had the foresight to cover it in three coats of clear lacquer directly after it was painted in Spain back in 2000 and this meant despite the fact that it had been raining on the 100 or so mile journey to the capital that it still arrived looking pretty damn pristine. It's smart looks are all the more impressive seeing as the vehicle has been used extensively over the years as part of Turbo Zone, a pan European travelling pyrotechnic circus show that has also reached as far as South America.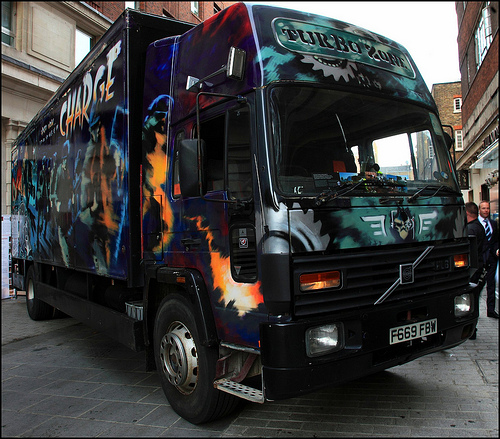 Banksy apparently painted the entire vehicle back in the day pretty much for the supply of the paint needed, a ladder and a not insignificant amount of  beer. It was the scene of the creation of one of his most famous slogans "Laugh now but one day we'll be in charge" which in recent years has become more associated with his sandwich board wearing chimp. Here the slogan has a more direct meaning. On the left hand side 'Beware of The Bull' is written and emerging via a derailed train is a mechanised bull complete with saw blade wheels and a cannon attached. A Cannon Bull if you like. It's bearing down on a group of fleeing coppers clutching what looks like their clear plastic riot shields as they turn tail and run from the onslaught of its charge.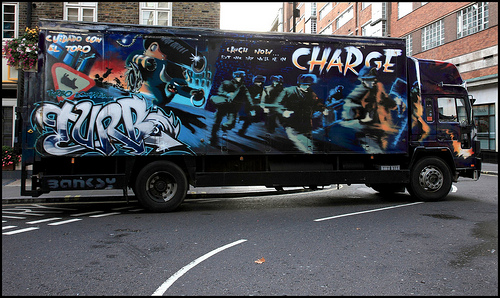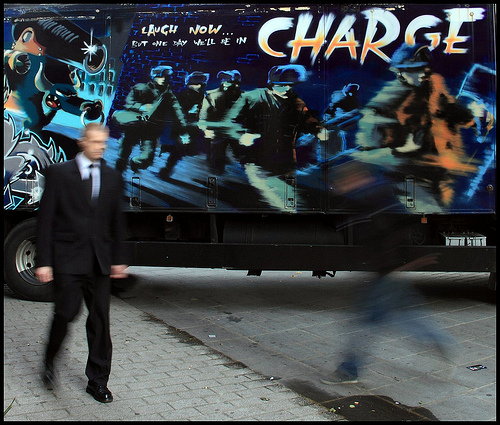 On the other side is another depiction of rebellion against the system. A mohawked punk sledgehammers the TV that only promises a world full of toxic fumes. Meanwhile squadrons of winged monkeys swoop outwards overhead with the words 'all systems go' taking on a new meaning in the bottom right.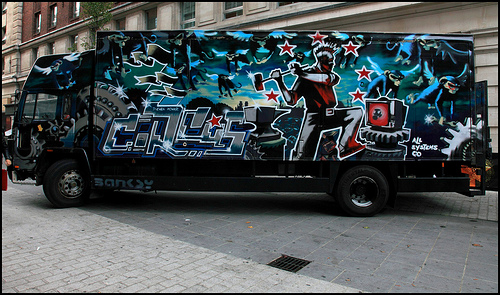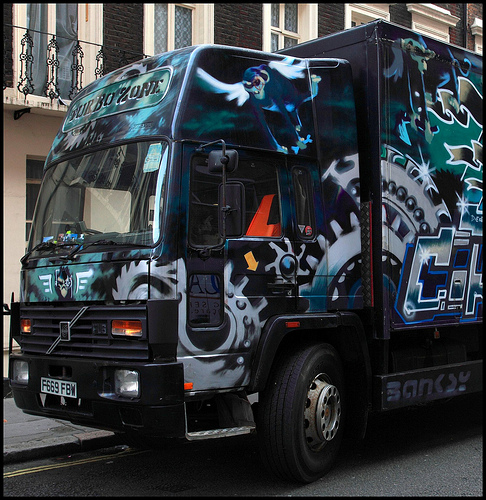 What's interesting is that it was all painted freehand over a fortnight with spray cans with the exception of the stencil style Banksy tags on each side and some paint pen looking detail on the front. Banksy had adopted stencils around this time as his principle method for painting – chiefly to get past the time it takes to paint freehand on the street.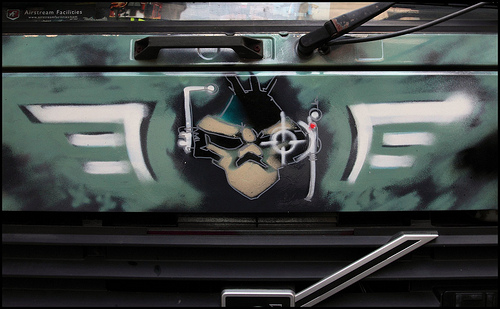 Thus far I've neglected to tell you why the truck ended up in Old Quebec Street. It was there as it is to be sold via 'private treaty' via Drewatts which I think means that its up for sale but not by an auction. Drewatt's themselves have an urban art auction on Monday 10th October which includes Banksy originals and prints currently viewable in the Cumberland Hotel.
The truck itself is a unique and stunning piece, signed in Banksy's early stencil font on both sides and it comes with the all important Pest Control Office certificate of authenticity. Where it will end up is any ones guess but I would suspect they're going to need deep pockets and a large garage area to display it in.
Other Banksy truck artworks are in existence elsewhere, there was 
this one
 reported on the BBC's website and also the one below which I was sent some fantastic photos of a while back.
Banksy Turbo Truck ( photo: used with permission from original photographer – thanks! )