A little round up of some upmarket Banksy news over which I'm guessing he has little control and a review of another recently released Banksy locations app:
Partners in crime Bankrobber Gallery and the Keszler Gallery have teamed up to have a show of their cut out of the wall Banksy pieces. They have a ridiculous looking video, all dark and mysterious and more than a bit cliched, which documents their journey to basically buy a piece of wall. Apparently they are at pains to point out that they didn't organise the work being taken from the street in its original location of Palestine, they just bought it after it had been removed to sell on to someone else at what they no doubt will hope to be a huge profit. This is pretty much the street art equivalent of saying "we're only selling ivory, we didn't actually kill the elephant ourselves".
Watch some rather pointless video about buying art nicked off the street here.  Believe it or not there's actually a part 2 to this!
Bonhams meanwhile had an auction of authenticated Banksy works which went for serious money including screen prints at £13K and canvases for up to 100K. It would seem that while shares are on the slide the world over the art market remains in places very buouyant.
Sotheby's have some Banksy pieces coming up too. 'Ballerina With Action Man Parts', a version of which was on show at 2009's Banksy versus Bristol Museum Exhibition, is from an edition of 6 and has a guide price of £40,000 to £60,000.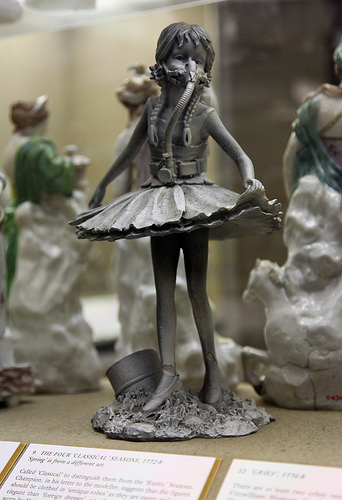 Banksy: Ballerina With Action Man Parts ( photo: Steve Cotton / artofthestate.co.uk )
'Bullet Proof David', constructed out of enamel. Fibreglass and wax from an edition of three one of which was seen at the Cans Festival is expected to sell for between £120,000 to £180,000. Finally a bronze rat from an edition of 12 has an estimate of £50,000 to £70,000. This piece is unique in that it has acrylic paint on the rat's brush.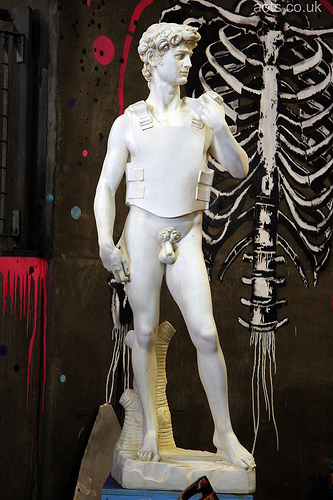 Banksy: Bullet Proof David (photo: Steve Cotton / artofthestate.co.uk )
Regular readers may recall that I was pretty dismissive of the Banksy Locations iphone app. It's still on my phone and I'd like to tell you that it has improved of late but it takes an age to load. Oh hang on, it's finally appeared now. It is better than it was but its painful in its execution. It's also still leading you to lots of things that just aren't there and haven't been for years. I remain unimpressed even though it now costs 69p (it was originally offered at a higher introductory price claiming it was going to increase in price but that never happened and its now been reduced, huh)?
A far better choice is the Banksy Bristol Tour locations app. It's a neat looking and more importantly actually working guide to 14 works attributed to Banksy in Bristol including some large pieces in really good condition. Each piece has a photo and a decent write up and the current status is largely correct. If you're going to Bristol on a Banksy hunt this would be a very useful addition and would save a lot of research. Quite expensive at £1.99 but does the job well.
Right, that's that little lot out of the way. A small warning, the next update will featurethat Blek Le Rat Banksy quote….