Punk Dead? No mate, but it's approaching its bus pass
Anti Pasti / The Business / Peter And The Test Tube Babies / Infa Riot / Discharge – London Punk Festival, Saturday 29th September @ 229, Great Portland Street
Every year there's a massive punk shindig in Blackpool with dozens of bands mainly from 'back in the day'. I really should make the effort and go but something always crops up and there is always that sneaking feeling that its simply a 'good time revue' and doesn't actually mean anything. Last weekend a similar but smaller scale event was run in London. Originally it was penned in for three days but by the time it ran it was scaled back to just the Saturday. Maybe that was due to a lack of numbers or bands pulling out I just don't know but I went along to see some bands I'd never quite had the opportunity to see back in the 80's – and some regular favourites too.
Now Infa Riot and The Business were well known at the time. I liked them both but its fair to say that I got put off seeing them a bit because of their Oi tag. Or as my mate John more succinctly put it "we'd get our fucking heads kicked in" if we went to see them. There were loads of bands to see at this time so it was no real big deal and the opportunity passed me by. Infa Riot had a pretty brief career releasing a few singles and an LP before becoming just the 'Infa's' (As an aside when they changed their musical direction the music press applauded their bravery but savaged them in a review that said "they haven't got the musical ability to pull it off". The band hit back by placing an advert for their album in the same music paper the following week quoting the journalist as simply saying "got the musical ability to pull it off". A classic case of using a quote to suit your own ends!  I digress though). The Business were a fine band too with many great catchy songs which reached further than the limited scope of Bushell's Oi movement. Certainly 'Smash The Disco's', 'Harry May' and 'Suburban Rebels' appealed to all sorts of punks, skins and herberts (whatever happened to them!). They also have an interesting line in covers too showing that they were/are not the ghettoised OI band they were once portrayed as.
I never saw Anti Pasti either despite my band (best forgotten) covering their song 'No Government' which we played at every gig we ever did. The Last Call was a great album, at one time welded to my record player so an opportunity to see them could not be missed. As for Peter and The Test Tube Babies and Discharge I've seen these countless times and yeah, another chance to see them really iced the cake.
Twenty Five quid later and I'm through the door. Two stages are running, one large area for the 'old names' and one for the smaller, often younger upstarts. I spend my time mainly in the larger hall – it's great having a choice but it always means you miss something.
First up were Discharge. Odd because I've always seen them as one of the bigger bands of that era. Battling through an initially appalling sound, "more guitar, more guitar" they soon got into their stride romping through a set of classics. Each band was limited in the time they played for to around 30 – 45 minutes so they concentrated mainly on the well known stuff with a few new ones thrown in for good measure. Discharge have a fine catalogue to choose from and used their time well, winning the crowd around and drawing people into the main hall. By the time they finished things were well under way.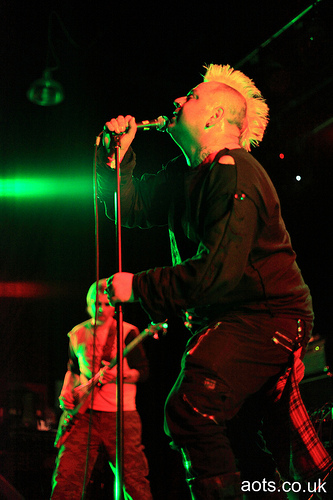 Discharge (photo artofthestate.co.uk)
Discharge (photo artofthestate.co.uk)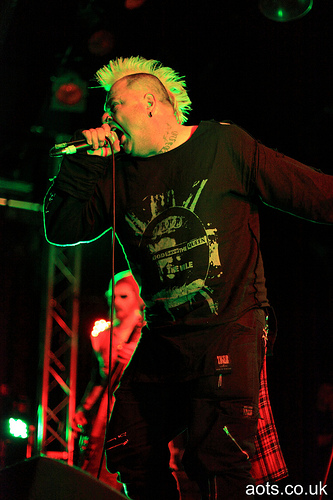 Discharge (photo artofthestate.co.uk)
The lights dimming and a backing track heralded the introduction of Infa Riot who hit the stage running with a blistering cover of 'Emergency'. They worked relentlessly through a fast paced set playing most of their Secret catalogue including 'Kids of The 80's', 'The Winner' and 'Five Minute Fashion' with with plenty of banter with the crowd thrown in for good measure.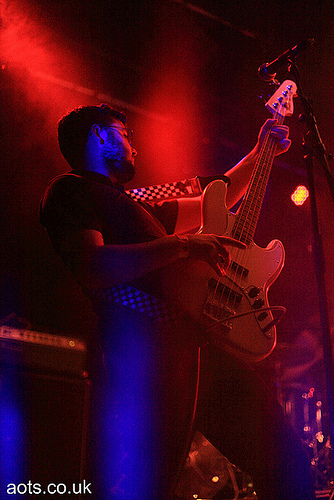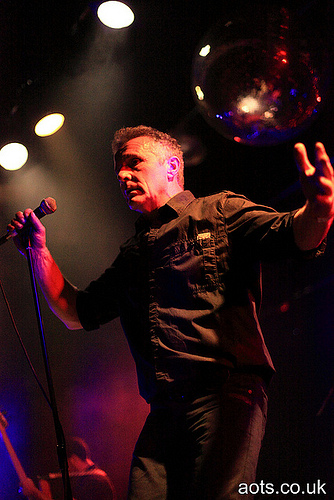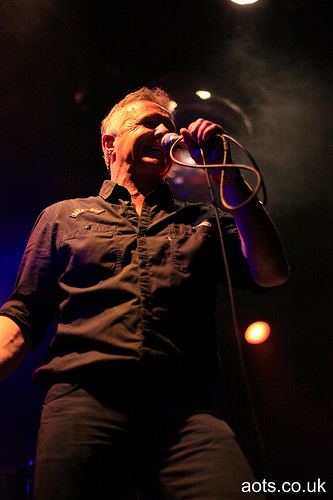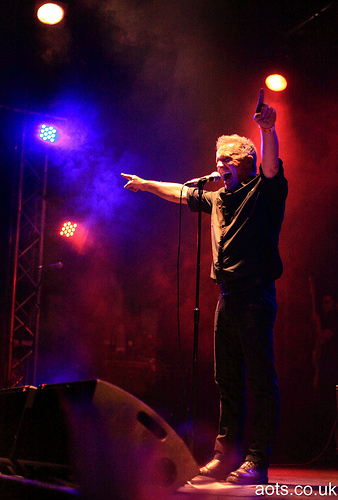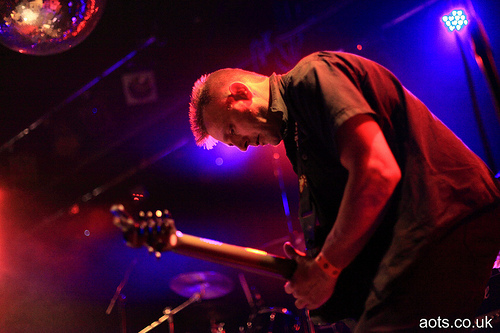 Likewise the Business with some great sing along anthems and a clear punchy sound.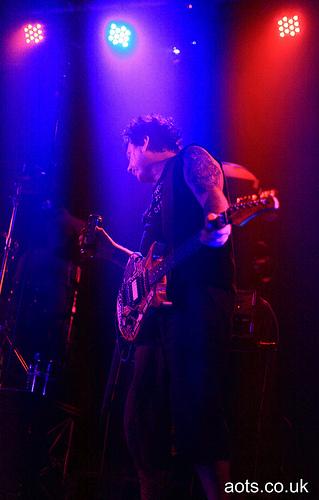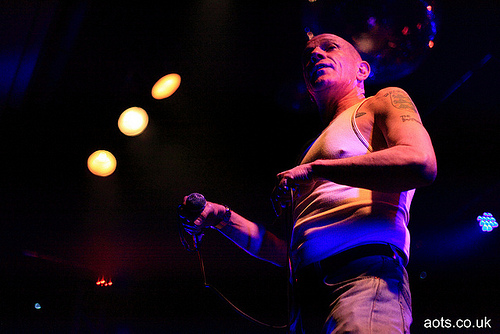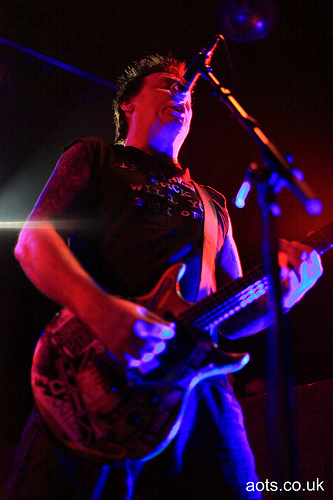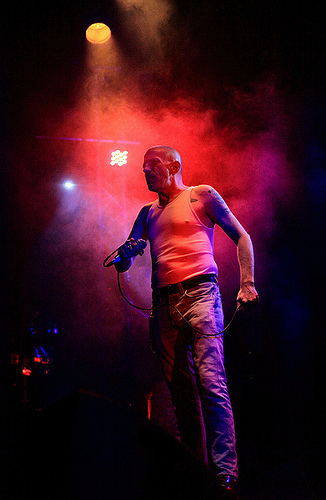 Finally it was the turn of Anti Pasti whose singer Martin upped the energy levels again by running and jumping all over the place whilst knocking out songs from their first LP and early singles (No Caution In the Wind here)!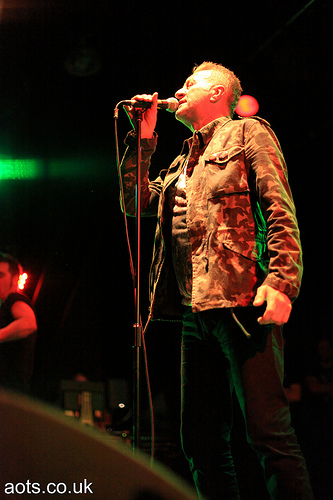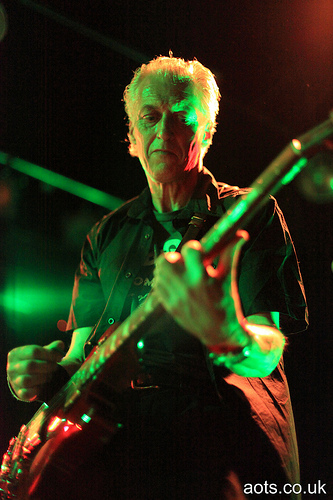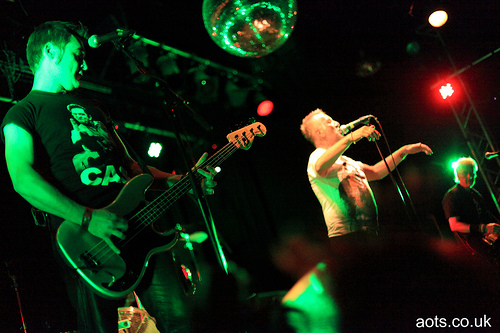 Anti Pasti (photos: artofthestate.co.uk)
Punk dead? If you think it is its more likely to be your problem than punks.