Got it covered with the Ramonas
The Ramonas / The Pukes / T and The Mugs – Fighting Cocks, Kingston, Saturday 20th April 2013
T and the Mugs provided the kick off entertainment delivering a pretty blistering angry tirade of punk fare served with confidence to a rapidly filling venue. They seemed to run out of their own songs pretty quickly and so started working their way through an extensive list of SLF, Clash covers – a shame because their original songs sounded pretty good to these ears. It seemed a bit defeatist but ultimately this was going to be a night of cover versions.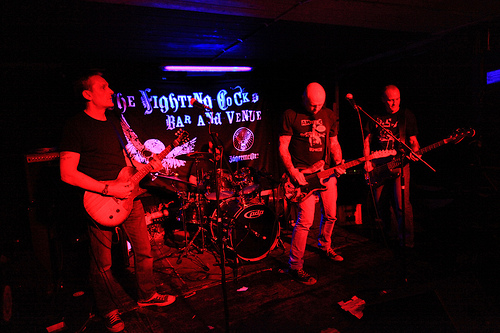 T and The Mugs (photo – Steve Cotton / artofthestate)
The Pukes are a pretty unique act despite their fondness for other peoples songs. I'd say it's a safe bet to assume that they are the only 20 member Uke wielding punk band in the UK (unless you know different)! Somehow they mostly managed to fit on the tiny stage with a further three members intermingling with the crowd at the front of the venue. Then, with quite remarkable coordination, they suddenly started playing altogether and in time running through their own compositions and a host of other peoples songs in their own style. Highlights for me were Cocksparrer's Because Your'e Young and an Exploited medley which included their songs Sex and Violence, Dead Cities and Alternative(!) They embody the diy punk ethic and add a real sense of fun coming down (just) on the right side between genius and insanity.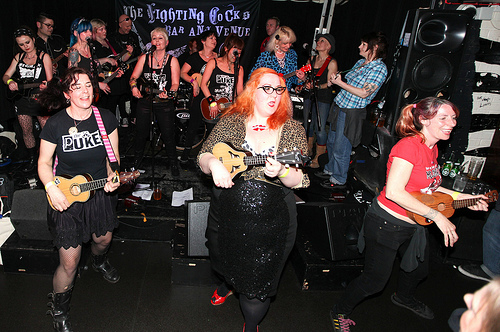 The Pukes (photo – Steve Cotton / artofthestate)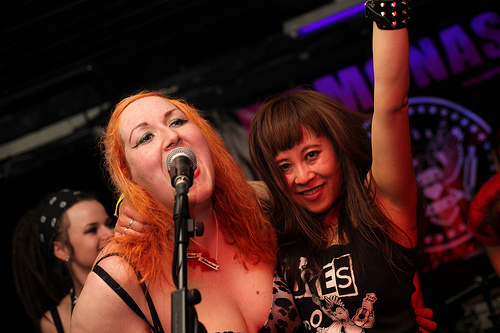 The Pukes joining the Ramonas at the end of the gig (photo – Steve Cotton / artofthestate)
Headlining were the Ramonas, the UK's only all girl tribute to the Ramones. Now I've not seen many tribute bands before save for Bjorn Again and I'm a big fan of the Ramones so I wasn't sure how this was going to go but fears were soon allayed as they did a damn fine job of playing classic after classic. All the more impressive as a quick bit of non scientific age judging on my part would say that none of them would have actually seen the Ramones live, certainly not in their heyday anyway. DVD's and Youtube mean that this is not such a problem anymore and I think they really captured many of Da Brudders traits whilst still being very much their own band.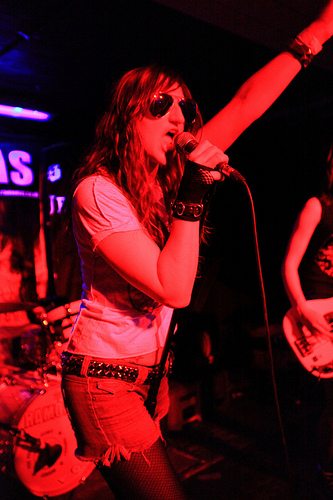 Cloey Ramona (photo – Steve Cotton / artofthestate)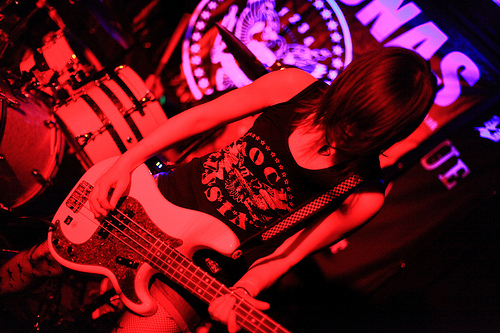 Pee Pee Ramona (photo – Steve Cotton / artofthestate)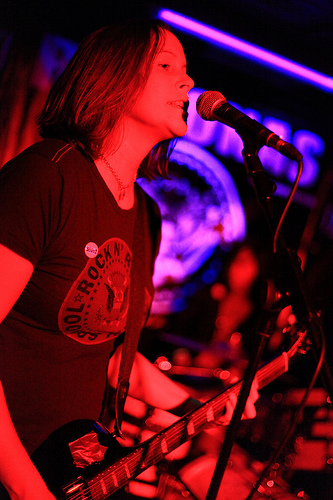 Rohnny Ramona (photo – Steve Cotton / artofthestate)