Punk at the 100 Club – GBH / BARB WIRE DOLLS / LOUISE DISTRAS / CHARRED HEARTS
GBH / BARB WIRE DOLLS / LOUISE DISTRAS / CHARRED HEARTS at the 100 Club, London – 22nd June 2013
For me the two most legendary punk rock venues in the world are CBGB's in New York and the 100 Club in London. Whilst CBGB's has been lost the 100 Club, despite a few scares along the way, remains resolutely unchanged. For a while there were no punk shows and to be fair some of the ones I attended in the 80's were probably responsible for that. They were often marred by senseless and at times brutal violence. These days though punk has been steadily creeping back and GBH have played their first gig there in more than 28 years – but more of that later.
Walking in off Oxford Street through an unfamiliar glass door the descent down the stairs past the ticket booth soon has my memory transporting me back to older times. Once inside the venue everything is as it should be, the red decor, the white painted plywood 100 motifs behind the stage and the always odd mix of standing and table areas. Oh, and those pillars right in front of the stage – the venue doesn't have the clearest of views but that's not really the point.
Charred Hearts are already on stage as I arrive running through the end of one song before finishing off with a pretty amped up version of 'I Wanna Be Your Dog'. They've got a great punk sound and I wish I'd got to see more. Maybe another time.
Next up is solo performer Louise Distras, a singer songwriter that I've heard a great deal about and all in glowing terms. I always seem to miss the gigs she plays and she more than lived up to expectations. She belted out her tunes with belief, conviction and passion which far surpassed what you'd expect of an acoustic guitar and a set of vocal chords. With a neat line of in between song banter and having something to say about the state of the world Louise Distras really delivers. Her set flew by captivating the crowd and receiving great appreciation at the end of each song.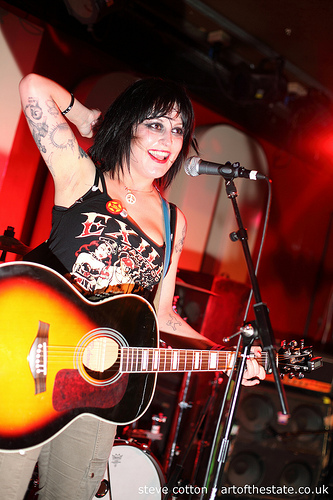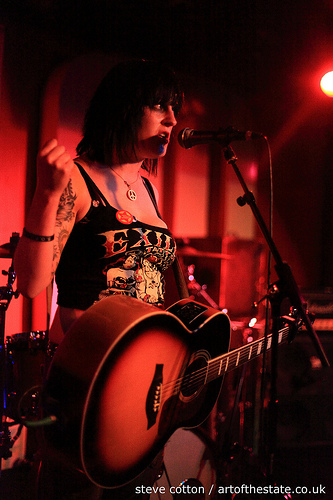 Louise Distras
I'd never seen Barb Wire Dolls before tonight and a bit of research before the gig led me to think what I was going to get was a punk rock band with the emphasis on the rock rather than the punk. Knowing that they originally came from Greece and had moved to LA they had me fearing a bit that they would be something of a novely act – all fake rage about nothing much in particular. I'll admit I was completely wrong. They hit the stage ready to go, singer Isis Queen extolling London to wake up and start a revolution. Her heartfelt message soon became apparent, the fat cats have had it all their way, the media is controlled and the people need to get together to make a stand. It felt more like Conflict at times, the rage was real, the anger all too apparent. Isis Queen crashed, rolled, confronted, leapt, sang and screamed through a blistering set. Together with Pyn Doll on guitar and Krash Doll on drums (there was no bassist) they entertained at 100% the whole way through. It's hard to describe the energy of this band, mere words don't really convey the passion and the excitement they create. Isis Queen seemed to lose herself in the moment in a way I haven't seen since the early days of Katie Jane Garside in Daisy Chainsaw. She was a constant whirlwind, contorting and exhorting her way around the stage and through the crowd. Their style is very much more punk than rock and I for one can't wait to see them again. We need more bands like this.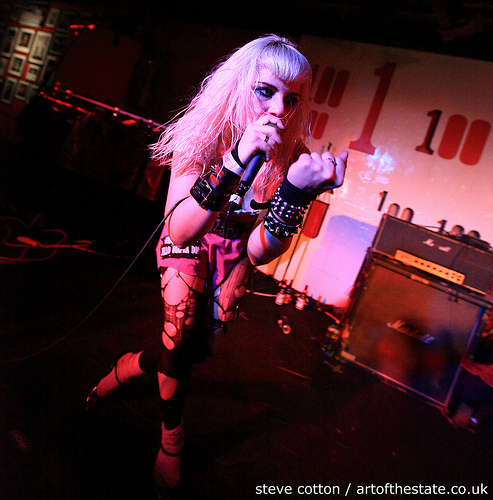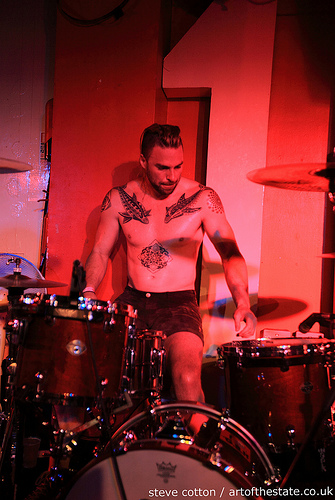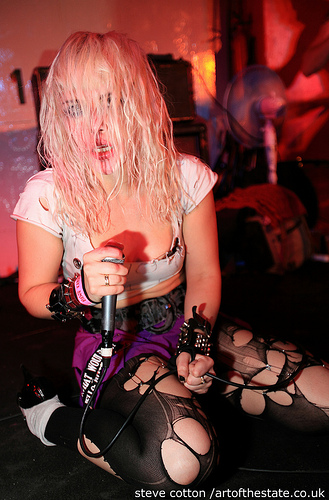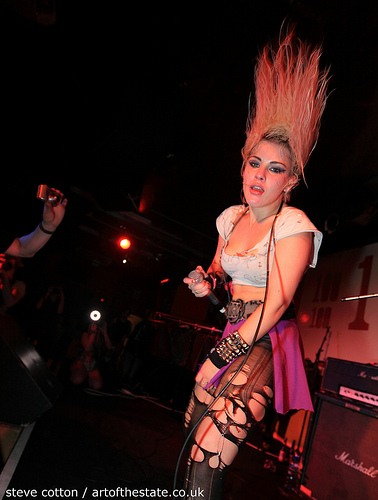 Barb Wire Dolls
GBH have remained a constant even in punk's lean years. Put simply they have always delivered and tonight was no exception. Playing what may well have been the whole of their debut platter 'Leather, Bristles, Studs and Acne' plus songs off their first two LP's they've also got a decent amount of more recent material too all of which holds up. Naturally classics such as 'Sickboy' and 'Mantrap' stand out but other favourites such as 'Drugs Party' take on a new life live. Could it really have been 28 years since they last played this venue? It certainly didn't seem so as they played well past the hour mark and showed no signs of stopping. Don't leave it so long next time chaps!