BLACK SABBATH / MOTORHEAD / FAITH NO MORE / SOUNDGARDEN – Hyde Park
BLACK SABBATH / MOTORHEAD / FAITH NO MORE / SOUNDGARDEN – Friday 4th July 2014 in Hyde Park
No pictures this time, well maybe a iphone shot from a distance….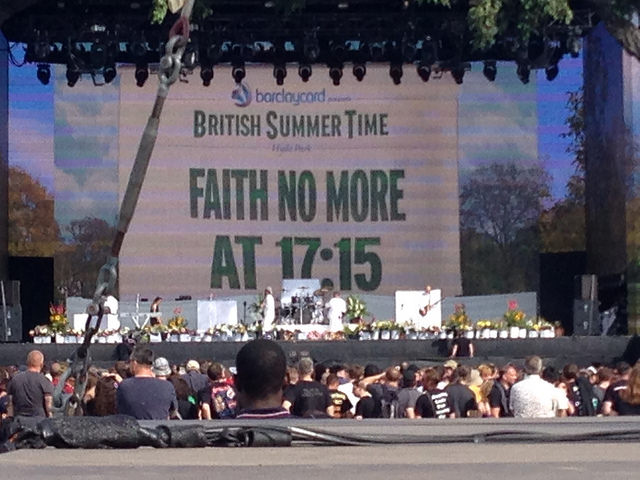 It's been a long time since I've seen Motorhead, Lemmy's well documented health problems meant the cancellation of my previous attempt so it was truly great to see him walk out on stage early afternoon and start to run through a through a series of proper classics. It seemed to me that things are not still quite back to normal though as a pretty short set included an extensive drum solo which acted as a tea break for the rest of the band. Whatever, it was just great to see Lemmy back on stage and hear Overkill once more.
Faith No More arrived on stage and pretty much subverted the entire metal genre with their stage set of brilliant white complete with matching outfits and flower displays. The rest of their presence though was pretty much as expected. All the hits belted out with real gusto with a couple of new songs thrown in to. Not that keen on the one that just had Patton screaming "Get the mothfucka on the phone". A little bit too repetitive. FNM seem a bit of a marmite band but songs like Easy had the crowd singing along.
Soundgarden are one of those bands that some absolutely love. Personally I've never really invested iany time in them but had an open mind and was looking forward to hearing what I assumed would be a whistle stop tour of their best crowd pleasers. Instead they opted to play an entire albums tracks, all in order. For me this idea is fine if you know that's what you're going to get in advance but on this day it just seemed completely self indulgent. They'd apparently done the same set recently at a dedicated gig so it smacked a little of just trotting it all out again so they wouldn't have to rehearse any other songs. Consequently there was a lot of filler and I won't be investing any time in them in the future either!
I know a bit of Black Sabbath but its fair to say they weren't the reason I was here. So I was in the burger queue when they arrived on stage. Just hearing them though I could tell they had real presence as they worked their way through War Pigs and quickly I established a decent vantage point for me and my son. I thought they were fantastic, true headliners. That's not to say I'm going to go out and buy all their albums but favourite songs of mine like Paranoid sounded crystal clear and very, very heavy. Coupled with darkness, a full show of lights, backdrops and fireworks they really entertained and left us both going home very happy. Excellent, nice one Ozzy!