THE STRANGLERS at Reading Sub89
THE STRANGLERS – Tuesday 8th July 2014, Reading Sub89
So last night I got to see The Stranglers. A bit late to the party admittedly – this is their Ruby Anniversary tour (40 years) but oddly I've been a fan since the 70's but never really liked the direction they went from the age I started going to gigs. You know – stuff like Golden Brown and all that stuff. But I'd heard the guy who's now doing what Hugh Cornwell used to do in singing and playing guitar is decent and that they were playing relatively small venues on the tour so I got myself a ticket for the Reading leg of the tour.
Sub89 is a decent venue. It's got a capacity of a just few hundred meaning you're not far from the band but it's big enough to have a jolly decent PA and lighting rig too. Once settled into their set The Stranglers mentioned it was like playing in a front room and that sums it up nicely compared to other gigs they've played in the past. Perfect.
The Stranglers romped through a set list which was pretty damn near the one I would have chosen if I'd written it myself. I like to hear some more recent songs in amongst a heavy smattering of old classics – and there were plenty of those. "Nice 'n' Sleazy" does it every time. "Peaches', their version of "Walk On By' and 'No More Heroes' are stone cold standards and were all delivered in with amazing clarity. It's interesting what you can take out of a band and still keep it's essence. Drummer Jet Black is absent but the guy behind the kit delivered a very solid and punchy performance. What I would really miss is Jean Jacques Burnel's bass lines and presence and Dave Greenfield's unique keyboard playing but thankfully they are still very present. It just wouldn't be The Stranglers without these two. In Baz Warne they have a great front man and guitarist who's not trying to be Hugh Cornwell but fits in just fine. Excellent.
In a virtually straight through performance lasting for an hour and three quarters they pile through 'Tank', 'Hanging Around' and a host of others only interrupting the flow for JJB to hold up a sign showing that Germany were beating Brazil 5-0 – by half time! Elsewhere the crowd got the chance to vote to hear 'Golden Brown' or 'La Folie'. A simple choice really and we got to hear the latter in full, in French for it's entire six minutes. The crowd are really up for it tonight and songs like '5 Minutes' leave the floor literally jumping beneath my feet as people in front of me go just a little bit crazy with some energetic 40 something pogoing. Crowd surfing, crutches being waved in the air and the odd shower of beer show that this bunch of fans still want to enjoy it all just as they did many years ago. And yes, I did too. Absolutely bloody brilliant.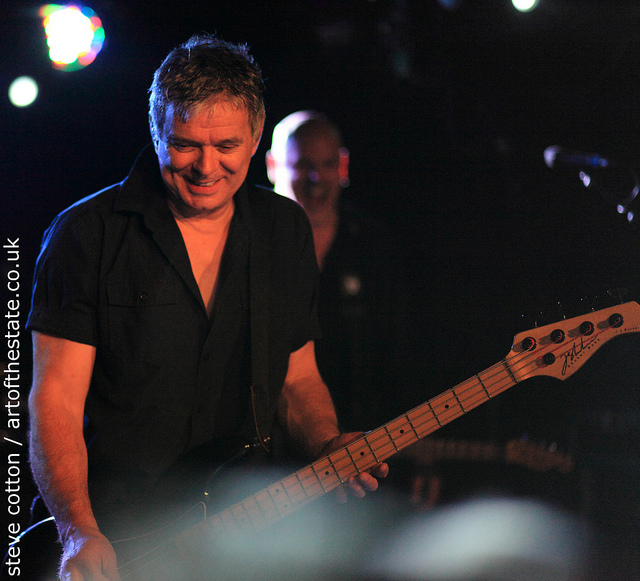 JJ Burnell
And for your enjoyment here's my punters eye view of the aforementioned '5 Minutes'