PETER AND THE TEST TUBE BABIES / THE VILE / CRETIN 77 / ARCH RIVALS at The Flag, Watford
PETER AND THE TEST TUBE BABIES / THE VILE / CRETIN 77 / ARCH RIVALS Friday 23rd January 2015 at The Flag, Watford
The Watford Punk Collective have been steadily putting on punk gigs at the Flag for a while now but this was only my first foray into the town North West of London for a show. The journey round the M25 was surprisingly easy for a Friday night and I arrived in time to catch opener Arch Rivals. With a definite Oi feel their set consisted of strong hooks and stronger choruses. There was even a little bit of ska thrown in there too. The singer has a decent amount of stage presence, not least because he was sporting a flat cap and a big bushy beard for good measure. A bit Peaky Blinders and quite a good look – a fact not wasted on a section of the crowd who mid song donned fake beards and turned up en masse in front of the singer. I've since discovered that this was Arch Rivals first gig – a very impressive debut.
Next up were Cretin 77, a band I first saw in Milton Keynes over a year ago. It's hard at times for 'new' punk bands to make a name for themselves but that's exactly what they are doing right now. Singer Joe has a real Jello Biafra tinge to his voice and a captivating style, all stares, hand gestures and stop start motion. The band provide a solid punk rock base, part GBH, part Dead Kennedy's and even referencing Joy Division (although sadly their stunning cover of Transmission didn't make the set tonight).They have a wealth of strong mid tempo songs – standouts for me were 'Sleep In Your Car', 'Satellite Smile' and the more recent 'Killer Kane'. If they play your town go see 'em. They win more people over every time they hit the stage and got a great reaction from the rapidly assembling crowd tonight.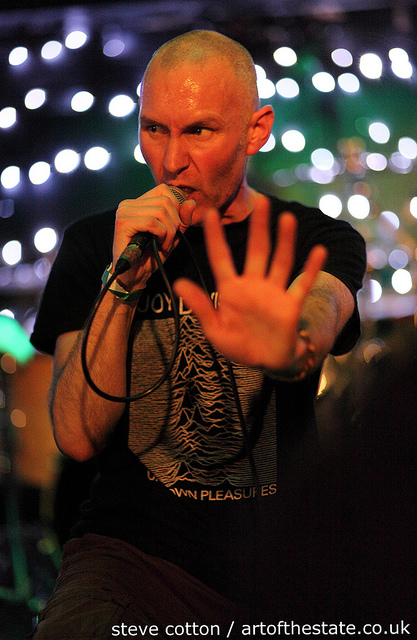 Joe from Cretin 77 (photo: Steve Cotton)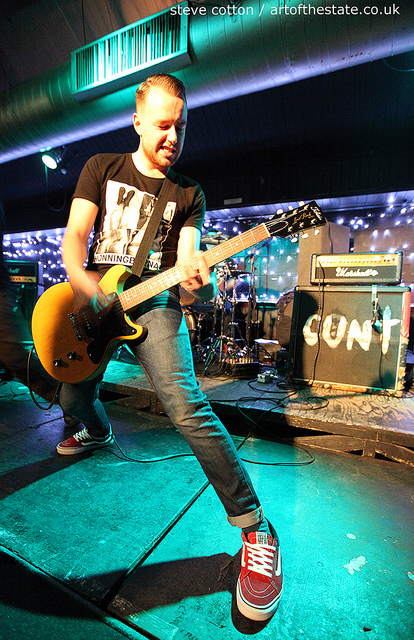 Andy, Cretin 77 (photo: Steve Cotton)
One thing you can't do with The Vile is ignore them. They arrive and start as they mean to go on, relentless punk rock thrash. Fronted up by Rat (Varukers, Discharge etc) they take no prisoners. I have to say last time I saw them I wasn't much of a fan but tonight the sound man ensures they get a decent mix and some songs start to really stand out. Set highlight for me was "It Is What It Is" from their 2014 Fear Of the Truth 7″ EP. I really should have bought this on the night – I'm going to have to track it down now.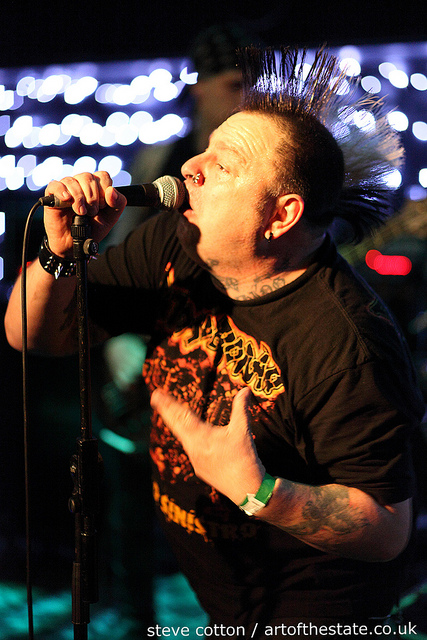 Rat from The Vile (photo: Steve Cotton)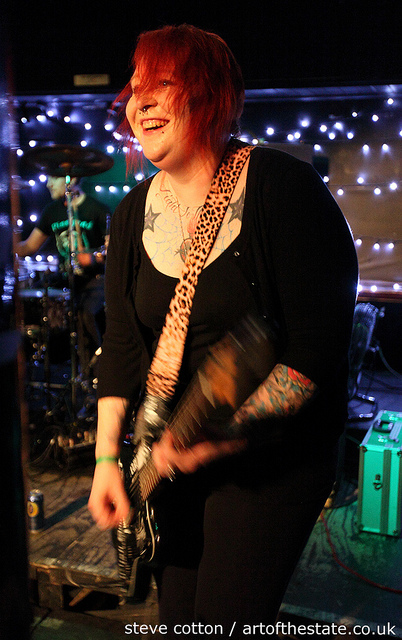 The Vile at the Flag, Watford (photo: Steve Cotton)
I've seen headliners Peter And The test Tube Babies countless times over the years and they never disappoint. Launching into crowd favourite 'Moped Lads' they played a set full of early classics ('Run Like Hell', 'The Jinx', 'Banned From The Pubs' et al) and a smattering of more recent offerings. There's a bit of an atmosphere in a section of the crowd which sadly and somewhat inevitably boils over into a few punches being thrown but things settle down quickly and whilst the threat never quite goes away the rest of the gig passes off without serious incident. The Test Tubes come back to complete an encore of 'Elvis Is Dead' and a blistering version of 'September' giving the crowd just what they wanted. It's the second time they've played the Flag and judging by the size of the crowd here and the reception they got it won't be the last either.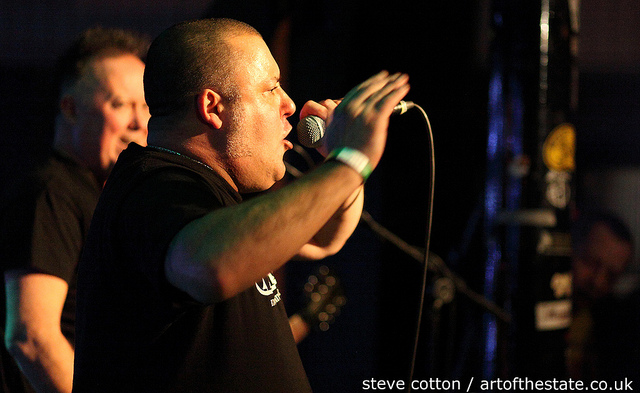 Peter Test Tube (photo: Steve Cotton)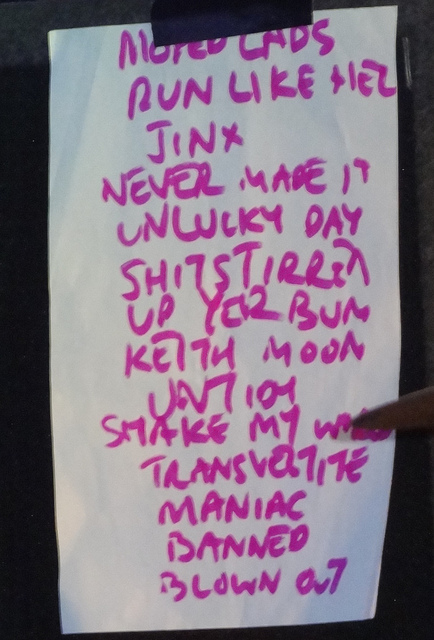 All the classics – Test Tube Babies set list from the night.