UK SUBS – Yellow Leader album
UK SUBS – Yellow Leader album review (Captain Oi)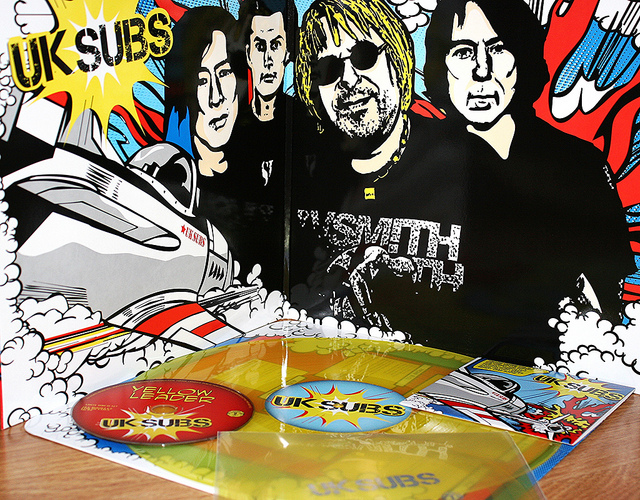 Anyone who has witnessed the UK Subs live in the last few years knows just what a formidable line up they have these days. Forged out of constant gigging a stable quartet of  Charlie Harper (natch), returning early eighties bassist Alvin Gibbs, drummer Jamie Oliver and guitarist Jet deliver high octane precise punk rock night after night. Their set consists of a great number of classics from their early period but what of their recent output?
On a mission to produce an album for every letter of the alphabet from to A to Z they are currently at the penultimate letter Y. Yellow Leader is the chosen title and follows on from 2013's excellent XXIV. Being so close to the end now it would be the simplest thing in the world just to knock out a couple of ropey albums to get the job done but that would be to underestimate them. Yellow Leader is a lavish production. From a Roy Lichtenstein inspired gatefold sleeve with the lyrics reproduced in full to the fact that there are 18 songs included this is a quality product and not a rushed job in any way. All good, but what about the music?
'Sick Velveteen' kicks things off with bass and drums and choppy guitar before launching into a fast paced tight punk rock workout. Everything sounds fresh, punchy and up to date. There's even keyboards overlaid on the top just like the opener of XXIV. 'Artifical' continues at a slower tempo but the guitar chug is just so familiar, so…UK Subs. Two songs in and this sounds worth your money already. 'Bordeaux Red' is up next, the title maybe not so surprising as some of the band like a glass of red, the feeling of this one is more mellow before 'Chemical' comes in with its harder lyrics and spaced out chorus. Track after track lands in a plethora of styles. 'Deconstruct' is classic Subs, a live favourite for sure. 'Heathens' really sees the band going at full pelt at times, 'Prime Evil' has some real rock guitars in amongst a little thrashing. Rebellion takes things down an acoustic route before 'Sin City Blues' lives up to its name. 'Suicidal Girl' really gets things rocking and shows off Jet's guitar work nicely and the whole thing ends with a pretty crazy instrumental '611'. There's so much great stuff here if the Subs were a lazier band they could quite easily have chucked another half dozen songs into the recording can and released two separate 12 track albums to complete the A-Z right here, right now in 2015. Yellow Leader defies this attitude, it's a fantastic album by a band on the top of their game. Roll on letter Z!