MDC / SUBHUMANS / ANTI SYSTEM / HAGAR THE WOMB – AWOD 2015
Work, bad planning and just stuff meant that I could only make one night of the Another Winter of Discontent festival this year. It was going to be Sunday chiefly because I haven't seen OI POLLOI in years but in the end Saturday was the only option available. Even then I only arrived during Hagar The Womb's set and was immediately surprised how well they came across on a big stage and with a decent full sound. Seriously loved them, mildly chaotic singing, animal print outfits and so much energy they filled the hall easily with songs from their Mortarhate / Abstract years along with more recent offerings. I want to see them again, their catalogue of songs live is much stronger than I'd ever given them credit for.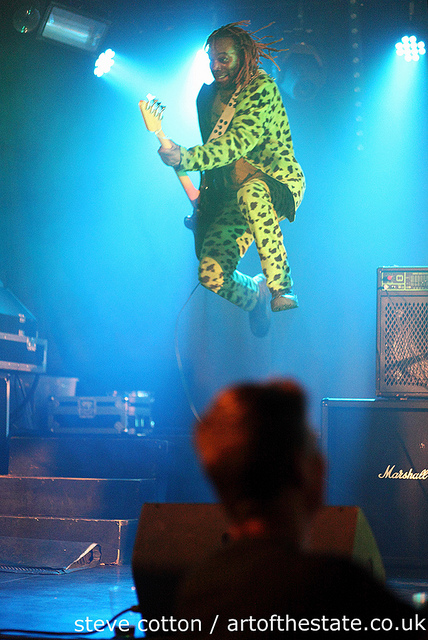 Hagar The Womb, AWOD 2015
Sick On The Bus started up just as I was about to head downstairs for Anti System. That's the trouble with these multi hall gigs, there's decisions to be made. Armed with a dose of "We Are Sick On The Bus" I had to leave to see Anti System 'cos I'd never seen them before. With a new singer they came over as urgent and essential and immediately got the crowd going, a lot of people had been looking forward to this and down the front was rammed. They really delivered, a fast set punctuated by a couple of problems but all in that eighties punk / metal / crust vein, so good but it all ended so soon with the classic 'Animal Welfare'.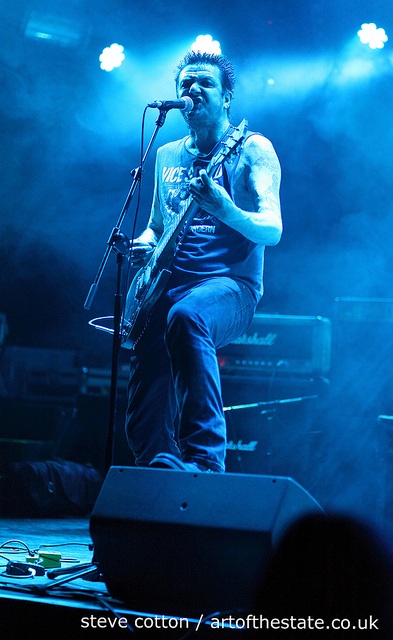 Sick On The Bus, AWOD 2015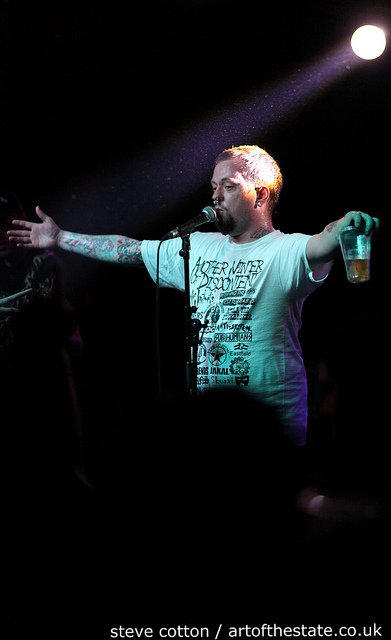 Anti System, AWOD 2015
Back upstairs the Subhumans were getting ready and when they started they sounded phenomenal. I'd love to get a recording of this gig, the band were on such top form. Bruce on guitar was hammering away, adding little touches here and there to songs that have stood the test of over 30 years. Three decades on the Subhumans make them sound like they were written yesterday about things that concern them today. Dick, always with something to say about current events, takes care of the vocal communication with the crowd as usual but this is a band where all four components are at the top of their game. Classic after classic is aired, "Subvert City', 'Mickey Mouse Is Dead'. 'Fade Away' is dedicated to Paco and the whole set is ended with the inevitable and welcome playing of 'Religious Wars'. Good luck to MDC following that….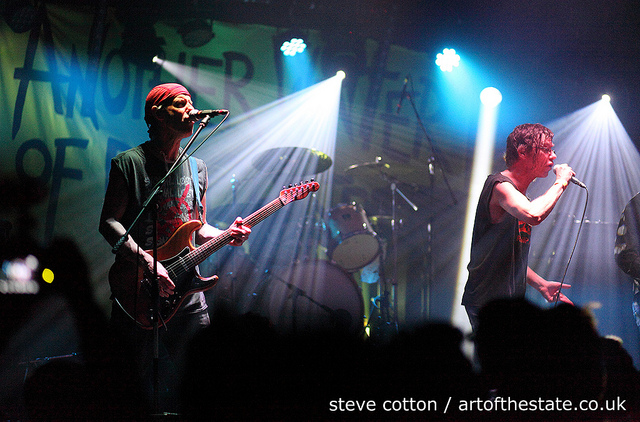 Subhumans, AWOD 2015
Except that they don't, not straight away anyway. The Restarts are surprise guests and take to the stage to rip through three songs ending with crazy workout that is 'Independentzia" from their A Sickness Of the Mind album. The Restarts claim they are there to warm the crowd up for the incoming MDC but just like at the Clarendon in whatever year it was in the 80's that I last saw the Texas band all that is lost in a lengthy wait while they get things ready.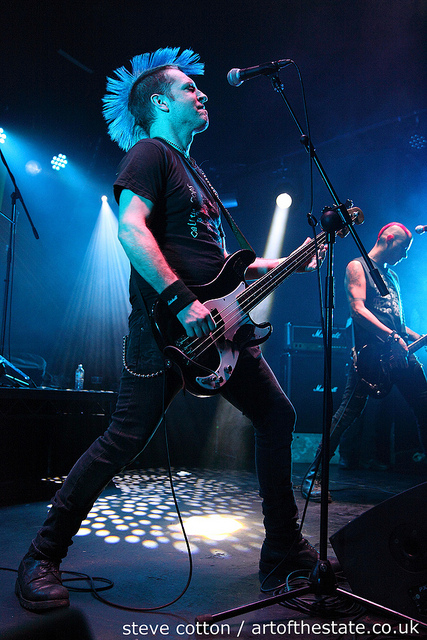 Restarts, AWOD 2015
MDC, AWOD 2015
When they start the bass is so loud the guitarist could have sat the first few songs out. The drums and vocals are there but it needs that cutting attack for it to all make sense. To be honest I'm feeling a bit cheated. I want this to be great but it takes until Chicken Squawk twenty or so minutes in for things to start coming right. 'John Wayne Was a Nazi' sounded like it should but I'll be honest here they're not my favourite band on the bill on the night, much like last time then.