PACO TRIBUTE – CONFLICT / ICONS OF FILTH / HAGAR THE WOMB / THE RESTARTS / POTENTIAL THREAT / LIBERTY
CONFLICT / ICONS OF FILTH / HAGAR THE WOMB / THE RESTARTS / POTENTIAL THREAT / LIBERTY / LOST CHERREES – Sunday April 5th 2015 at the 100 Club.
On the 20th February 2015 Francisco 'Paco' Carreno passed away. He was for many years the main man behind the drums for both Inner Terrestrials and Conflict. The latter band in particular had a profound affect on how I live my life, what I eat, what I think and how I treat others. They did this by coupling challenging lyrics with powerful music that has an intensity that has rarely been matched. An essential part of this was Paco's drums, the way they thunderously roll in setting the scene on 'Whichever Way You Want It' or the breakneck blast through that is 'Neither Is This'. Phenomenal. Conflict just would not have been the force they were without Paco driving it from the back and his loss hit Colin Jerwood, Conflicts singer, particularly hard. Both Colin and Paco go back a long way and with bonds deeper than just band members so it was no surprise that Colin would set about organising a memorial concert. Finding bands to play was no problem, Paco was a well loved and respected man and the seven chosen to play on Sunday 5th April all had direct connections.
The gig started later than advertised on Sunday afternoon but no one gave a toss. This was a DIY affair, if you want things to run on time and someone to complain to when they don't then I suggest you go and see some dinosaur rock band in Hyde Park. This gig was the bands doing it for Paco and his family, no fucking pretensions or egos on show just a determination to stage a fitting memorial.
Lost Cherrrees kicked off the night with a strong set of recent material with a smattering of songs from their Mortarhate career. Like some of the other bands on the night I remember them playing often with Conflict back in the day, particularly at the Surbiton Assemby Rooms riot. Of course now there's only one member left from that time but the connection still runs deep.  They have a harder sound nowadays especially on songs like 'Who's Fucking Who" and plenty of venom in their lyrics.
Lost Cherrees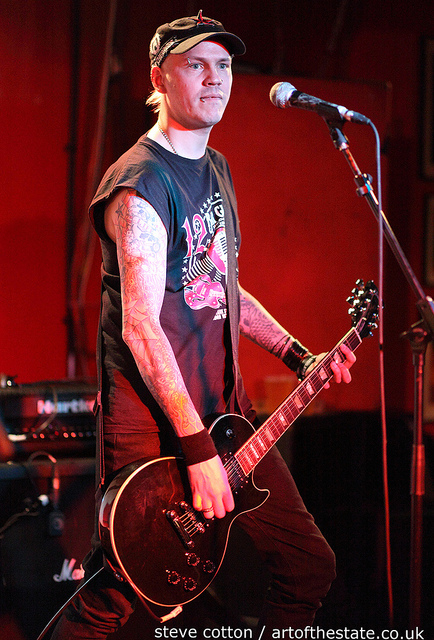 Lost Cherrees
Liberty were up next. Another stalwart from the eighties scene they played more from their earlier years, "Diluted Rebellion" a real favourite and with their dual singers and twin guitar attack they put out a pretty fearsome sound stopping to dedicate their set to "Paco and all of our fallen brothers". As did Potential Threat, announcing "The Hunt Is On" with a heartfelt "You Bastards"! Time hasn't dimmed their anger nor any of the other bands on the bill on the night. It was the first time I'd seen them since they reformed and its great to have so many of these bands back playing, especially on a night like this.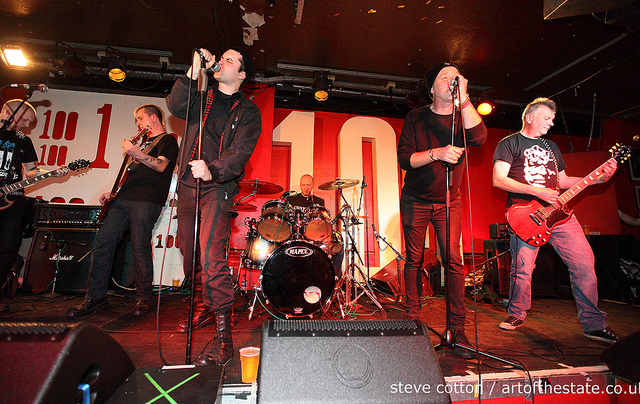 Liberty
Liberty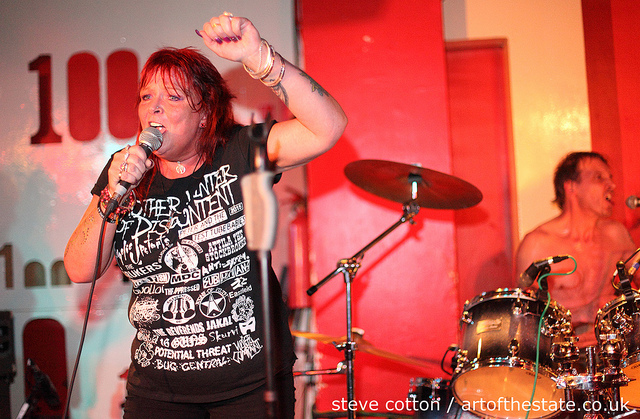 Potential Threat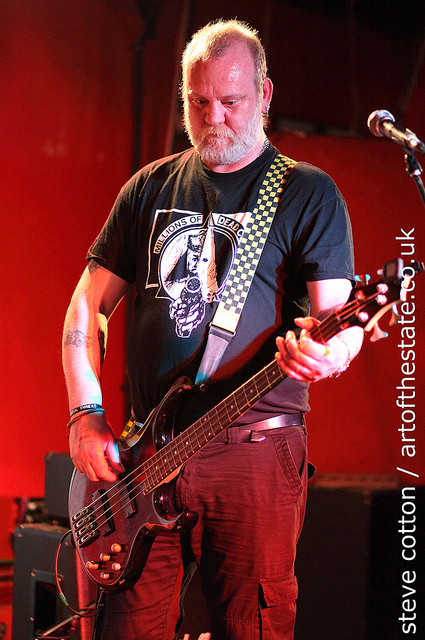 Potential Threat
The Restarts are a band I love, more recent maybe but they've actually been going a very long time now. They have some real classics in their set from the relatively early bass driven 'Frustration' to the more recent "Independentzia" and "Drone Attack" from their "A Sickness Of The Mind" LP they did a great job of injecting life and urgency into the evening. Everything seemed to get a little bit darker and more hectic from this point onwards. Well except for Hagar the Womb who were up next with their pretty joyous take on punk rock. Sure they get angry too bit there's real humour, a sense of the co-ordinated chaos about their set. Their songs like "Idolisation" sound better now than they ever did and having a few recent gigs under their belt has improved their consistency in delivering fun and thought provoking songs. This gig needed a bit of Hagar!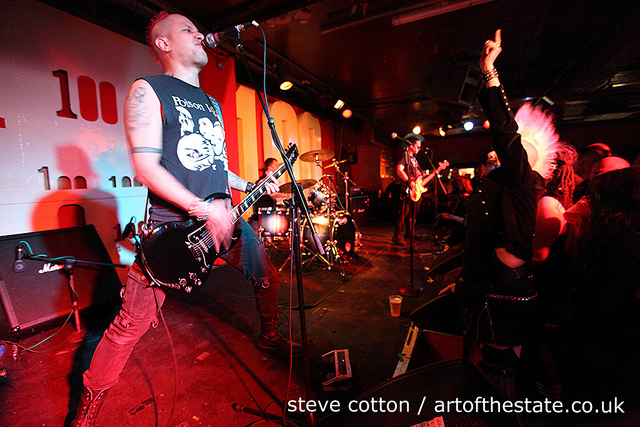 Restarts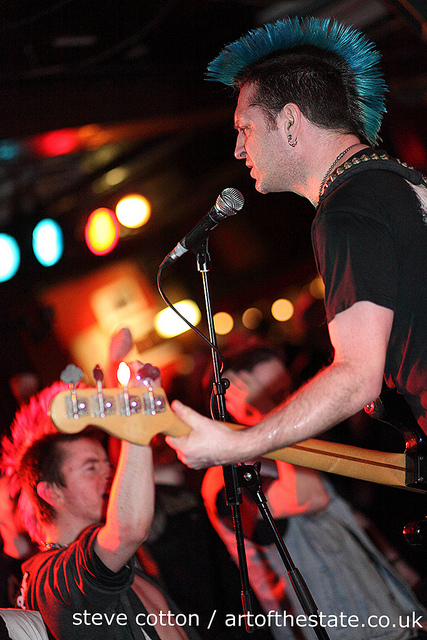 Restarts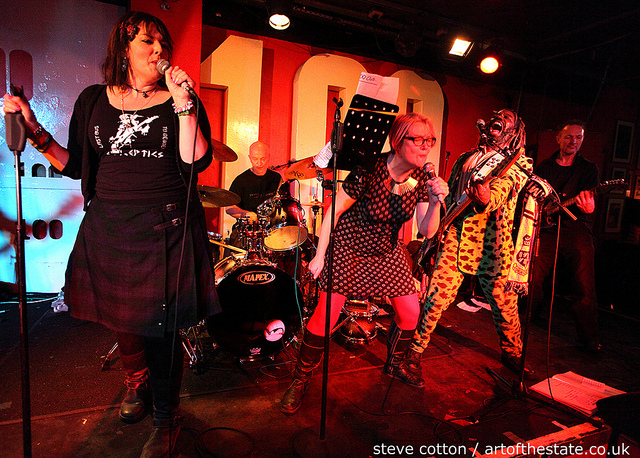 Hagar The Womb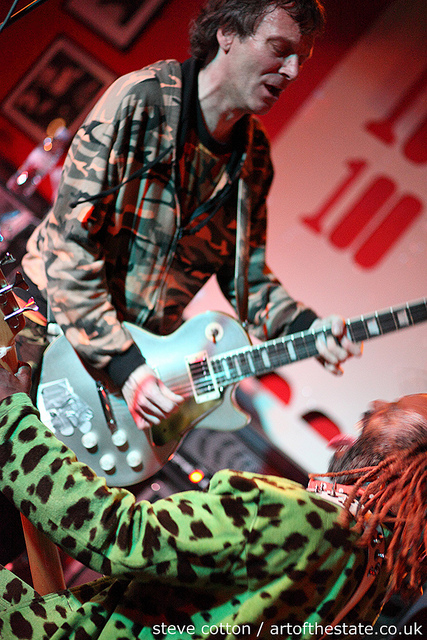 Hagar The Womb
Conflict recently played in Wales for the 10 year anniversary concert marking the death of Icons Of Filth singer Stig. So it was poignant that Icons of Filth that were so soon in London to be doing the same thing in honouring Paco. Adding to the emotional charge was the fact that Stig's son Calvin (now in Grand Collapse) was on vocals for most of the night. He did a great job. He made the point that his father would have loved to have paid his tribute in person and that singing his fathers words was hard. Brave words and very well received. As the Icons excellent set full of early material drew to a close they were joined on vocals by Ben, drummer Aitch's son, Ed on bass switched to drums and the bassist from Grand Collapse came on, the singer from the Phucks also sang and so did Colin from Conflict on "Enough Is Enough". The songs from Nostradamnedus sounded superb alongside all the Mortarhate songs. A very impressive set and like all the bands a real reminder of what Paco meant to everyone here and a reminder of others we have lost too.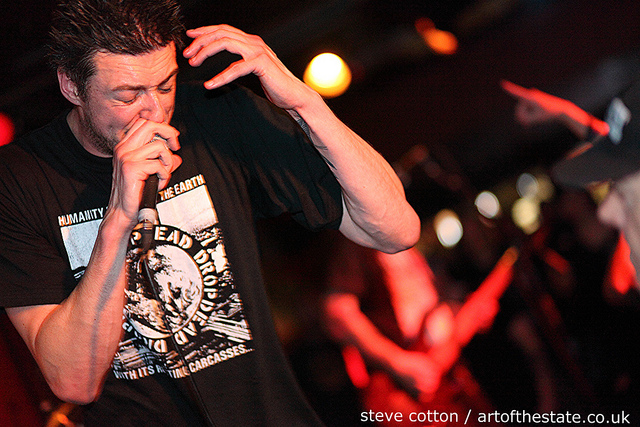 Icons of Filth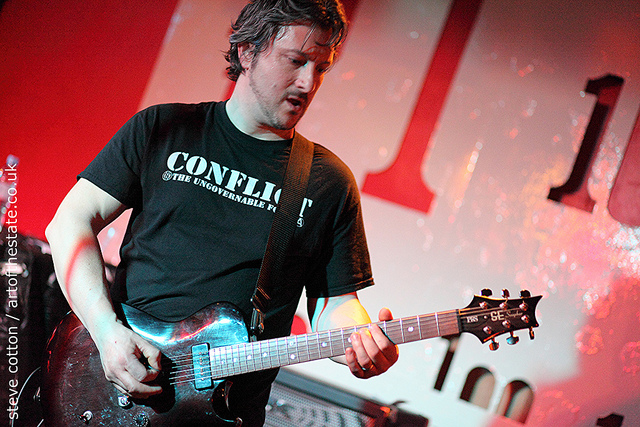 Icons Of Filth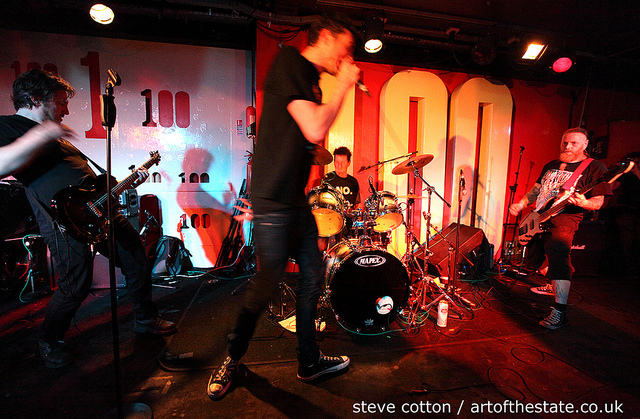 Icons Of Filth
Finally it was Conflict's turn to take to the stage. Right now they're back to their best. Stripped down to a four piece they steamroller through a set full of classics with very little let up. Talking to Colin earlier in the evening this seems like a deliberate plan and it works brilliantly. They're a real sonic assault full of passion, drive and anger – just as they should be and with very few distractions everything really hits home hard. Drummer Spike has a tough job on his hands taking on the job of replicating Paco's rhythms but carries everything off superbly and heads to the centre stage to make his own personal tribute during the set. Colin also dedicates the Ungovernable Force to Paco with the words "This is for my boy, I love you Pax" but its set closer 'Whichever Way You Want It" that really has everyone on stage joining in a fitting tribute to the man himself. An amazing end to a tribute to an amazing man. So many warm words, so much heartfelt emotion. Paco. rest in peace.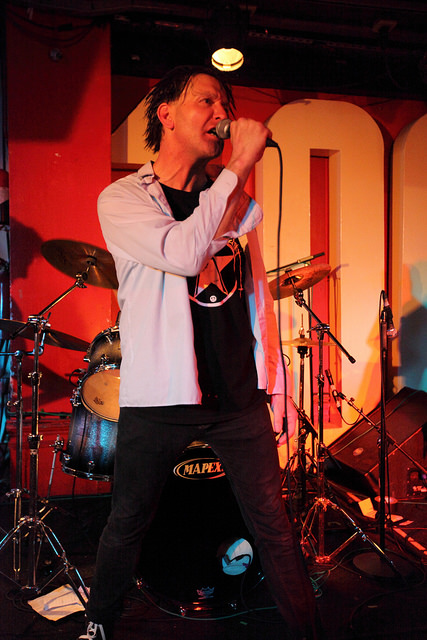 Colin Jerwood, Conflict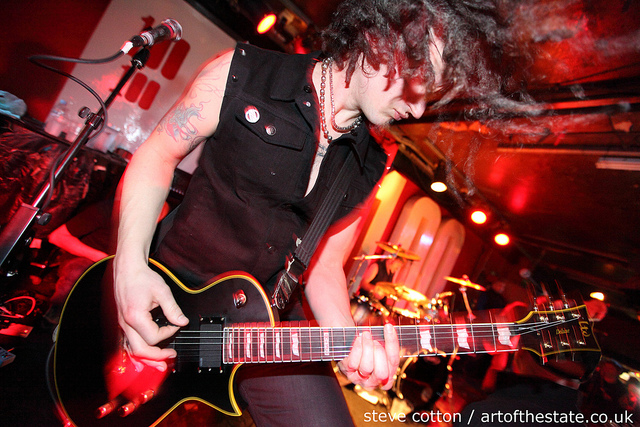 Conflict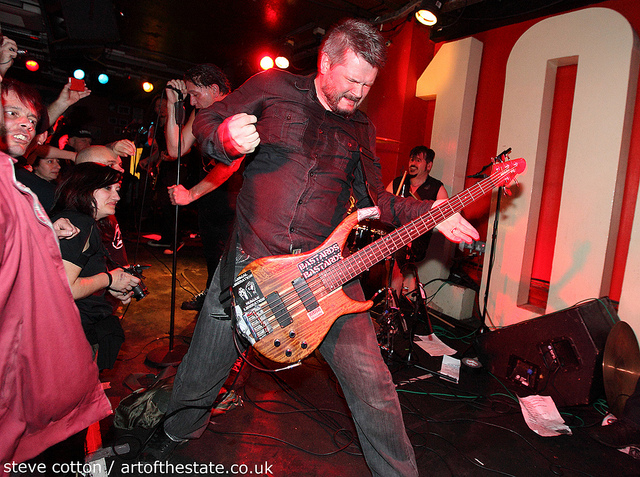 Conflict
PACO RIP