MAID OF ACE / THE LIGAMENTS / ALTERCATION / UNDERCLASS UK / SLUTDROP – Camden Unicorn
Cool, a bunch of bands I haven't seen before and one I love already. All for free on a Sunday night. What's not to like? I arrived just too late to see much of Slutdrop. They were running through their last two songs as I entered the venue but seemed decent. Plenty about them as they kicked up a two guitar attack before heading off stage having earnt a decent reaction. So first up for me was Underclass UK. Right from the off they had a powerful no nonsense sound, something of a cross between Oi and hardcore with a bit of menace thrown in for good measure. Dirty, rough punk rock that doesn't takes its boots off. Except for half way through when unexpectedly a man walks on stage and creates a fair degree of tension with a very direct spoken intro into 'Somebody'. It works a treat and lets not spoil the effect here in case you catch it live yourself. Two bands in and its already shaping up to be a great evening.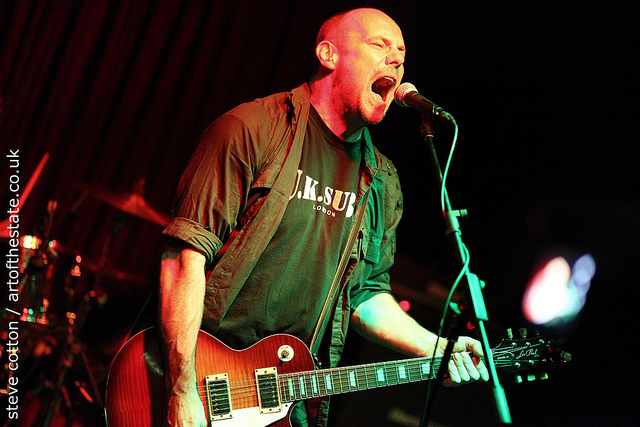 Underclass UK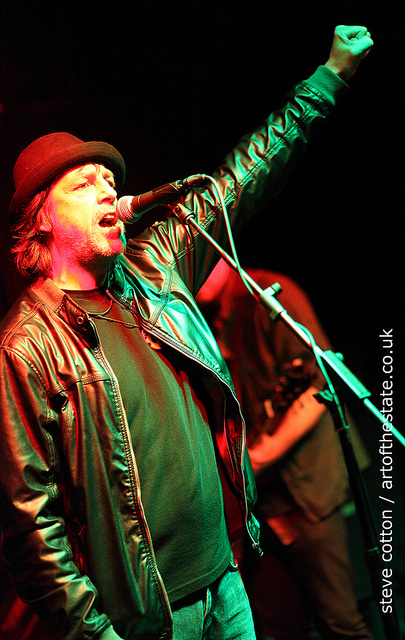 This guy introduced 'Somebody' for Underclass UK
One band definitely on my bucket list to catch this year is Healthy Junkies. They've had a slew of great singles, especially the ridiculously catchy 'Resistance' but I've failed to catch them live at any point in the last year. They play all the time as well which makes it all the more remarkable that singer Nina Coulson also fronts tonight's third band Altercation. They deliver a confident performance, part rock, part experimental, building up, crashing down and delivering expertly through a varied and entertaining set. I need to track down a recording so I'll be more familiar with their material next time.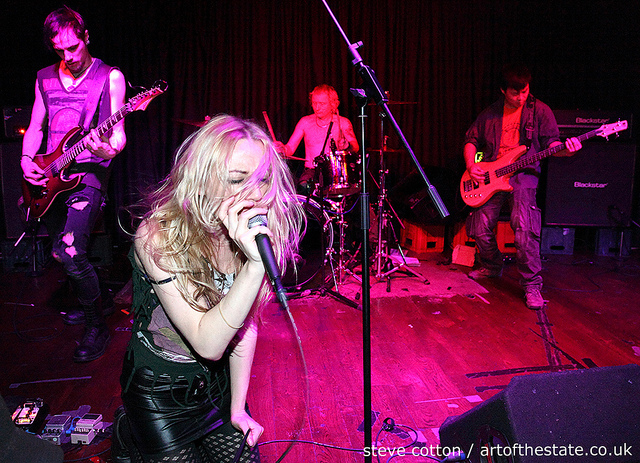 Altercation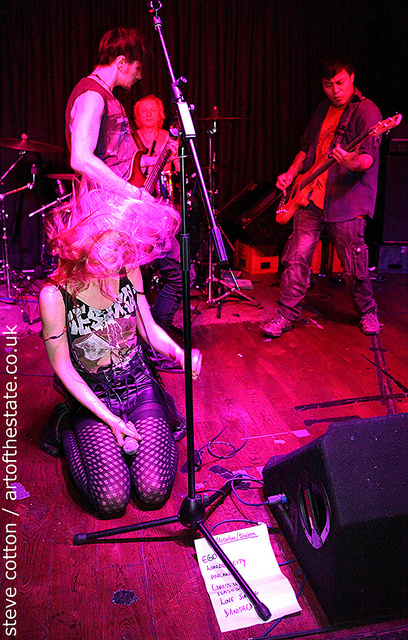 Altercation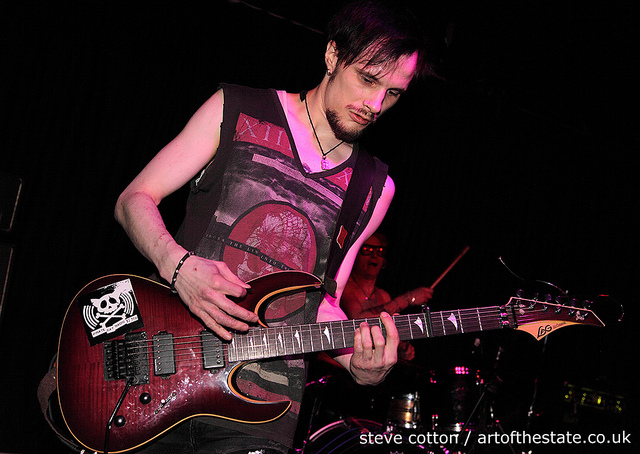 Nearly time for headliners Maid Of Ace but just prior to that are The Ligaments. A three piece, they amble onto the stage with a double bass, a drummer and a guitarist. So far, so rockabilly. And then they play. Wow, just wow. Their drummer thrashes and crashes around the kit, her arms a blur as she really hammers out the beats driving the band forward. Not that they need encouraging at all as the guy on double bass is really giving it some. It doesn't sound typical of that instrument at all – they sound proper hardcore, on guitar its blistering riff after blistering riff building up into a finale on 'Back Room Wall'. Got to say they blew me away and were well worthy of their slot on the bill. A fact not lost on tonight's headliners who offered them their congratulations as well.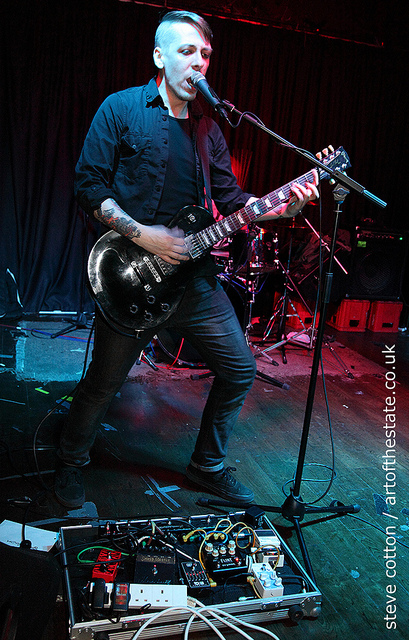 The Ligaments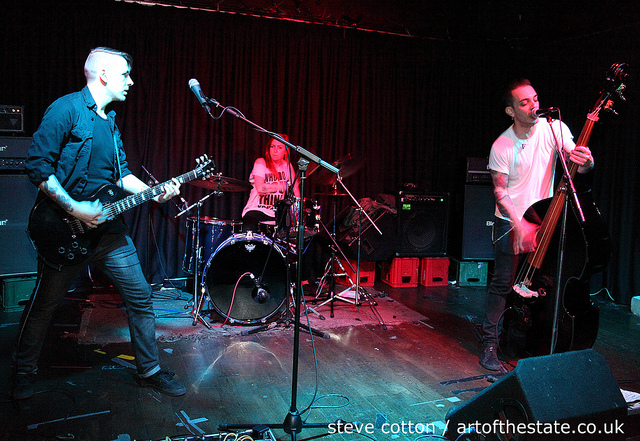 Maid of Ace are, however, also well worthy of their headlining slot. They kick up an almighty, filthy punk rock sound right from the opener and crash relentlessly through blocks of four songs at a time with very little let up. Their set has got stronger over the last year – It's now a formidable all-out assault on the ears full of passion, distortion and commitment. They're a veritable force of nature. Go see 'em while they're like this, they're nothing short of amazing right now. Right at the end though a disappointment – set closer 'Rules and Regulations', a cover of the Fuzzbox song has to be dropped due to a strict curfew. Oh well, I'm going to have go along and see them all over again now, what a shame!
Alson Cara Elliott, Maid Of Ace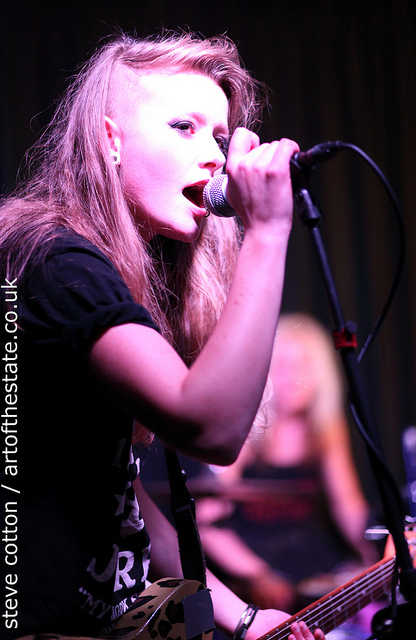 Anna Coral Elliott, Maid of Ace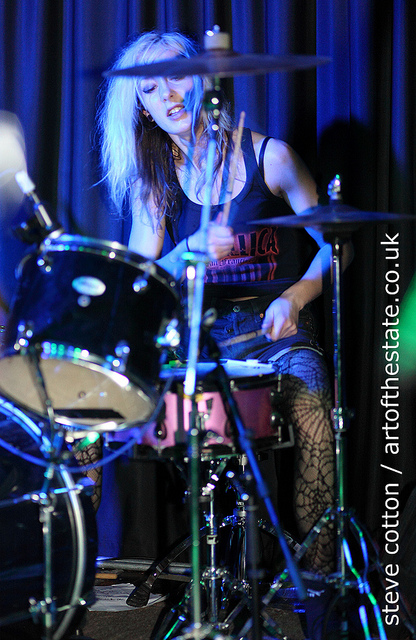 Abby Elliott, Maid Of Ace