GBH / DOOM / COITUS / SPLIT VEINS at Boston Arms, Tufnell Park
GBH / DOOM / COITUS / SPLIT VEINS Friday 17th July 2015 at the Boston Arms, Tufnell Park, North London
A long, long time ago I put on a gig with Doom at the William Morris Club in Wimbledon and used to regularly correspond with guitarist Bri. Way back in '88 the line up for that night also included Deviated Instinct and Bolt Thrower. I saw Doom a few times after but I haven't seen them at all in at least the last decade. The same can't be said for GBH, I've caught them live a couple of times in the past year alone and both gigs have left me impressed. Having both on the same bill is a real coup for organisers South London Scum and Crash n' Burn – great and welcome work. Add in the pretty legendary Coitus and the relatively new sounds of Split Veins and you've got the makings of a pretty special night. So good in fact it had sold out in advance with no tickets left for those that left it to the last moment.
Split Veins are first up and its immediately apparent that they are not are your run of the mill thrashers. They have a spaced out echoey vocal style and alternate between breakneck speed and good solid danceable rhythms. Kicking up a a real cacophony at times they remind me a little in their out of this world style of Rudimentary Peni but with longer songs. Not too close a comparison – good to see something so original.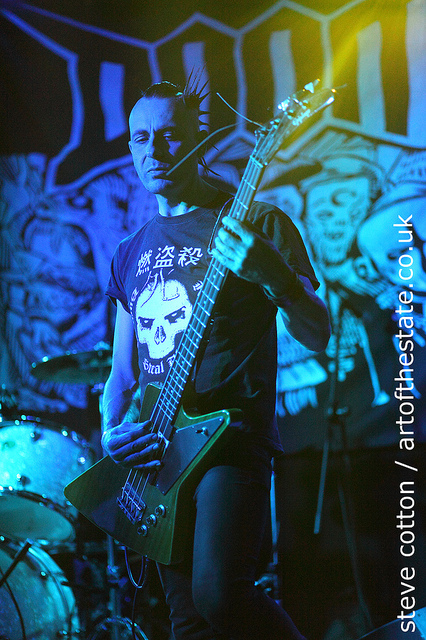 Split Veins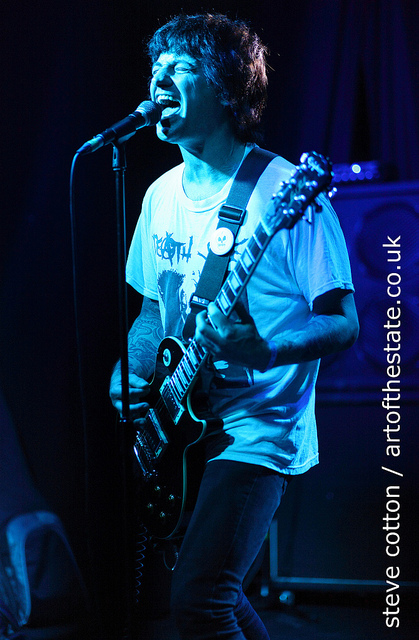 Split Veins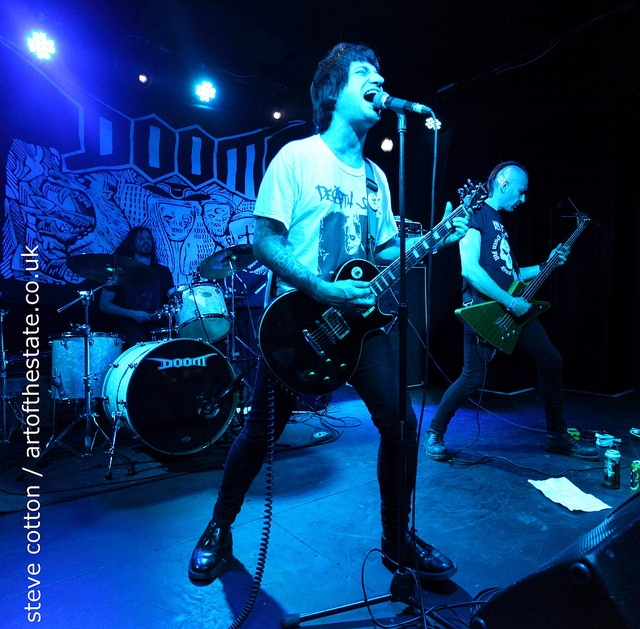 Split Veins
Coitus were active in punks forgotten years in the 90's. One of my favourite bits of footage from that time is them playing 'Submission/Domination' in the Stokey Punx film. Great to finally see them play this tonight but so early on in the set! The three piece have a great heavy filthy punk rock sound that built up the crowd down the front – helped by a cover of Discharge's The Blood Runs Red and and a singalong celebrating the death of Thatcher (the former PM rather than the cider brand as they were keen to point out)!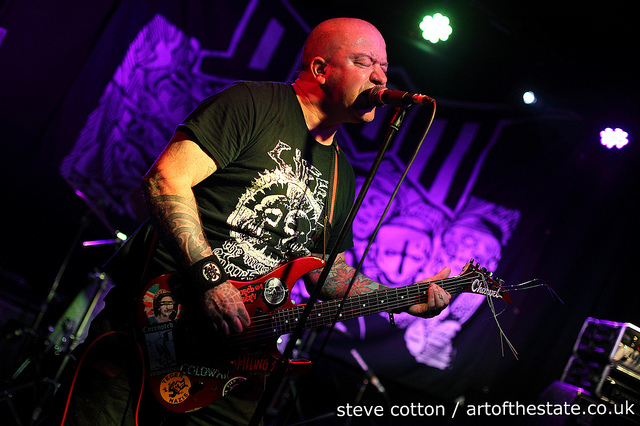 Coitus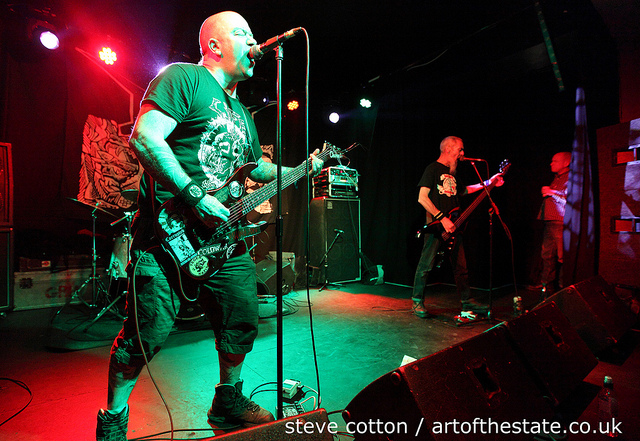 Coitus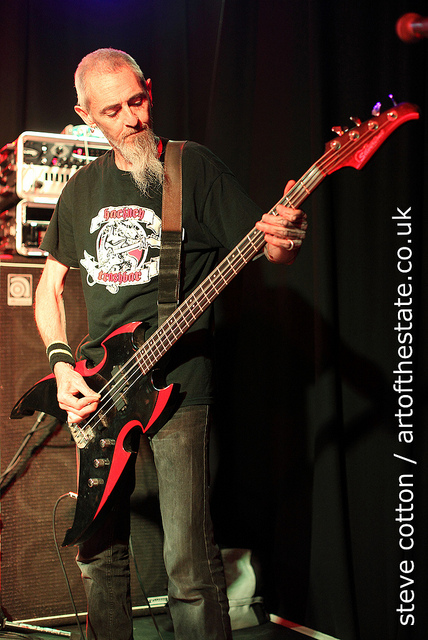 Coitus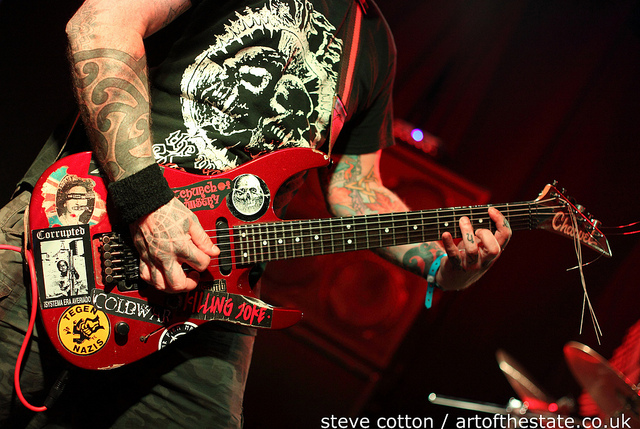 Coitus
A look at the crowd in the now packed room gave the game away that there were a hell of a lot here to see D-beat influenced crust punks Doom. They took to the stage and immediately hit their stride, a high octane steam roller of a set leaving all in its confrontational wake. After seeing Voivod's frontman Snake wearing a Doom shirt at their recent London gig it was  nice to see a reverse compliment being payed tonight, coincidence or not. Down the front people were dancing, slamming and surfing as if this was something they'd waited for for years – and in many cases they have as Doom gigs in London are few and far between. As a salutary backdrop to the whole event the recent loss of life at a Doom concert in Santiago, Chile featured – it was great to see that this gig raised well over half a grand for the victims friends and families. Loads of classic Doom songs from 'War Crimes' through to 'Corrupt Fucking System' were cranked out at full with Exploitation being a personal favourite, the crowd loving every single second. Too many to mention here but from opener Fear Of The Future to set closer Means To An End there was no let up in their relentless onslaught. Definitely one of the best live bands out there right now which brings us on to tonights headliners….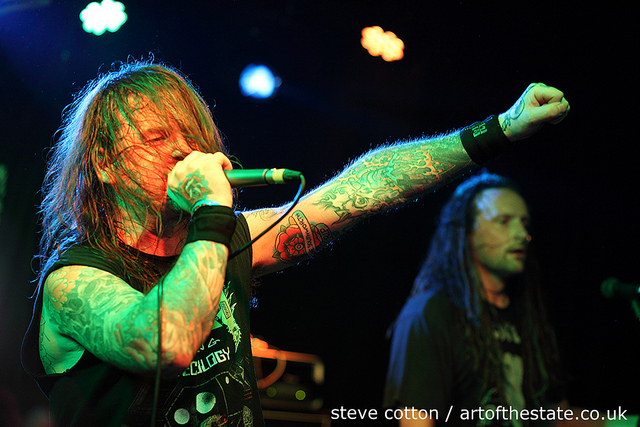 Doom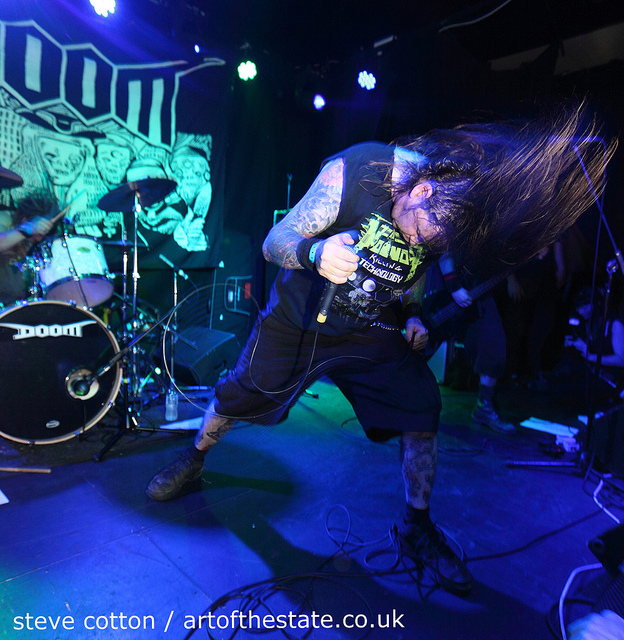 Doom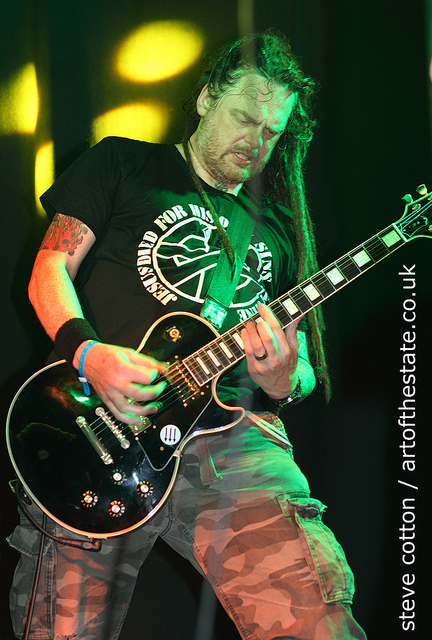 Doom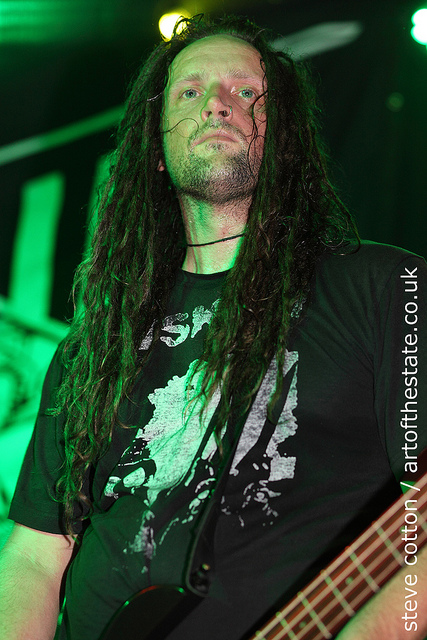 Doom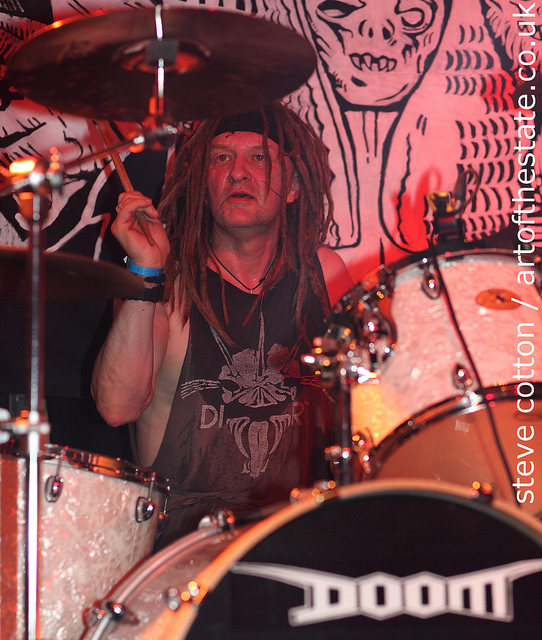 Doom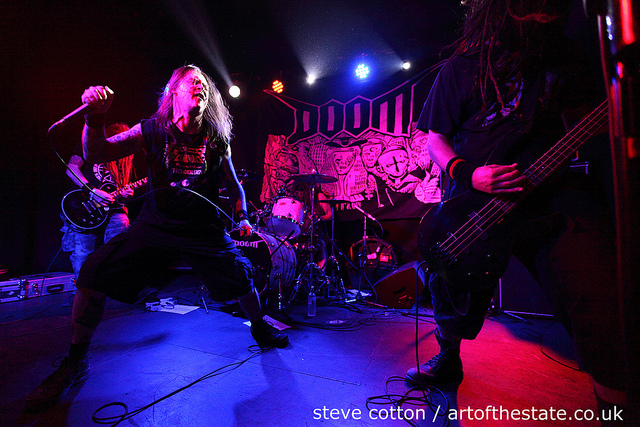 Doom
I half expected the make up of the hall change a bit for GBH but fuck was I wrong. I should give people a bit more credit. There's a lineage here between the bands that is both musical and geographical that everyone seemed to get – and besides which GBH are a damn fine live act with a slew of great songs to their name. From their sublime mini LP 'Leather, Bristles, Studs and Acne' (surely one of the best debuts of all time – so good in fact they play every song off it again tonight) to more recent offerings including Kids Get Down off Perfume And Piss they had the place proper jumping. Those 80's singles 'Sick Boy', 'Give Me Fire' always stand out but personal live favourites 'Drugs Party in 526' and 'Generals' always do it for me. I can't believe it's got to be thirty years since I saw them at the Greyhound with the English Dogs. Set closer Maniac sounding even better tonight than it did even back then. Phenomenal gig, one that you expect people to be talking about for a good while to come.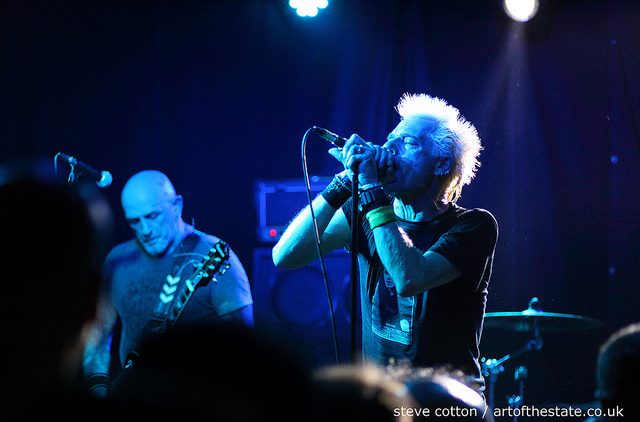 GBH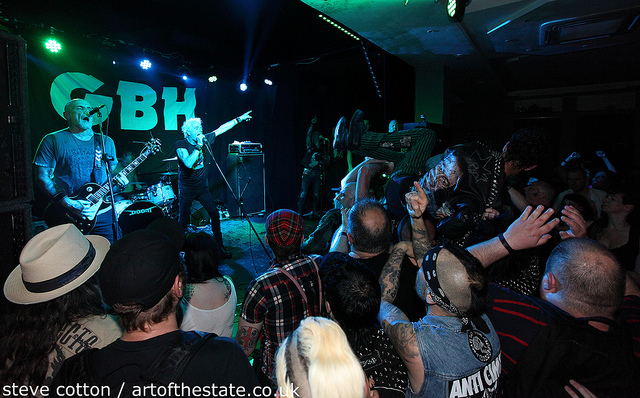 GBH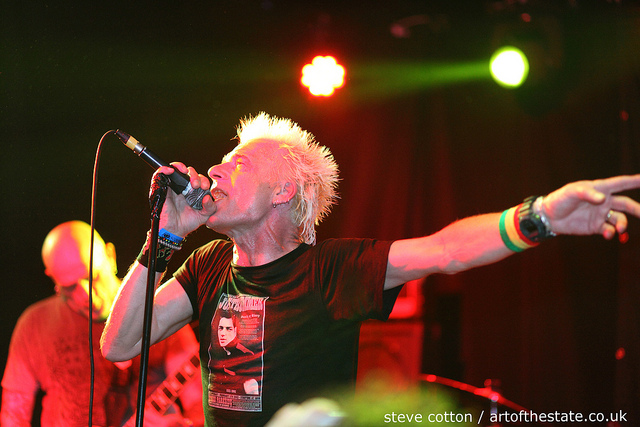 GBH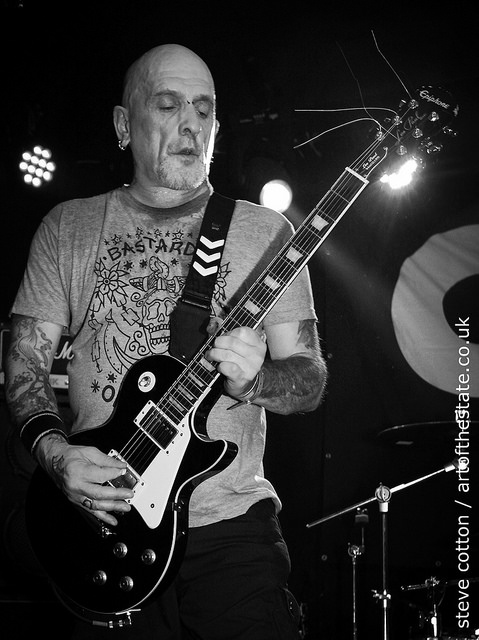 GBH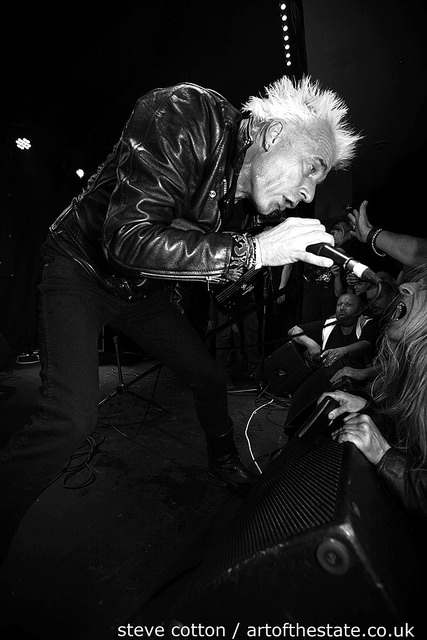 GBH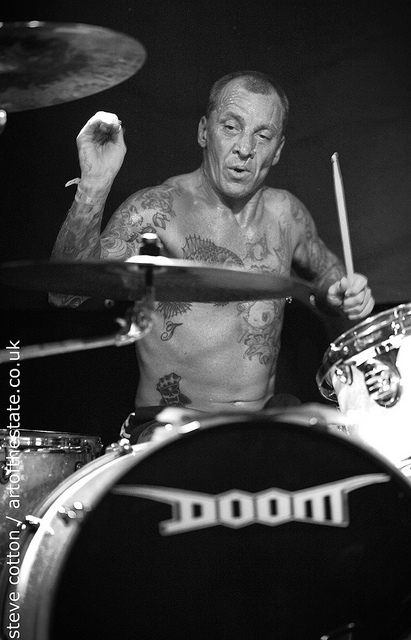 GBH