Banksy's Dismaland in Pictures
Banksy's latest project 'Dismaland' opened to the public on Saturday 22nd August 2015. Featuring work by more than 50 artists from 17 different nations he has assembled a mass of thought provoking, topical and challenging art (you try knocking the anvils off their perches). This picture heavy post contains a small fraction of what is included in the show – allow yourself plenty of time to take it all in if you're visiting….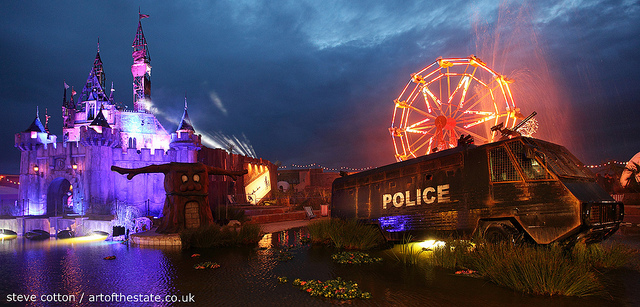 Dismaland occupies the site of the disused and derelict Tropicana Lido on the sea front in Weston Super Mare. Through a clever piece of deception its existence was kept quiet right up to just a few days before the show by claiming that a film entitled 'Grey Fox' was going to be shot there. A perfect excuse to explain all the construction work and to have Security stop prying eyes.
One of the pieces that gave the game away was when Mike Ross's Big Rig Jig piece loomed above the walls of the Tropicana. It's an eye catching sculpture, born out of "reckless optimism", that required a fairly hard to conceal crane to put it in place.
Another colossal vehicle is this security forces truck from Northern Ireland repurposed as a fountain and with a a children's slide sticking out the other side. It appears beached in the Lido pool which is full of weeds and worse. Definitely not a place for a dip.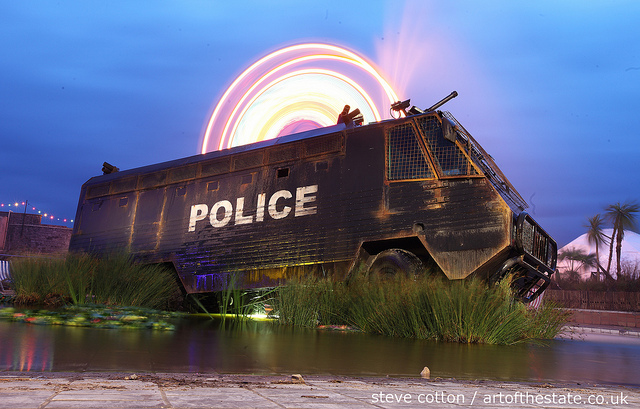 Banksy's Dismaland installations often relate to animal themes. On the fairground carousel one of the horses has been hoisted by its hind legs while a slaughterhouse worker takes a break underneath from preparing lasagne – a clear reference to the horse meat scandal of recent years. Round the other side a marauding bunch of anarchists who seem to be part of the show jump on the ride waving banners whilst standing on the backs of their steeds.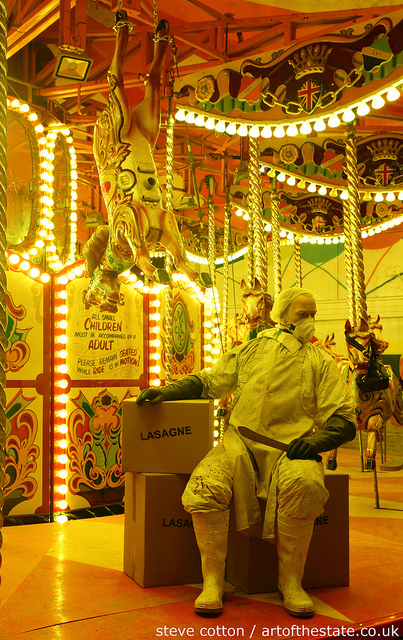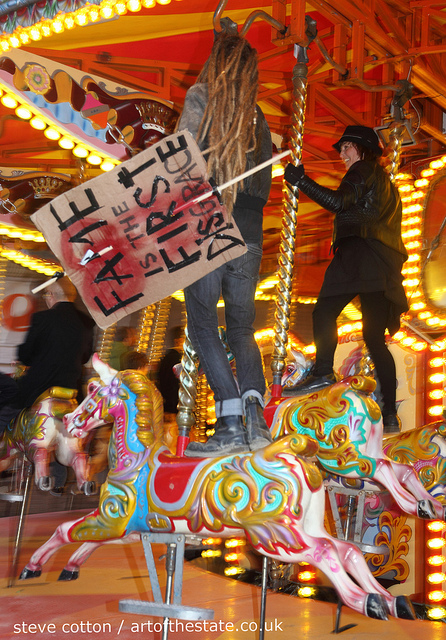 Near the back of the venue where the arched diving boards structure used to stand an orca whale jumps from the confines of a toilet through a hoop into an unfeasibly small paddling pool full of dark liquid. Maybe a comment by Banksy on these beautiful creatures being trapped performing tricks in pools that are microscopic in comparison to their natural habitats.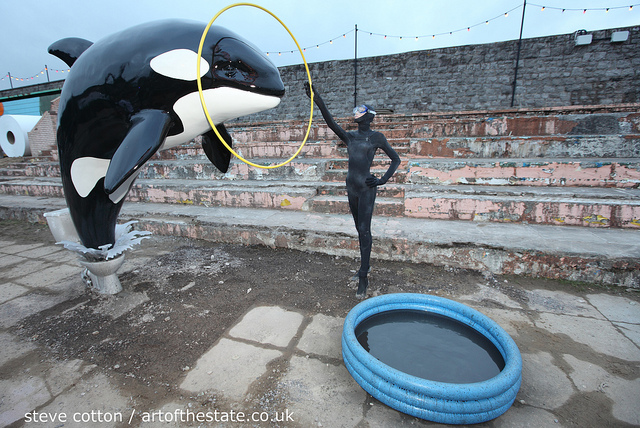 Again from Banksy is this over the top illustration of seagulls attacking humans. Seemingly referencing recent media stories about the "menace of seagulls" but taking it to extremes it also provides a photo opportunity for anyone who cares to sit on the bench.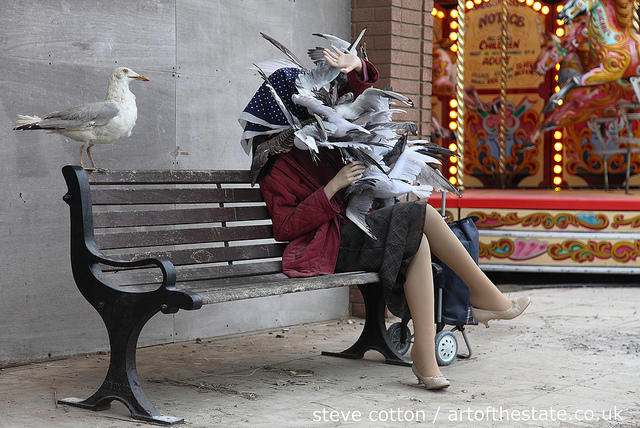 Of course this shows not all about Banksy (more of whom later) – there are around 50 odd international artists who have either contributed work or are actively engaged on site during the show. Time for a whistle stop tour around some of the other works….
Nettie Wakefield was working on site producing portraits in pencil of the back of guests heads. This really gives her the opportunity to show off her stunning technique in capturing every last detail including the way the light falls on each strand.
Wasted Rita from Portugal has a wall of her dark advice at the rear of the castle. The power of the simple written word.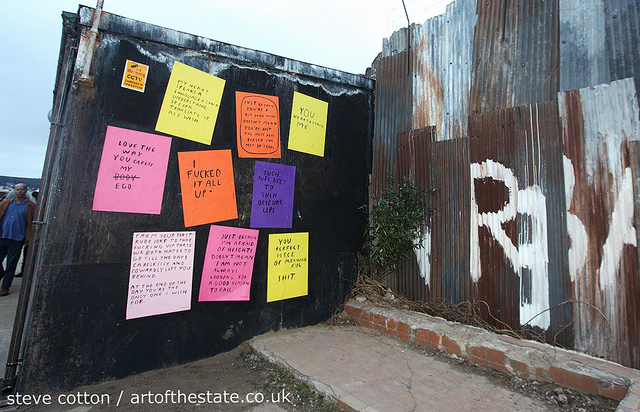 Dotted around the site are a series of yellow signs to make you think about the your stay in Dismaland.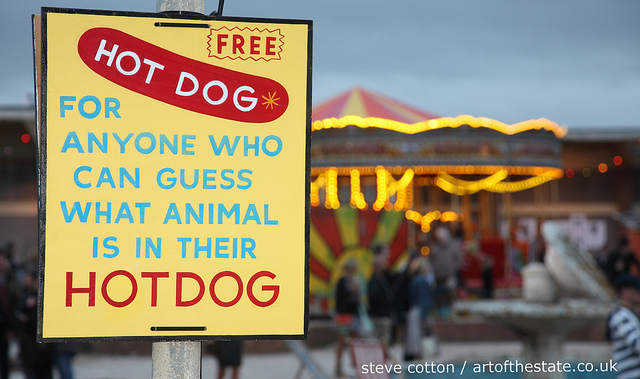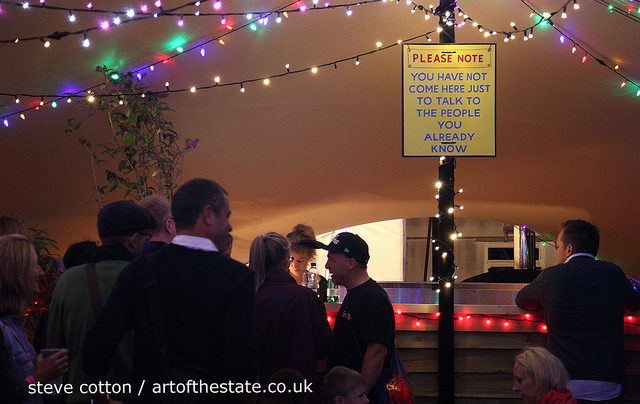 More direct thought provocation is provided in the form of these bus billboard take overs. A nearby stall provides instruction leaflets on how you can open these ubitiquous advert stands and place in your own posters.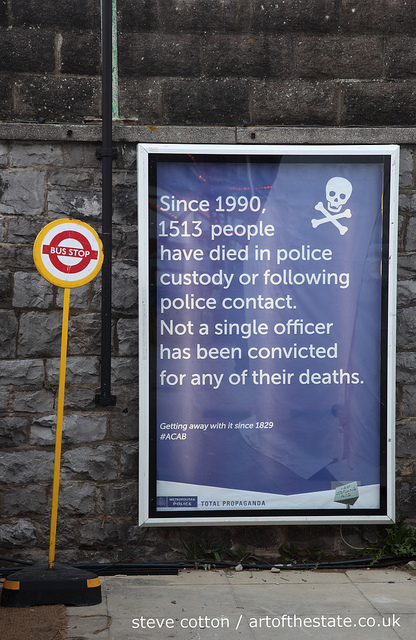 Escif can be found in the far left hand corner with a series of heads and this piece depicting a tree stump in which the embedded axe is sprouting new shoots – 'Hope'.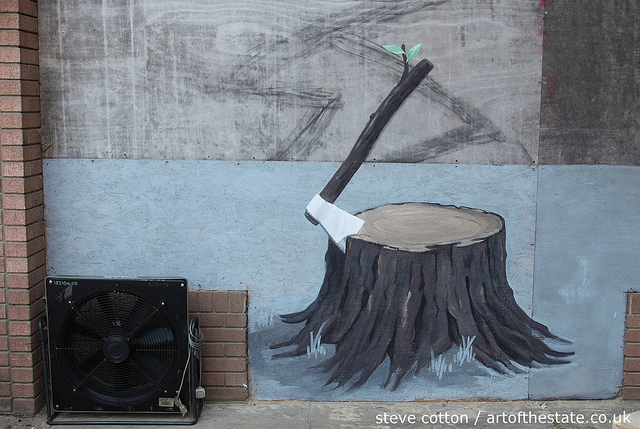 Ben Long's scaffolding pole horse dominated early pictures of the exhibition and it's easy to see why. Now dwarfed by the nearby big wheel it has plenty of competitors for the most iconic image of the show.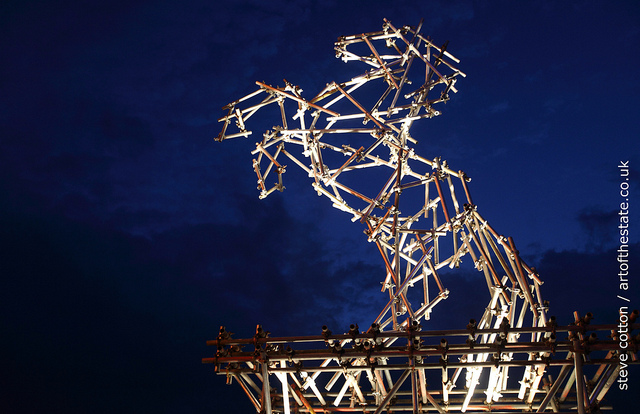 David Cameron gets the shove…if only.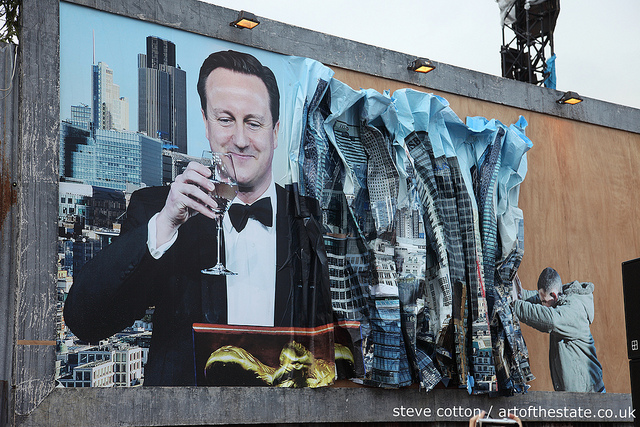 Vying for 'best in show' is Jimmy Cauty's simply breathtaking in its scale and detail 'Aftermath Displacement Principle'. 23 crates worth of riot torn city featuring around 3000 1/87th scale police officers all uniquely made from modified model railway workers. An exhibit you can stare at for a very long time and still find something new, theres a wealth of little scenarios to take in whilst trying to comprehend the whole. Can you find Royalty making an official visit?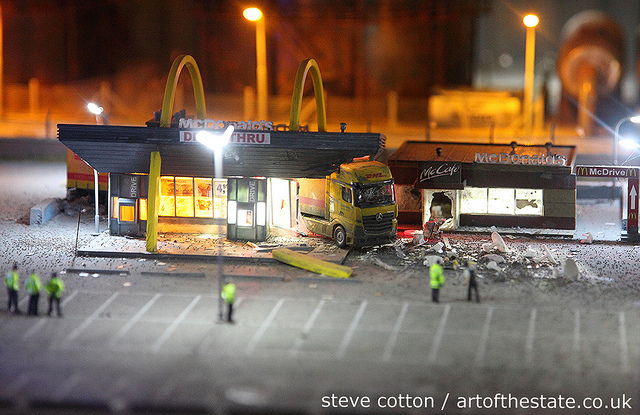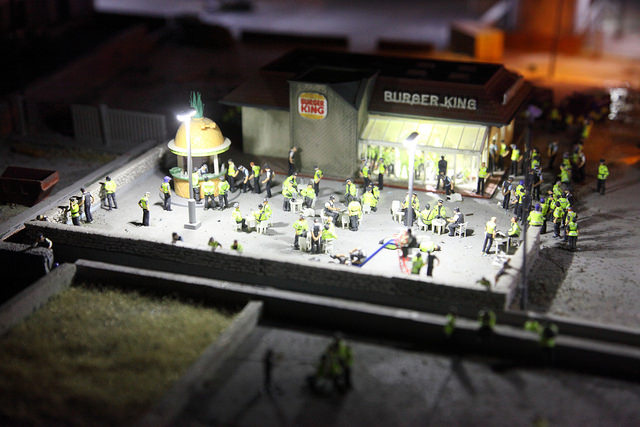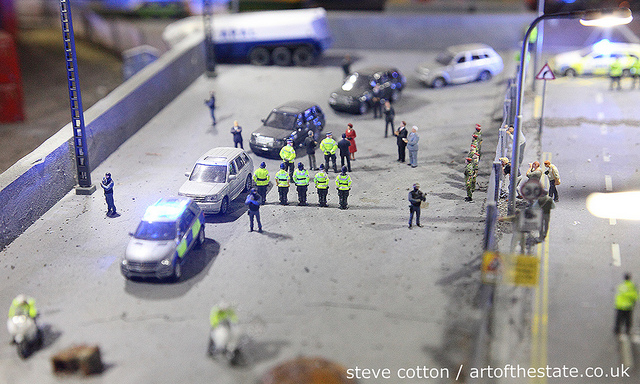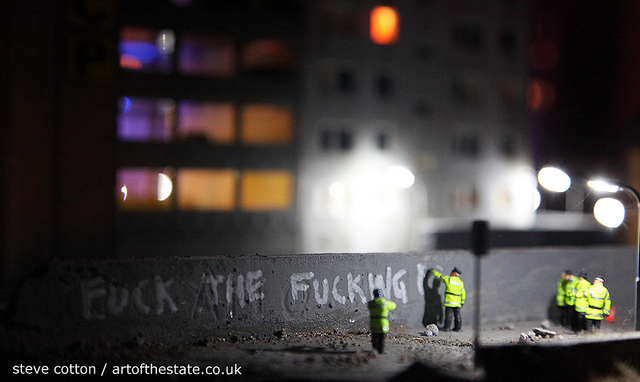 Moving inside for a bit you enter what is essentially a gallery space but first you walk past illuminated display boards from Jenny Holzer and Banksy's reaper bumper car installation. Every so often disco music pumps out, the lights come on and Death attempts to escape the confines of his electric prison by slamming into the edge of the arena all to no avail.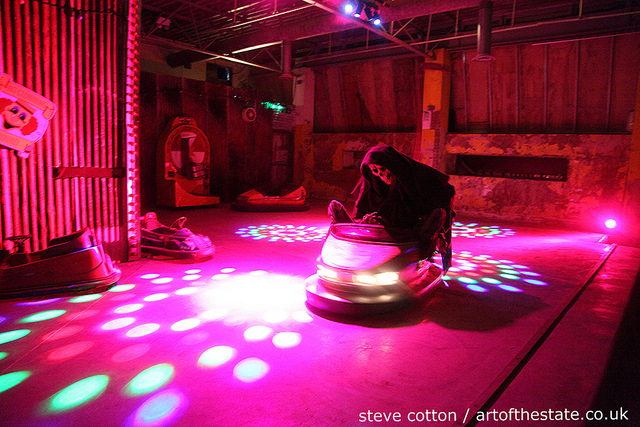 Entering the main hall theres a plethora of different style on show. Damien Hirst's standout piece 'The History Of Pain' has a beach ball held constantly aloft over a bed of blades by the push from air being blown upwards. If it it ever stops the balloon will surely drop and be burst.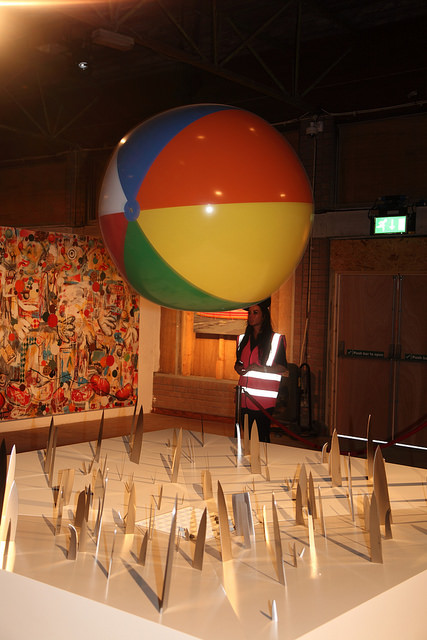 Some of the painting technique on show is exquisite. From a distance Lee Madgwick's paintings of urban buildings in idyllic countryside settings look like photoshop creations. A closer inspection reveals their intricate detail.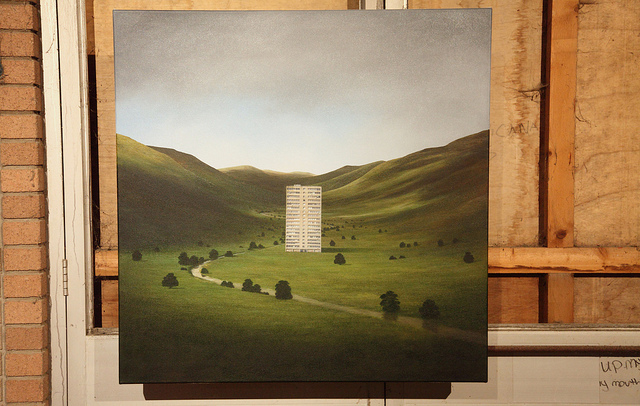 Australian Dietrich's Wegner's mushroom cloud tree house dominates the central room capturing a moment of beauty borne out of destruction. In that cloud are the debris of peoples lives, the structures they lived in and everything they held dear to them.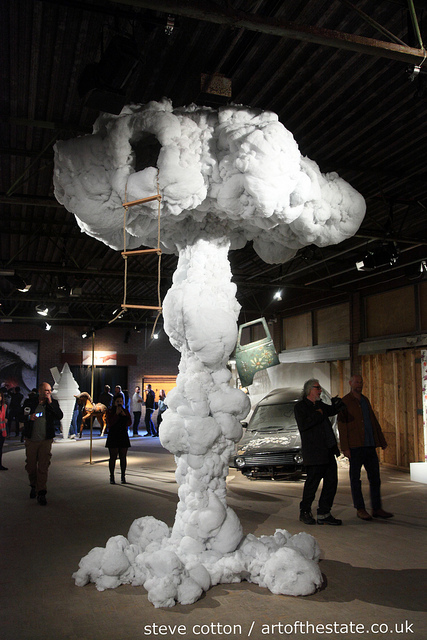 Nearby is the embroidery of Severija Inciraauskaite-Kriauneviciene. Instead of being encased in wooden samplers its stretched over unusual objects, most bizarrely over what looks like a van or car door.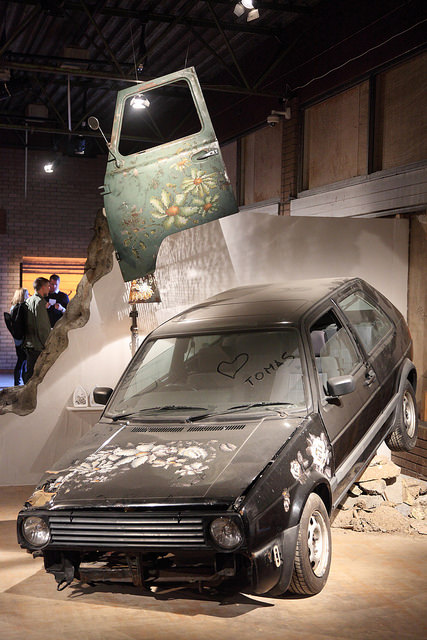 Banksy has a huge piece in the hall which I'll feature in a later post but almost unoticed near ground level and to the left of it is his tribute to P183. Its location is interesting as it's right next to one of the signature pieces of the entire show.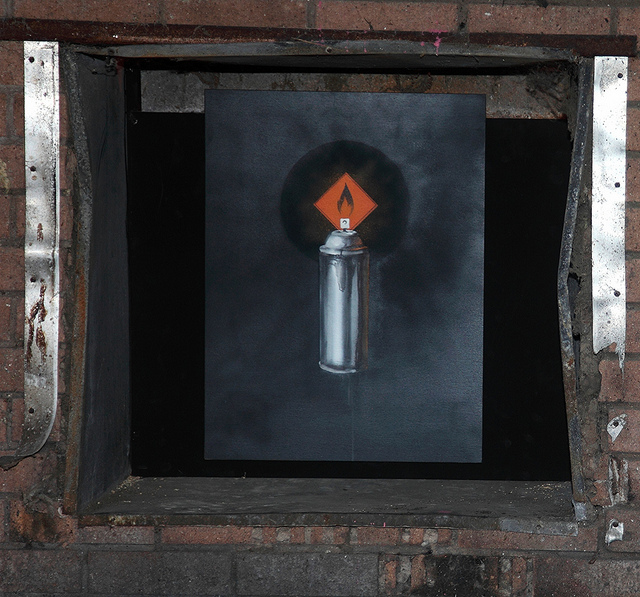 Outside again there are yet many more highlights to see. The Cruel bus has an exhibition showing how design is used to maintain power and control over us all whilst a large tent contains a mass of both beautifully painted and hurriedly scrawled protest banners and signs. Of particular note are the ones by Ed Hall who has a long history of providing trade union groups and others with memorable protest art.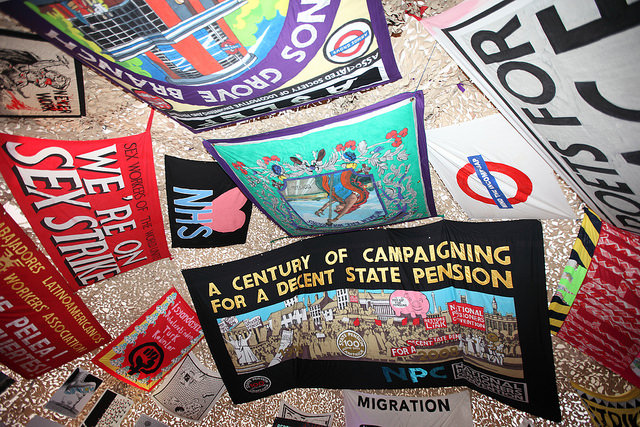 There's a wide variety of untypical fairground attractions with loaded outcomes – I tried my hand at both the duck pool and Insect and Bast's bling stand both to no avail. but it was still a lot of fun. Elsewhere there are rotating caravans, rickety big wheels and a children's sand pit with a sandcastle so large that Dad's on the nearby Weston beach will struggle to impress their kids in comparison.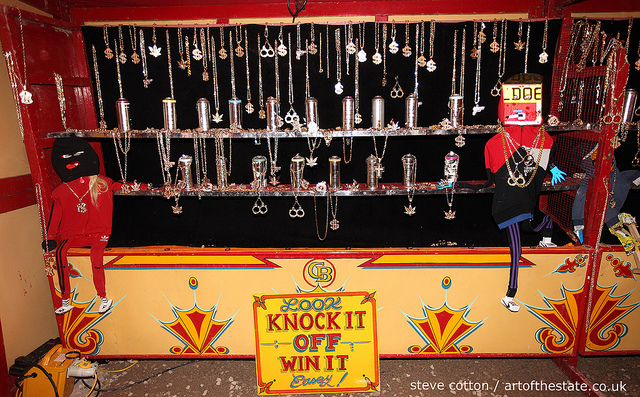 For me the most haunting exhibit from the exhibition was the  boating lake. Looking like it's set in front of the white cliffs of Dover you put your pound in the slot and take control of either a boat full of "migrants" as the Daily Mail like to call them or a patrol boat. In the water bodies float by conveying the deadly serious plight of those still breathing on board the boats.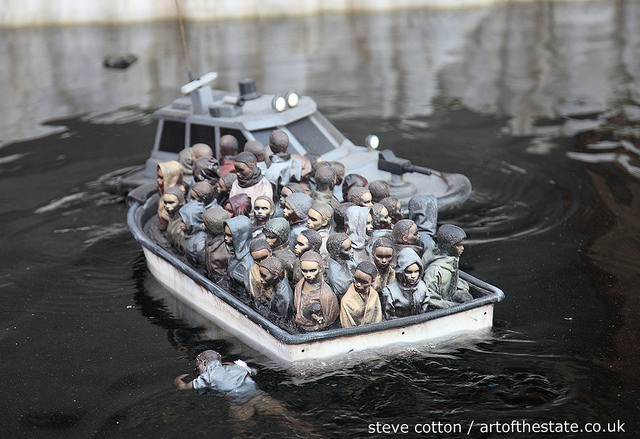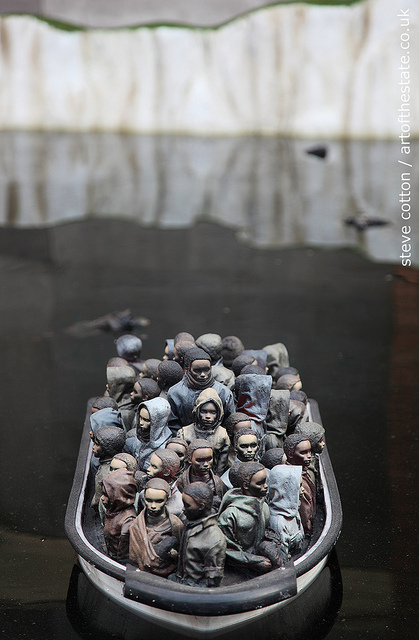 On the wall of the lido buildings down the left hand side is this ingenious painting of a woman taking a shower while a boy peeps in. Is the other boy on look out duty or is he still more interested in his childhood toys? Either way he is not joining in on the others curiosity.
Of course everyone wants to go into the Castle and here Banksy has a surprise in store. If you are asked to have your photo taken do as instructed and look to the right. Maybe even crouch a little and pretend to take a photo while doing so – you'll understand why when you exit this scene of a princess in a coach crash being photographed by paparazzi – an obvious reference to the death of Princess Diana.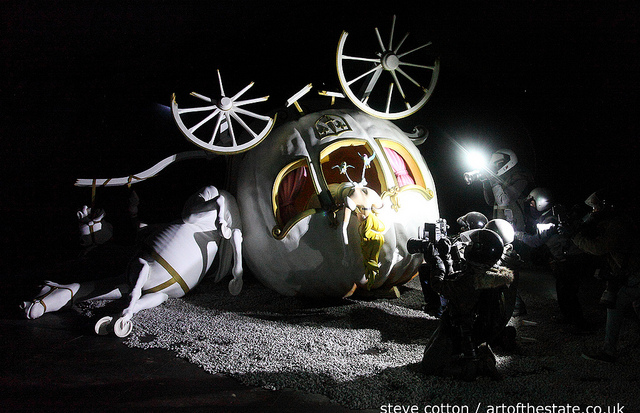 Despite the length of this post there is still much more to see, here's some general views to wrap up with with a couple of other highlights.
Banksy's take on the Little Mermaid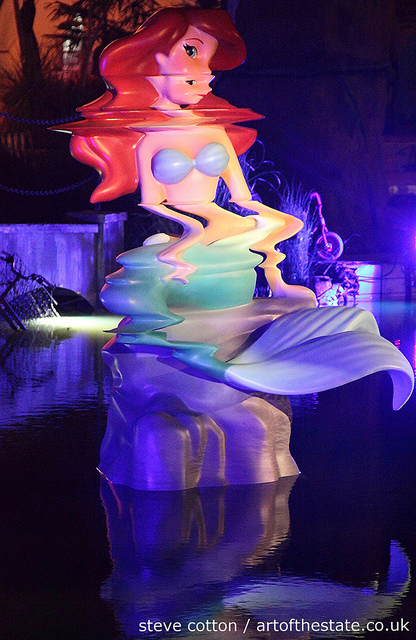 The nightly burning of Jeffrey Archer's novels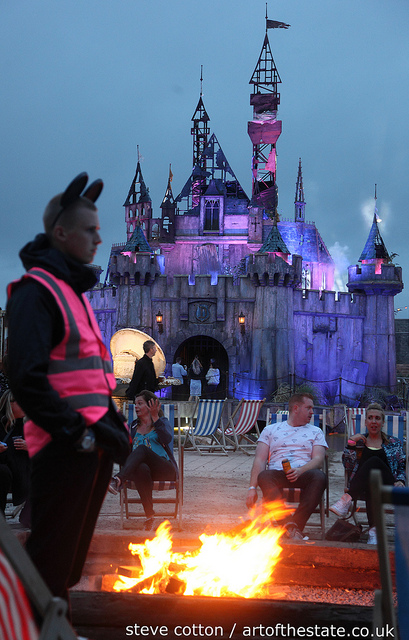 The view from the bar looking towards Weston's other attractions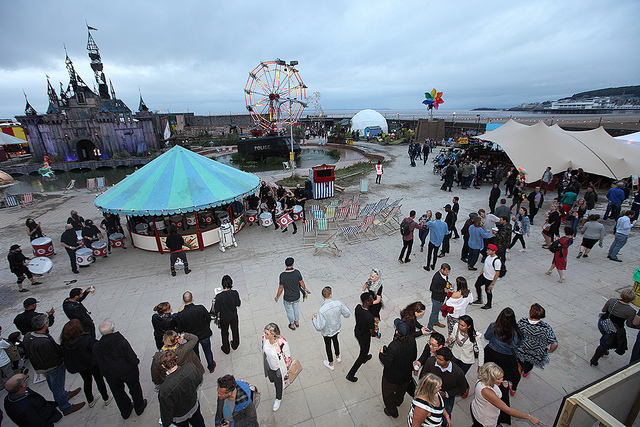 Dismaland at night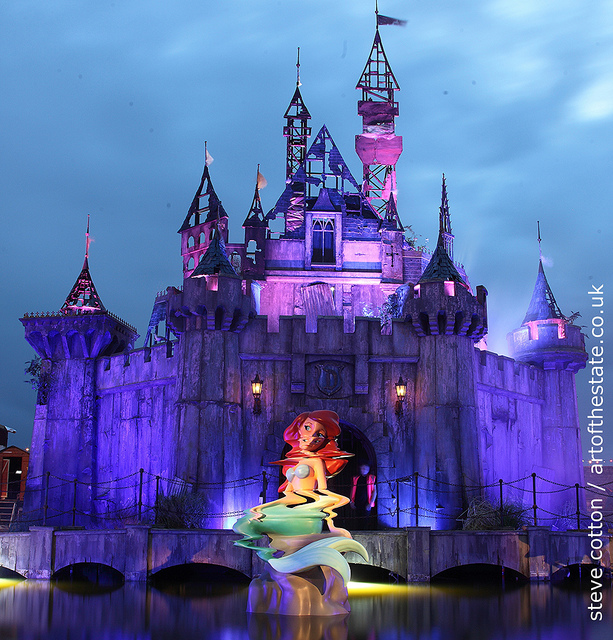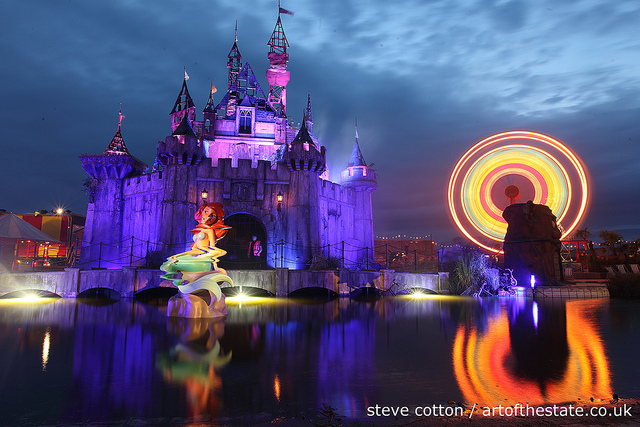 And of course at the end of every day in the Magic Kingdom there are fireworks – in Dismaland these made appearance at the end of the opening night.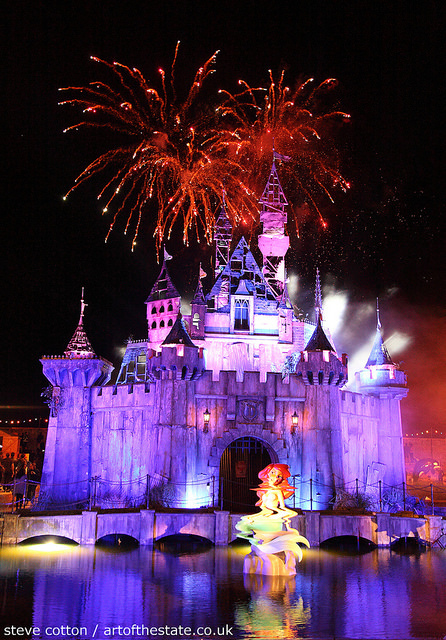 So much more to see, it's far from a dismal experience. Watch the Dismaland trailer. Book tickets to Dismaland and find out more information on the official Dismaland website.