Reading Festival Saturday 2015 round up
Half eleven in the morning and I'm queueing up to get into one of the classics on the Festival circuit. I was last at Reading festival when Nirvana headlined. I don't really like festivals that much, too many bands doing short sets, standing round for hours on end getting ripped off for drinks and food with poor views of the acts on show. So not really a fan. But I'm here because my son really wants to see quite a few of the bands on show so I let him choose our running order with a couple of diversions for a couple of acts I want to see.
We enter the arena as Baby Metal are playing. Something of a jarring juxtaposition of three young Japanese girls doing dancing routines and singing about wanting chocolate while a band play half decent thrash metal. Just plain weird in my book but not as bad as it sounds. Still, once is enough.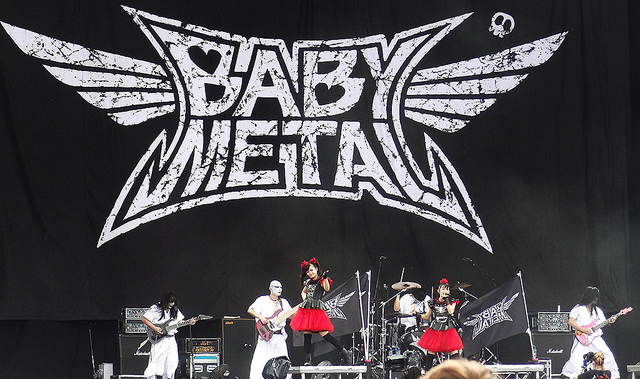 Err, Baby Metal
Marmozets follow on next and this is a band I actually want to see. They open with the ridiculously catchy Move, Shake, Hide – and their genuine pleasure at being here, on the main stage, is evident to be seen. Singer Becca Macintyre has a natural way with the crowd and has a proper rock n roll scream which she alternates with melody.  Why Do You Hate Me is another standout, like a harder reverse of Garbage's Why Do You Love Me.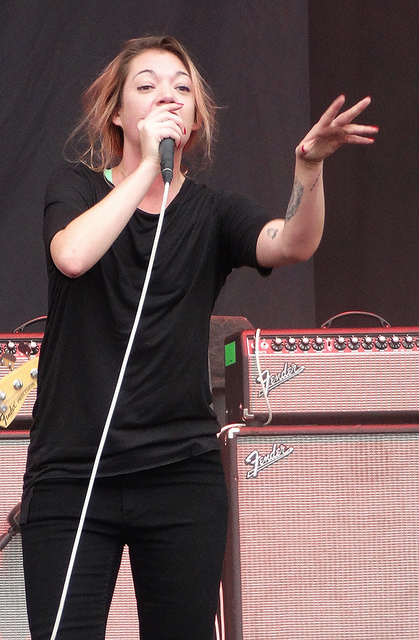 Marmozets
Did I mention Fidlar? No, there's probably a reason for that. Their singers T shirt was the most memorable part of their set with its slogan "Wake up, jerk off, cry" although their song about selling out was at least humorous if a little cliched.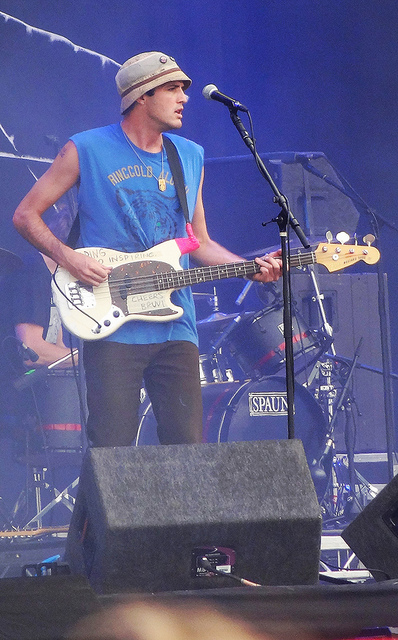 Fidlar
Anyway, time for a quick dash to the Radio 1 / NME (make your mind up) tent to see Slaves, already well underway. This duo of guitar and basic drums kick up far more of a sound than their parts would suggest. Visceral, angry and somewhat unique they play much off their varied and excellent 'Are You Satisfied' album and are rewarded with a great reaction from the crowd.
Another quick walk over to the Pit stage sees us waiting for ex Lost Prophets new band No Devotion. When they finally have the sound right they kick off with a couple of songs designed to play to bigger audiences than are present in the tent. I don't like 'em at all but as the set progresses they grow on me  – a bit. Of course there's a massive elephant in the room but their singer, himself from another band that split, addresses the subject of Ian Watkin's heinous crimes and thanks the crowd for giving them the chance to move on. It's going to be difficult for them, not least because there's something missing from their songs right now but there's enough of a spark for something to eventually catch hold.
Back to the main stage now and my sons band list has Pierce The Veil on it. Describing themselves as post hardcore and hailing from California they were OK, decent even but I got very little from their set. I could live in a post Pierce The Veil world quite easily.
Someone from Pierce The Veil
I'm much more interested in Alexisonfire as they feature Wade from Gallows in amongst their ranks (finally – someone I recognise)! It's a different experience from his time with Watford's finest though as he's on guitar duties and the singer himself is gradually stretching and ripping his shirt as their set progresses. Plenty of decent hooks and passion see them go down well with the crowd but I'm really itching to get back to the tent where Wolf Alice are already on stage. Gah, I'm too late to see 'Your'e a Germ', with its dark lyrics and heartfelt chorus so I have to watch the far mellower last five numbers of their set. An opportunity missed, still I saw enough to make me want to try again at some point.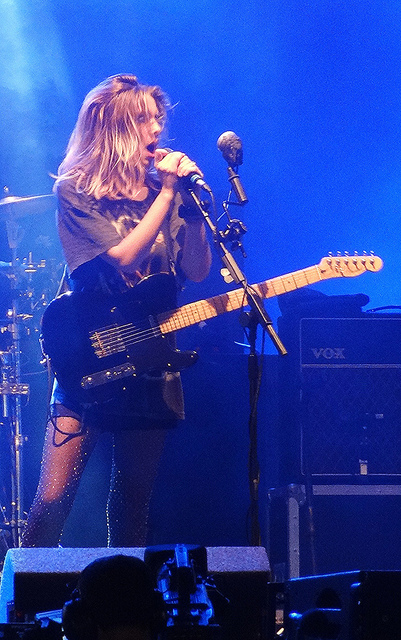 Wolf Alice
Radkey are three brothers,from Missouri and to be honest that fact was more than I knew just yesterday. A tip has brought me here and immediately I feel rewarded as the band play tracks from their debut full length album 'Dark Black Makeup'. A great set full of rock'n'roll antics, a spot of crowd surfing from the band themselves and even a cover of Depeche Mode's 'Personal Jesus' thrown in.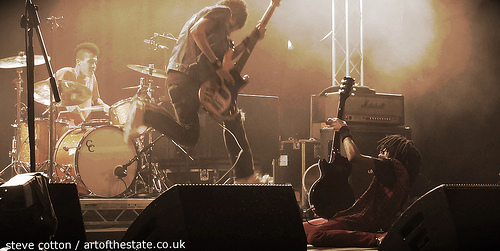 Radkey
Back to the main stage and Royal Blood are on. With only one album to their name and consisting of just two members it's a tough ask to justify their position and they do just fine at the time but just a day or two later I actually remember very little about their set…that might be because they are followed by a band from Sheffield that are proving very difficult to ignore.
Bring Me The Horizon before today are just a bunch of pretty boys staring out of the cover of Kerrang at me as part of a long list of bands that don't even register and occupy that spot only when Hayley Williams isn't doing anything. My mate John describes them succinctly as 'One Direction doing Slipknot covers', and yet today they do connect…. Prior to coming on stage they play a spoof health and safety announcement which prohibits the taking of drugs during the show suggesting you neck them back before. A nice bit of subversion and followed with musical and visual dynamite. Something is happening all the time. usually sweaty, loud, fast, anthemic, bouncing, jumping, near religious, metallic or just downright fun Bring Me The Horizon really tick the entertainment button. I honestly enjoyed them far more than I ever expected. They kicked Reading's backside and Reading loved them for it. I even checked them out a bit after the show but then they ruined it all by following up all that rage with an advert trying to flog me a Bring Me The Horizon pencil case. Oh well.
After a ridiculously long wait it's finally time for headliners Metallica. They take to the stage with a backdrop of fans penned into, well pens behind them. It's a nice idea if you're included but from the crowd it just looks a little odd as they are all dressed in white T shirts. I expect them to turn into a choir at some point but they're too busy either singing along to the lyrics or taking selfies. Odd.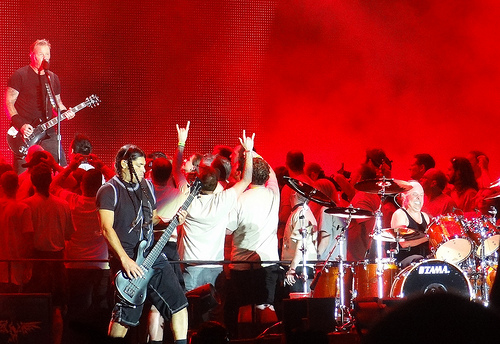 Metallica
Metallica seem so pedestrian after BMTH. Ironic as when I first saw them over 30 years ago they made all the other metal bands before them seem so pedestrian too with their high speed controlled thrashing. Time moves on, the bar gets raised and people age. What they've still got though are their songs. Whilst I pretty much loathe everything after Master Of Puppets there are a few gems in there. So for the old fans there is For Whom The Bell Tolls, Battery and Master of Puppets amongst more recent offerings like One and Enter Sandman. The band themselves look like they are doing a job. It feels competent, has some passion but ultimately seems like any other stadium show for them. There's no real connection with what they refer to as the 'Metallica Family'. Don't get me wrong I absolutely loved Seek and Destroy but so much just drifted by. They end with balloons and fireworks. I'm sure a good time was had by all but they become more like the dinosaurs they themselves once replaced every day.
My legs ache from being on my feet all day but it's been much better than I expected. maybe it won't be so long until the next time.