DISCHARGE / ANTI PASTI / MICK OTOOLE – 100 Club Resolution Festival
DISCHARGE, ANTI PASTI and MICK O'TOOLE, Tuesday 12th Jan 2016 at the 100 Club Resolution punk festival.
Mick O'Toole – not exactly my cup of tea before tonight  to be perfectly honest. When they started up I thought these five lads were from Ireland but they are in fact a "British punk band with an Irish twist". All very confusing as they seemed in part Irish (musically) and in part Somerset (cidery) but it turned out they are from no further West than Swindon. In the end I enjoyed them a heck of a lot more than I thought I would. Especially the bit where they played 'Ship Of The Line' – "it's about ships, I fucking love ships" quipped the bass player. Love a bit of enthusiasm and they had plenty of that.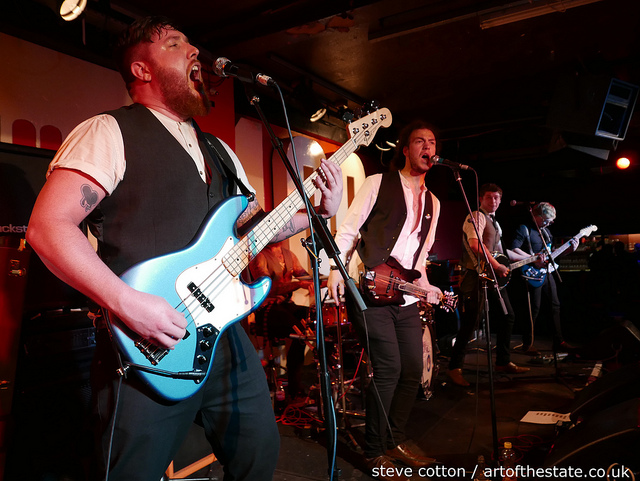 Mick O'Toole
Anti Pasti have evolved into a different beast of late. With a new singer and a faster and more aggressive style they are at something of a crossroads right now. They might lose a few fans but they are also capable of gaining some new ones. Their set contained a great deal of new material (due to be released later this year) with plenty of old standards too – 'City Below', 'Call The Army I'm Alive' remain firm favourites. 'No Government' was played at the speed of the album version rather than the smouldering menace laden pace of the early 80's single cut.  There's a new album due out soon – should be a great UK82 sounding release when it appears later this year.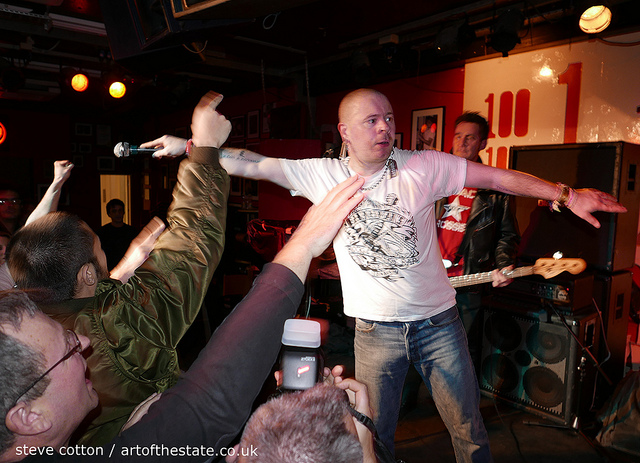 Anti Pasti
Tonight is part of the 40 years of punk anniversary shindig but when Discharge arrive on stage singer JJ makes it clear that they are in no mood for  being some kind of nostalgia trip. Pacing the boards like a caged animal he encourages and goads the crowd into making this about the here and now. The result is possibly the only time you'll witness  dancing at a punk gig on both sides of the 100 Club's infamous awkward pillars. It's a classics laden set though, everything sounds urgent and ferocious – the combination of Tezz and Bones sharing rhythm and lead work has really beefed up the sound of late. Over on the bass Rainy is quietly getting on with doing something quite remarkable. Looking like he's playing chords on the bass and seemingly stroking rather than hammering his bass the sound that comes out is somehow colossal in its effect. All in all the band keep up a massive wall of noise throughout their lengthy set. Crowd pleasers like 'Decontrol' are extended whilst shorter blasts like A Hell On Earth are the order of the night. Discharge right now are a once more a full on sonic assault – just as they should be.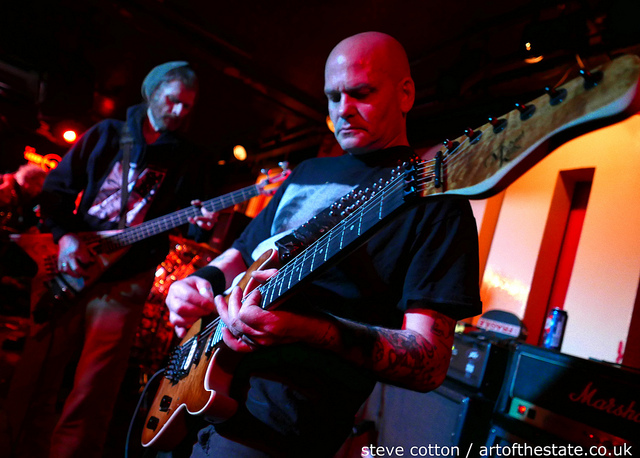 Rainy and Bones, Discharge at the 100 Club