UK Subs – Ziezo album review
UK SUBS – 'Ziezo' album (16 tracks, released April 2016)
Way back in 1979 the UK Subs released their first album 'Another Kind Of Blues'. Followed up by 'Brand New Age' and 'Crash Course' by the time 'Diminished Responsibility' came around it was obvious even then to my teenage mind that the album titles were running in alphabetical order. At that time the group reaching the letter Z seemed like an impossible target. Band members joined and left with vocalist Charlie Harper being the only constant throughout. Some albums were more memorable than others but over the last few titles, as the band approached their target, a line up has emerged that really has hit their groove. Ziezo, the last full UK Subs album in the series, is a fitting finale. Full of precision hard hitting drumming, solid bass lines and choppy crunching guitar it delivers throughout. And then there is the voice of Charlie over the top, still with plenty to say and the means to deliver it. He makes a mockery of his advancing years once again on this outing.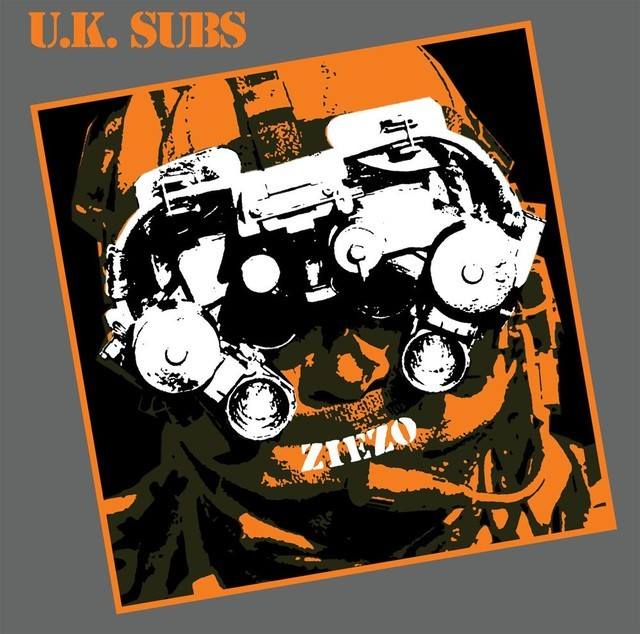 UK Subs – Ziezo
'Polarisation' opens the album bursting out of a background of discordant sounds, racing to its conclusion. The next three cuts, all around the two and half minute mark, follow on its heel, guitarist Jet really rocking out out on 'Oligarchy' before the chant along chorus of 'Evil vs Evil'. 'Proto Feminist Heroine' is more experimental with its list of subjects referenced by the title followed by the bluesy 'Disclosure'. Normal service then resumes (!) with a slew of great punk songs following one after another with subjects from the master race to enigmatic graffiti artist Banksy only broken up by the Jamie Oliver led thrash drumming of 'This Machine'. 'City of Dead'  provides a break with its ska riffing before 'Maid of Orleans' and z for 'Zeitgeist' close off proceedings in classic UK Subs style.
Thirty seven years after they kicked off with the letter A this album sees the UK Subs hitting harder and more consistently than pretty much anything they've done in the meantime, It's up there with the best of them, 16 tracks of a band once again at the top of their game. I love seeing the Subs play their classics live, you see so many bands right now play their early albums in their entirety – but you know what? I'd love to see this band play this, their latest release, in full – it's that good.
The cover art is killer too – such a great nod back to Another Kind of Blues.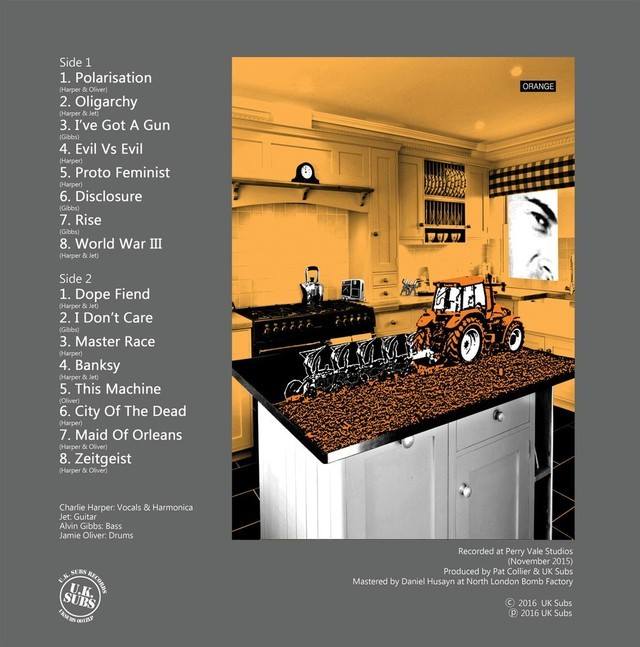 UK Subs Ziezo – rear cover art
Charlie Harper, still rocking out after 26 UK Subs albums (not to mention countless other releases)!