Banksy's Snorting Copper – the miracle on Curtain Road
Banksy's Snorting Copper – a 21st Century miracle on Curtain Road?
Banksy's 2005 'Snorting Copper' piece has been restored and placed back into situ a decade after it was thought to be lost. Hit by a combination of jet washing, vandalism, attempted theft and whitewash it now looks resplendent behind glass. According to a BBC report it is now worth a cool million pounds to its current owners , property developers Jonathan Ellis and David Kyte. One look at it in person and you will see Cumbria's Fine Art Restoration Company have done an amazing job using solvents to strip back the many layers of whitewash and vandalism. Chris Bull from the firm told the BBC "Lots of energy was put into finding out which brick had which piece of the artwork so when we were using the solvents to strip back the many layers of white paint we knew what colour we were looking for underneath"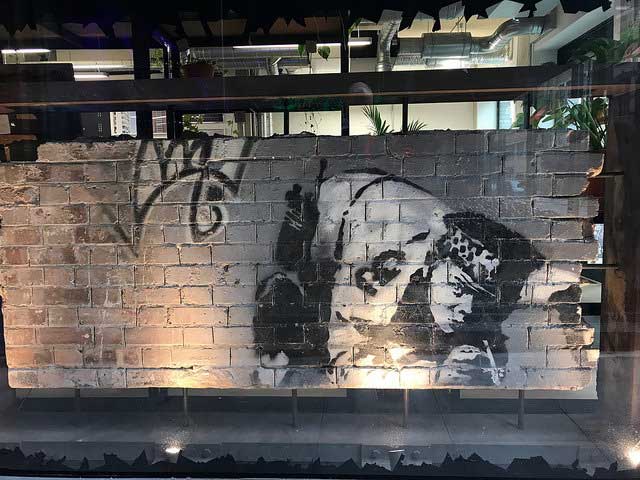 The restored piece in situ in 2017
Oh really? Consider for a moment that this same wall looked this a year after it was originally painted by Banksy….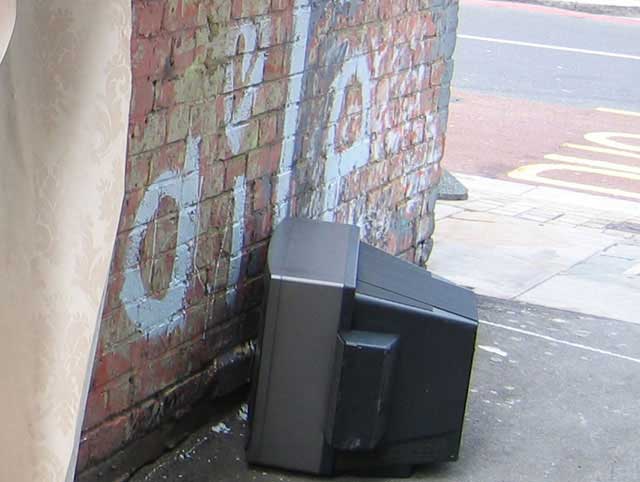 The state of the wall in 2006 shows it was largely back to bare brick at this time  (photo: Steve Cotton)
Unless some miracle has happened this is a little bit more than a case of peeling back layers of paint and repairing some damage. There was virtually nothing left! I guess it is a restoration in terms of it being a reconstruction of the original piece but Banksy certainly did not actually paint this new version. The whole thing reminds me of Trigger's Broom in Only Fools and Horses….
See the original painting by Banksy (as featured in his Wall and Piece book):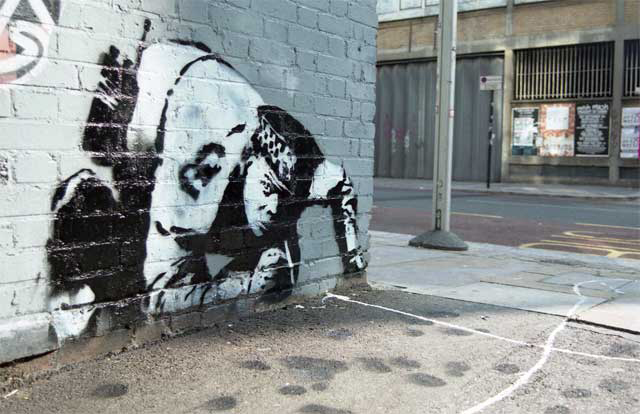 Banksy's original 'Snorting Copper' piece in Curtain Road, 2005 (photo: Steve Cotton)