Style – tick, Subject – tick, Location – tick, Audacity – tick and then some. When this first appeared it certainly seemed like it was a new Banksy work on the exterior wall of the disused HM Prison Reading aka Reading Gaol. It's since been confirmed by the artist himself who has posted up a short video on his Instagram which is equal parts hilarious and a fascinating look at his technique.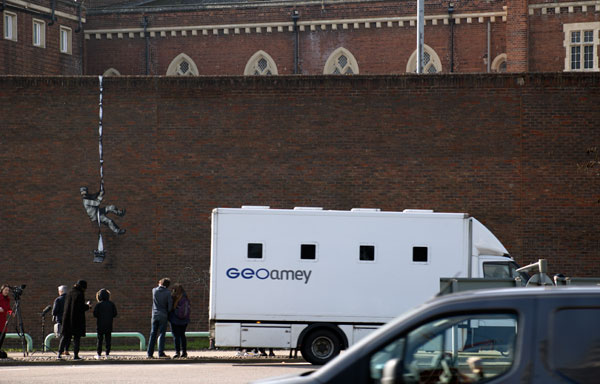 Reading jail was originally opened in 1844 and closed in 2014. It's now a Grade 2 listed building whose future over the last few years has been uncertain. It was suggested that the building should be converted into an arts centre in 2016 but this hasn't happened to date and the Ministry of Justice are looking for a buyer – probably to redevelop the site as housing. Save Reading Gaol is an organisation that still wants to see the arts centre happen. It's possible that this new work may yet help turn that dream into a reality. Certainly both the local council and the local MP have been making noises that this has reinvigorated that idea.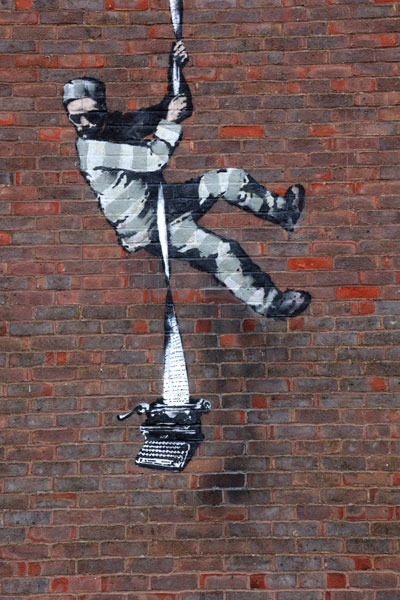 The work depicts a figure using a makeshift rope of sheets to climb over the wall. Except that this is not your normal bedsheets prison break – look closely and you'll see the sheets have writing on them and appear to be coming from a typewriter which hangs at the foot of the piece. Banksy has entitled the piece 'Create Escape' and it would seem to be a nod to the time Oscar Wilde spent in the prison – two years hard labour for 'gross indecency with other men'. Wilde wrote a poem, the 'Ballad of Reading Gaol' under the pseudonym C.3.3. on his release. While that name may seem like a graffiti writers moniker it was actually the location of his cell in the prison.