First up was a trip to see a projection art show by SDNA at one of London's strangest venues. Shunt is a series of underground tunnels and rooms under London Bridge station and its main corridor is currently taken over to present CINETAXIS – 'a unique personal insight into the world of insects'. If you've never been to Shunt before the entrance is worth explaining. Despite its large size its accessed via a tiny door opposite the Underground barriers at London Bridge station. After going through security (photo ID and bag search) you walk down a long underground corridor to the main venue. Its this corridor with its many dark offshoots that SDNA have taken over with large scale projections of insects busily working away to the accompaniment of an incessant buzzing. Arriving early and walking through the unknown territory on my own I think I felt the full unerving affect of the installation. Maybe the photos below will give you an idea of what to expect (it's on again this week from the 1st to the 4th April) but to be fully appreciated it needs to be seen in person.
more photos of SDNA's CineTaxi's here.
Earlier a far more relaxed trip was made to Pure Evil's gallery for the launch of the 'Graffiti Argentina' book. It's already been out in the shops a while and been reviewed on artofthestate. The full colour volume has been put together with care and consideration and seems more authentic than a great many recent graffiti books – mainly as the writers get to directly explain their motives behind their work (which includes outright hatred of the train companies)!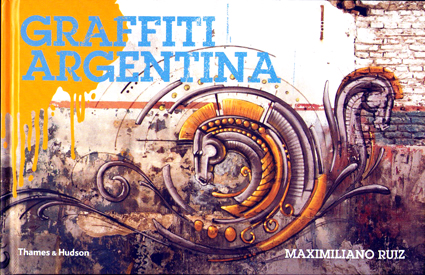 Also on Friday night was a chance to see End Of The Line's stunning work on the urban art wall at the John Jones site near Finsbury Park, North London. Bleach, Probs, Hicks, Zadok and Rabodiga have all contributed to create a fantastic panorama full of high quality work. John Jones are famous for their high quality framing and fine art photography services which the content of the panels (a selection of which are below) give a nod to.
Finally Saturday night was hardcore heaven and spent in the company of Ipswich's finest The Stupids and Australia's The Hard Ons in Kingston. It must be close on 20 years since I last them but both bands still tore up the stage in fine style. I was 'off duty' for taking pictures but still couldn't resist a few snaps.
The Stupids
Hard Ons