As its nearly the weekend here's a little round up of recent Banksy events:
First up, a copy of Martin Bull's all new second volume of Banksy Locations has just dropped on the door mat. It'd be a bit unfair to review it now based on it being in my possession for just the past 15 minutes so I'll save that for another day. Suffice to say, masses of pieces not included in volume one, 380 pages, 220 colour photographs, spots from all over the UK, hardback and available to go under your tree for just £8.88 from 
Amazon
. Nice.
More colourways of the recently issued 'Choose Your Weapon' print have surfaced including one which was made available to those who lost out because of the problems experienced when queueing up in Berwick Street and Commercial Street. I must say thegrey is really nice.
Manchester's hypocrisy in dealing with graffiti was highlighted by the fact that they're lauding the recently re-discovered Banksy as the 
number one attraction in the Northern Quarter 
whilst two other locals were jailed for 12 and 15 months for their graffiti. Nice to see this has not gone unnoticed with a large online campaign and a GrimeStoppers intervention, pic below, more details 
here
.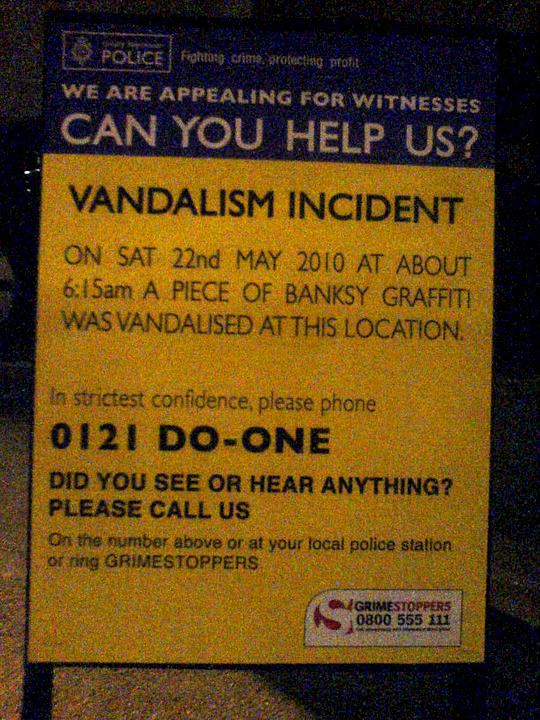 Exit Through The Gift Shop's nomination for an Oscar was discussed by the 
LA Times
. Seems people still struggle to believe its a true story. The film recently hit France with a different title 'Faites Le Mur' and its own 
dedicated Banksy website
. To support its release a new interview with Banksy appeared in major French publication 
'Le Monde'
. It has to be said that something is lost in translation when using Google's translate function but I liked the Napoleon quote and the reference to the countrys predeliction to rioting. (With thanks to 
mrease on banksysforum 
for posting this).
Banksy's comment on deforestation done for 
Greenpeace
 back in 2002 has resurfaced with a guide price of £80,000 for an auction to be held at Bonham's.
Some 
advertising on the back of bikes agency 
has been using a blown up version of Banksy's No Future piece to advertise their business, sorry, I meant to say ask the question "Is it vandalism or art". I truly hate that question, it's quite obviously both at the same time. What part of that is hard to understand?
And finally 
Banksy was caught on CCTV 
camera adding a 'Love Is In The Air' flower thrower to the back of the Aardman studios in Bristol. I, for one, was surprised when I saw his face for the first time. It turns out the guy used to be on the telly all the time so how did he manage to remain anonymous for so long? Something we can all take hart from (groan). Watch the footage 
here
.