ANDY T / LOUISE DISTRAS / STEVE IGNORANT'S SLICE OF LIFE – Kingston Fighting Cocks
ANDY T / LOUISE DISTRAS / STEVE IGNORANT'S SLICE OF LIFE Saturday 11th October 2014 – Kingston Fighting Cocks
Didn't know much about opener Andy T before this gig apart from his Crass Records release 'Weary Of The Flesh', certainly never seen him play before. Standing on stage with his notes, guitarist seated at his side he engaged the sparse crowd with angry polemic with a varied and well received set. The targets were familiar (I Still Hat Thatcher) but the passion shone through and for many it was a reaffirmation of what they already consider their opinions. Decent enough but I struggle with getting too enthused by just a guitar and a voice alone.
So up next was Louise Distras, another guitarist with just a voice. But what a voice! I'd first seen her live supporting GBH at the 100 Club and she was essentially the reason I made the effort to attend tonight. She demands attention from the very first song through her forceful delivery and a clear honesty in her conviction. She has a passion that fills the room and songs that lodge readily in the mind. Despite being the support act with the headliner to follow on leaving the venue it's her song "Never Let The Hand You Hold Hold You Down" that I have going around my head. I bought a copy of her album Songs From The Factory Floor on the way out and I'm pleased to report it does her justice. Great album full of solid songs.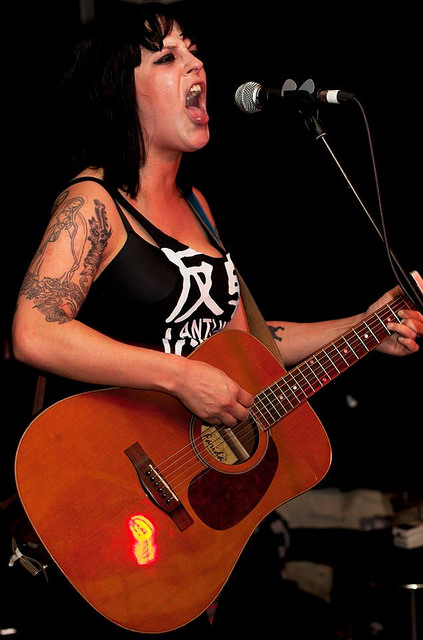 Louise Distras – Kingston Fighting Cocks (photo – Steve Cotton)
It's odd seeing Steve Ignorant in a pretty small and half full pub back room. He's got a new band with him, a stripped down and more melodic sound and a lot of life stories to tell. I'll be honest here, the first two songs he went through I thought what the hell is this? Accompanied by stories of how wonderful sex under the light of a lamp post is he'd completely lost me. But then, little by little and over the rest of the set I became accustomed to his bands style, got more engrossed in his amusing stories and by the end he'd pretty much won me over. I'd not put this band in the 'cancel all leave' category for when they come to town, in fact I don't really know if I'd bother to go and see them again but it was entertaining and thought provoking and portrayed him as just a person, a human being more than was ever possible than when he was in Crass. Talking of which, the audience were kind of expecting a song from that era. Steve didn't disappoint, eventually ending with an encore of 'So What' which ended abruptly in good humour when he stopped the song before its climax and advised the audience they could go home and listen to the rest. Gig done, hat back in place atop his head, he slipped back into the crowd and the show came to an end.