SLEAFORD MODS / CHAOS UK – Exchange, Bristol
SLEAFORD MODS / CHAOS UK Thursday 21st May 2015 at The Exchange Bristol
Some gigs just stick out a bit in the calendar. An 'away' trip to Bristol to see Chaos UK on their home ground meant that this one was always going to be a cut above your standard fare. Add in band of the moment Sleaford Mods who I've never seen before tonight and I'm all set for a top night out in the West Country.
I missed opening act Putrifier but I certainly felt their presence. Their colossal discordant electronic sounds shook the very timbers of the Exchange in Bristol. But ultimately this solo project is not really my cup of cider and so I headed into the hall as Chaos UK were setting up. Guitarist Gabba is here, along with the bassist and drummer that he also plays with in FUK – but there's no sign of vocalist Mower. Gabba puts an appeal over the PA, something along the lines of "get out of the bog and get down here" and after a short delay Mower duly makes his way through the crowd and on to the stage. What follows is just what I wanted – 40 or so minutes of fast and furious relentless noise. I don't think the drummer ever stopped, incredible stuff. So many classics from what is now a lengthy career. Kicking off with 'Lawless Britain' from 1984's Short Sharp Shock LP they rage through choice cuts full of shout along choruses. Unlike the band the crowd take a little while getting going but by the time the unholy trinity of 'Victimised', 'Kill Your Baby' and 'No Security' close out the set arms are flailing everywhere down the front. They exit the stage with a customary "Fuck Off" leaving the half of the crowd that came to see them very satisfied and the rest maybe a little bit shellshocked.
Chaos UK
Gabba, Chaos UK
Andrew Fearn from Sleaford Mods (the master behind all their trademark beats and loops) sets up shop at the front of the stage in a casual manner. Small table – tick, extension lead – tick and a laptop with a line into the PA. He then presses play for about two seconds, hears that his beats are coming through the speakers and soundcheck completed he's ready to go. Except that once again there's no sign of the singer. Jason Williamson eventually turns up – a bit late surely as there's an 11pm curfew but the band immediately hit their stride and the diverse crowd are up for this right from the start. Jason is angry, or should that read "fucking angry". It's hard to fake this kind of outrage. His observations on life are based firmly in the reality of mundane working class life and struggles, the little things people have to do to get by, the different rules and codes that they are forced to live their lives through and the regulations and processes that they come up against on a daily basis. It's a bleak world that matches their existence. Sleaford Mods don't sugar coat it at all and attack those responsible with venom, targeting management on songs like Fizzy – "sack the fucking manager, SACK THE FUCKING MANAGER" Jason screams. The rock establishment come in for special treatment on 'Six Horsemen', they're routinely castigated for forgetting all about where they came from or ridiculed for discovering drugs and going up their own arses whilst trying to 'find themselves'. "They're so outrageous, oooh, they've been doing drugs for ages" Williamson mercilessly mocks. The bands moniker may seem a bit confusing, there's very little in the way of Mod here tonight but the crowd are familiar with the songs and there's even jostling and dancing down in the pit at the front. Sleaford Mods are punk in attitude and everything that a forward thinking band that have given up on rock's cliches as a communication method should be. The sparse, live sounding drums and loops, the minimal stage theatrics (the encore sees them simply duck their heads under a curtain for 30 seconds before reappearing) and their obvious real passion and anger connect with the audience in a way that you'll rarely see. Maybe it'll all fizzle out in years to come with excessive demands for riders and dressing rooms but somehow I doubt it. This isn't stadium cock rock, it's raw, real and gritty and much more than little ditties.
Watch Fizzy and Six Horsemen from the gig.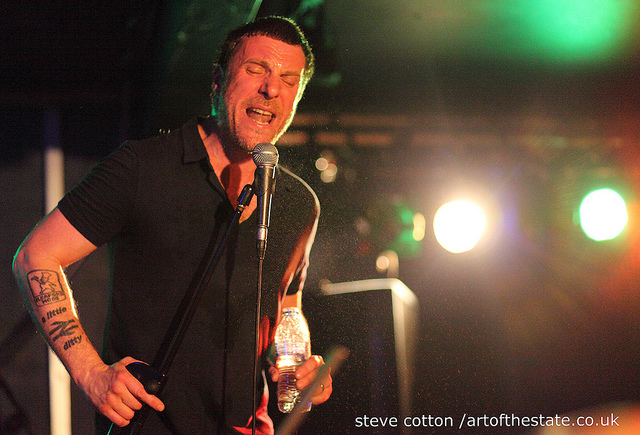 Sleaford Mods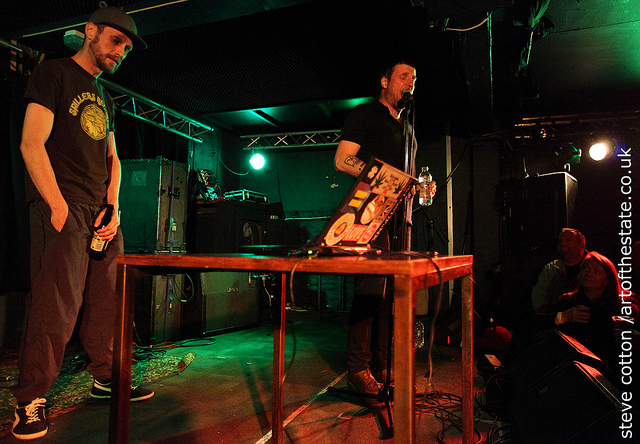 Sleaford Mods at the Exchange, Bristol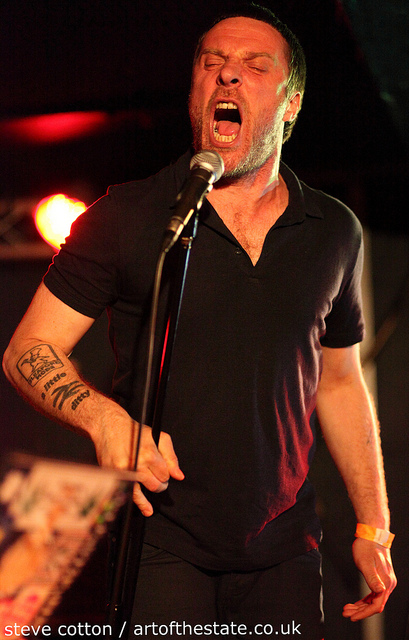 Jason Williamson, Sleaford Mods
Sleaford Mods – the complete stage set up. Left to right – Andrew, beer, laptop, Jason, microphone,water