GALLOWS / BABY GODZILLA at the Garage, London
GALLOWS and BABY GODZILLA, Tuesday 26th May at The Garage, London
Uh, so what just happened there? That's just about everyones reaction as Baby Godzilla exit the stage. Even those who have seen them before are sometimes still a little puzzled. Lets rewind.
Baby Godzilla walk on the stage as your standard four piece band but that's the last time they are easy to count. Right from the off their two guitarists literally launch themselves into the crowd and play most of the set from the floor. I say most of the set because at other times they are climbing lighting rig ladders, crawling on ledges and straddling the space between the stage and the pit barriers. Chaos, pure chaos. Music wise they're a bit of a cacophony live but there are plenty of hooks, shout along choruses and catchiness in there too. It's just so difficult to concentrate on that when the singer just turns up right in front of you, plonks an amp on the ground, throws his mic to the crowd and then hops on to the amp to thrash the hell out of his guitar. Baby Godzilla get 10/10 for sheer entertainment. I'll report back on the music later but the 7″'s sound great! In the meantime do yourself a favour and catch them live.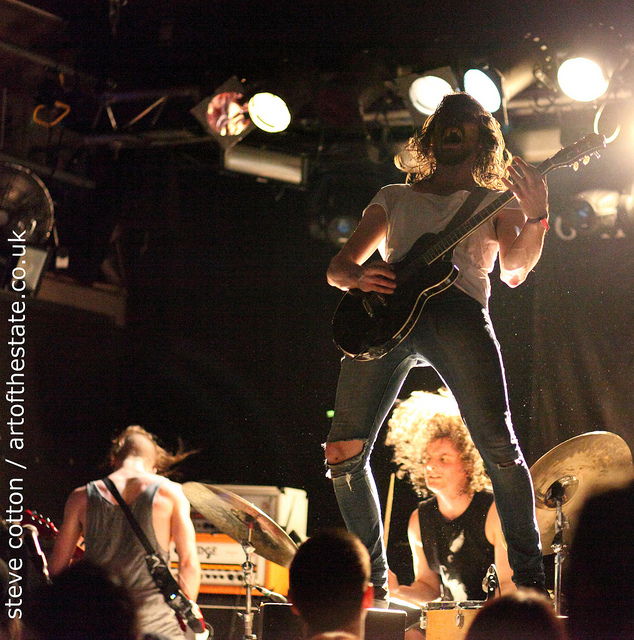 Baby Godzilla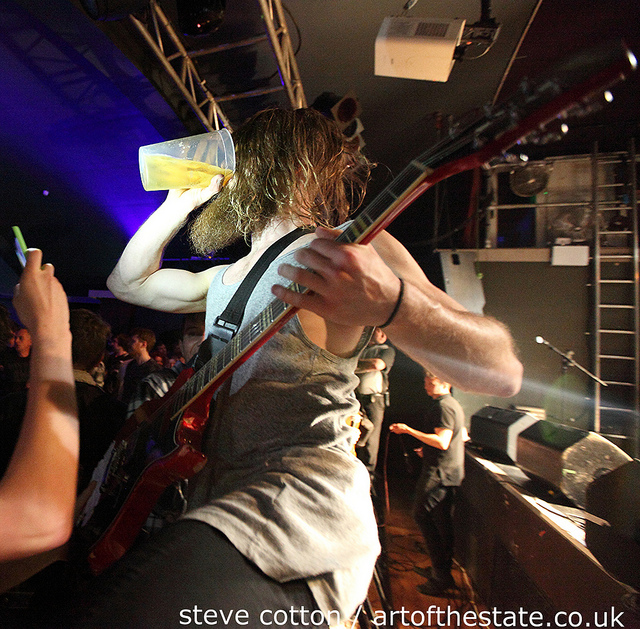 Baby Godzilla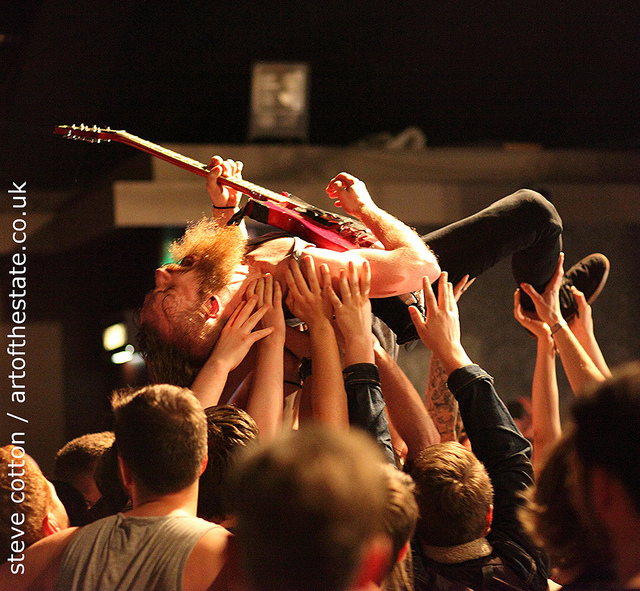 Baby Godzilla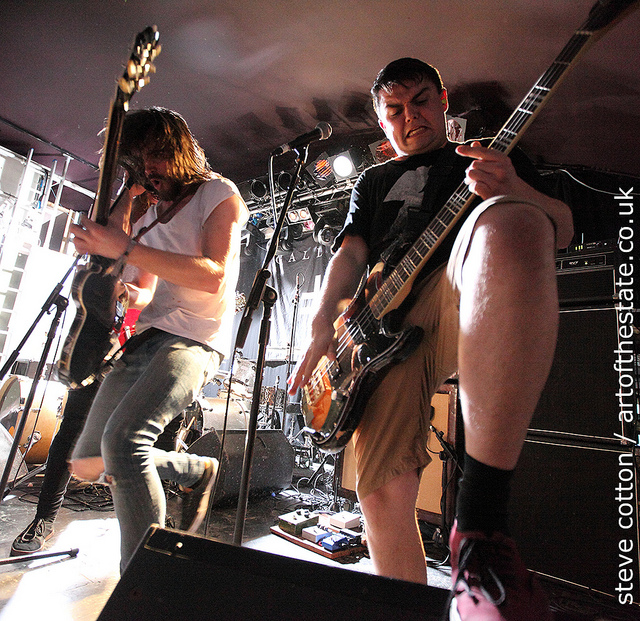 Baby Godzilla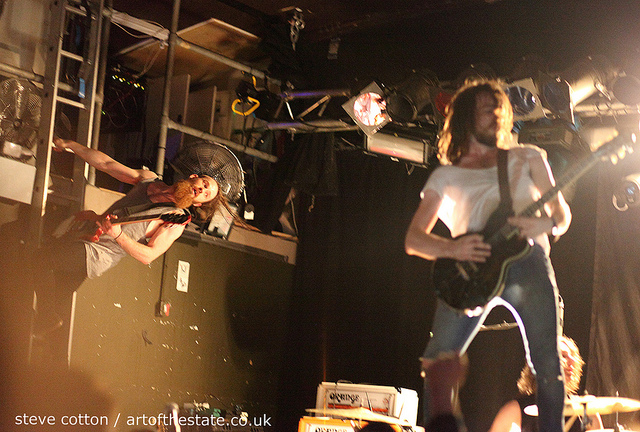 Baby Godzilla, on the way up after this performance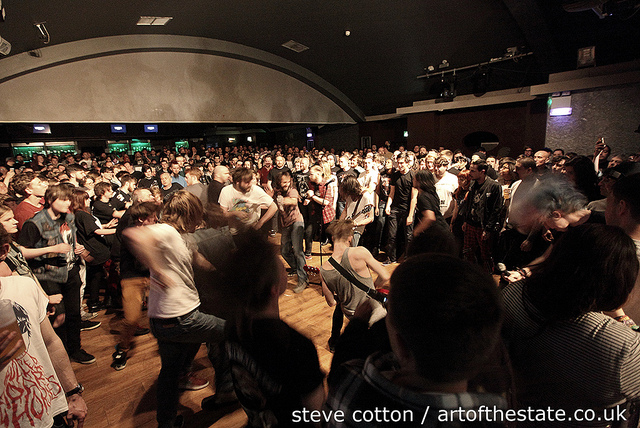 Baby Godzilla – theres two of them in there somewhere
Gallows need less of an introduction. Watford's finest now have a Canadian vocalist in the form of Wade Macneil. Previous singer Frank Carter's shoes were a big ask to fill but Macneil is his own man with his own style and the band have negotiated the transition over the past few years with apparent ease. The set list tonight contains standout tracks from both eras over the last decade or so. 'Misery', 'In The Belly Of A Shark' and 'Orchestra Of Wolves' still sound superb and committed whilst more recent offerings such as 'Chains' (where the band are joined on stage by Helena of Dios Mio) slow things down but pack the same punch in a less direct way. There's still plenty of straight up kick ass tracks too – 'Everybody Loves You (When You're Dead)' and 'Cross Of Lorraine' really crank up the venom whilst the build of 'Outsider Art' sees the place explode in a frenzy of limbs and sweat. There's pit action too with the now formula but enjoyable "open it up" command followed by a collision of bodies with Wade at the centre of the maelstrom. "Gallows don't do encores" they inform us at the end but the band know they can't just leave it there. "You've got 45 seconds, last chance to dance" and they leave us battered and bruised with 'True Colours'. "That may be my favourite @gallowsofficial show ever" Wade later said on Twitter. It's hard to argue with that.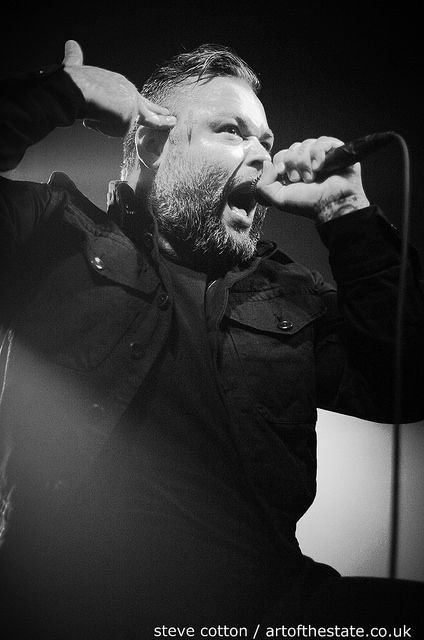 Wade from Gallows making a point to the lyric "bullet in the head"
Gallows, a full throated and committed performance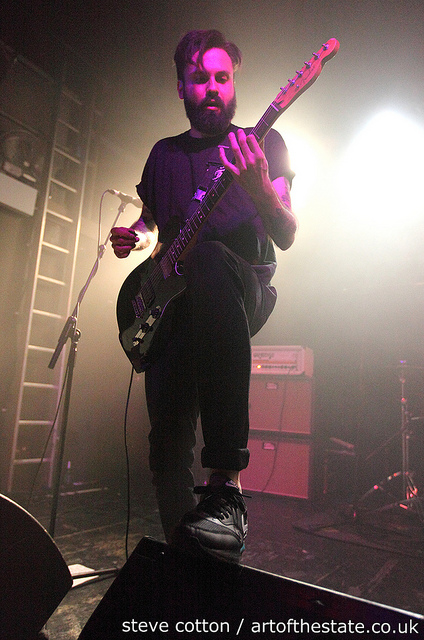 Gallows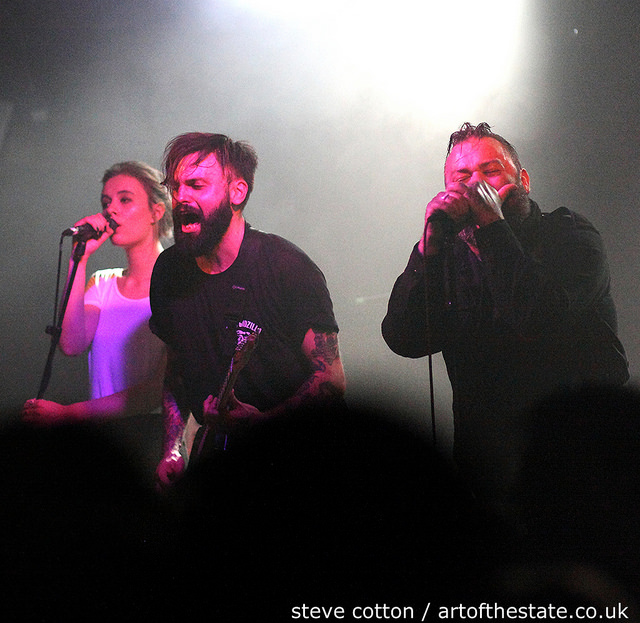 Helena from Dios Mio joins Gallows on the stage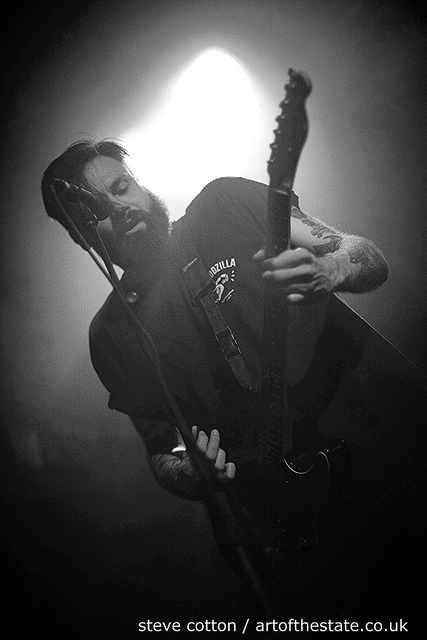 Gallows