ANTI PASTI, CHRON GEN, THE DEFECTS, INFA RIOT at The Flag, Watford
ANTI PASTI, CHRON GEN, THE DEFECTS, INFA RIOT Saturday 19th September 2015 at The Flag, Watford
You know it's hard enough trying to decide the order these four bands appear in the headline above let alone choosing the running times for this gig. They're all capable of headlining on their own. So I went with alphabetical (a cop out I know) while the organisers of this 'Best Of UK82' show opted for the tried and tested 'names out of a hat' method of choosing the batting order.
It seems far too early when Belfast's The Defects hit the stage. In essence there are no support bands and we're straight into a bunch of classics off their 1981 Defective Breakdown album. Their debut contains more than its fair share of anthems – check 'We Don't Care', '20th Century', "Metal Walls' and, well, basically the rest of the whole damn record. More recent work sounds just as good and they really get the crowd going during 'Brutality' with its fist pumping chorus of 'SS RUC'. Brilliant start to the evening but over too soon.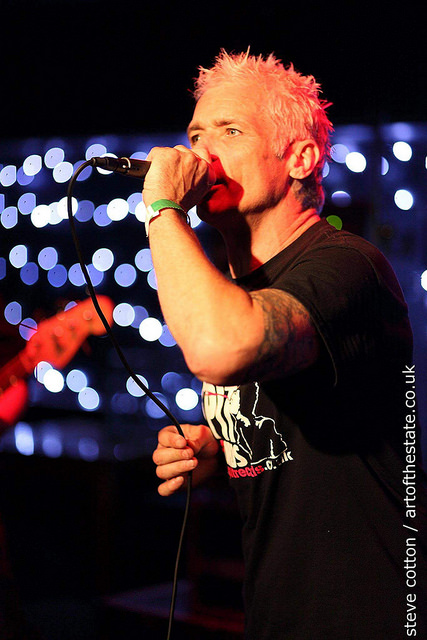 The Defects
Taking second slot are Anti Pasti. Like all the bands on the bill tonight they really hit their stride with their debut album (The Last Call) then struggled with direction for their follow up releases in the eighties. So its unsurprising that old favourites from their early career provide the backbone to their set but everything sounds so different. Reason being is that original singer Martin Roper has left the band and replacement Gez has much more of a bark. It's a little weird at first but after a while I get used to him and start really enjoying both their new material (the set list includes no less than eight new numbers) alongside well known classics including 'Call The Army I'm Alive', 'Another Dead Soldier' and the inevitable but very welcome 'No Government'. Yes, Anti Pasti are a different beast now but its good to see a 30 plus year old band not content to rest on just the old standards and trying out something new.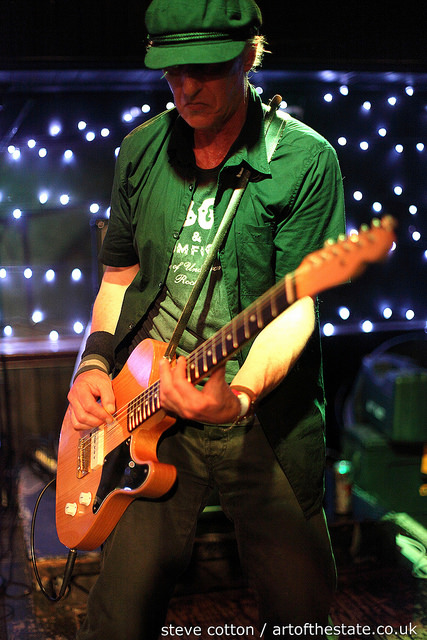 Anti Pasti
Infa Riot's run of singles and an LP on Secret back in the 80's were some of the defining moments of the UK82 era. By their second album on Panache, however, they'd dropped the 'Riot' and become the Infa's with a mellower sound. Since reforming in 2011 they've stuck to their original harder sound, tonight opening with their excellent cover of the Girlschool classic 'Emergency'. Running through a slew of classics including 'Power', 'Riot Riot', 'Still Out Of Order' and 'The Winner' singer Lee Wilson was on form chatting with the crowd and putting all of his energy into every line.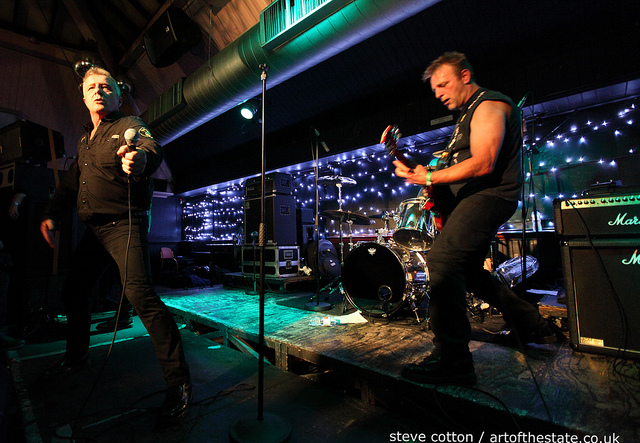 Infa Riot
Last up were Chron Gen, one of the more melodic outfits of the time and the only one who still play songs off their later eighties output.  You can maybe tell that Glynn Barber is also used to performing solo – somehow referring to the crowd as 'ladies and gentlemen' seems a little over polite for this evening – but in this incarnation the band really connect all the same. The flange filled intro to 'Puppets Of War' builds magnificently and the thoughtful anthem 'Outlaw' sounds fresh and heartfelt even after 30 years. The band also play 'Pretend' from their follow up 'Nowhere to Run" LP. It's a beautiful song full of care for someone where love just doesn't work anymore if it ever did. Amazing to think this was just one full length record away from the rather more basic 'You Make Me Spew'. Chron Gen evolved quickly and all they produced had its merit in its own way. Tonight they pick the best out of all of this from 'Behind Closed Doors' to their own version of 'Jet Boy Jet Girl'.  The fact that three decades have passed since these bands first arrived seems impossible. We're all older yes, but surely this was never meant to work outside of its time zone? And yet it does. Organisers Watford Punk Collective pulled off a real coup tonight, one that will live long in the memory in both the audience and the bands minds alike.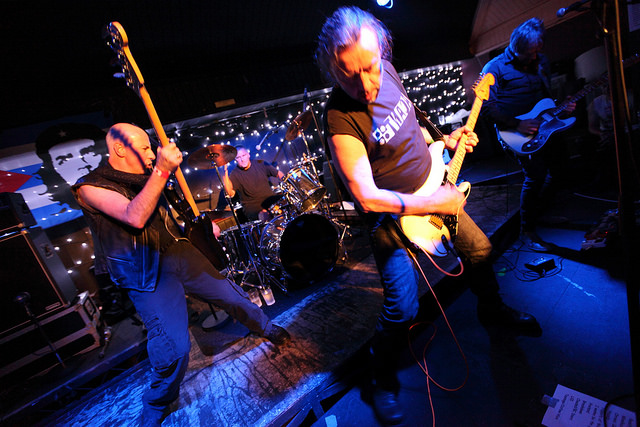 Chron Gen