THE EXPLOITED / DISCHARGE / THE DEFECTS at the Forum, London
THE EXPLOITED / DISCHARGE / THE DEFECTS Saturday October 24th at the Forum, London
First off apologies to In Evil Hour and Paranoid Visions – I wanted to see both bands but sometimes life just doesn't work out that way. Some other time and soon I hope. So this review is of just three of the groups on the bill – all heavyweights of eighties punk – the Top Of The Pops performing, early eighties punk defining 'Punks Not Dead' Exploited, a resurgent and re-energised Discharge and those loveable Belfast rogues The Defects.
Arriving at the venue is like being transported back in time to those multi band punk shenanigans at London's Lyceum Ballroom before it opted to stage The Lion King. There's a higher leather, bristles studs and mohican count tonight compared to your average London gig and they're all here to see some proper UK82 stalwarts. Lowest on the bill of the three are Northern Ireland's original spiky tops The Defects. Fronted by the charismatic and affable Buck Defect their set is littered with a surprising amount of melodic and danceable anthems. Recent offerings such as 'Hill Street' sidle up nicely to older outpourings such as 'Metal Walls'. For a band with such a small back catalogue they have a hell of a lot of memorable songs including their title track off their debut LP 'Defective Breakdown'. Entertaining throughout, a fine set under their belts they make way for the next act, a relentless onslaught of noise in comparison.
Discharge split opinion at the time with their 'noise not music' mantra but the subsequent decades have shown that their original output has gone down as genre defining, spawning countless hard edged, boundary pushing bands over the years from the thrash metal scene to grind core. This is the first time I've seen them since Wasted Life's ex Jeff Janiak took over from Rat (The Varukers) on vocal duties and its immediately apparent he's a tailor made frontman for the band. Constantly pacing, jumping and prowling around the stage with an urgent vocal style he is the perfect compliment to an upgraded front of house line up which sees original members Tezz, Rainy and Bones reunited once more. The sound is deafening as it should be. Down the front its a physical presence, an incessant drone, like 50 Lancasters flying overhead on a night raid. Anything Discharge have lost in movement they've more than made up for in their now colossal sound. From opener 'Hear Nothing, See Nothing, Say Nothing' its a sledgehammer of a set all the way through to the piledriver that is 'Decontrol'. Wattie and his cohorts have a tough act to follow.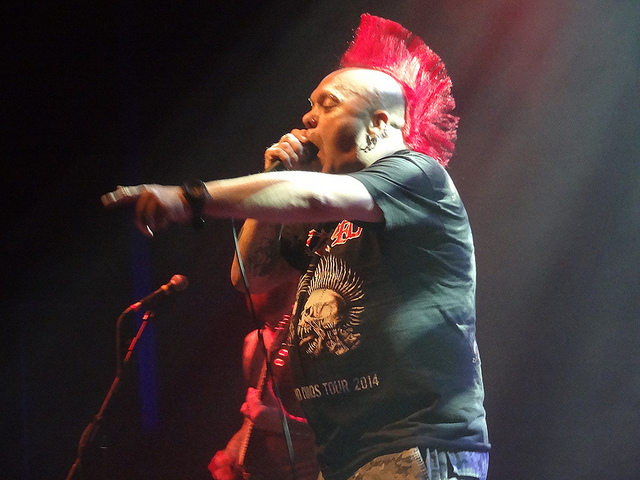 Wattie laying in to Henry Rollins
'Lets Start A War' kicks things off with real snarling intent and it soon becomes clear that recent more metallic offerings are taking a back seat tonight as a real crop of eighties punk classics are on the menu. Era defining 'UK82' always sounds urgent and fresh, whilst 'Army Life' takes proceedings right back to the very beginning of the bands career. Wattie keeps his feuds alive by dedicating 'Fuck The USA' to Jello Biafra, Henry Rollins and Green Day' before tempering that statement with a comment that it's just his "personal opinion". The rest of his band are having fun regardless, playing up to the singers accusation that they're too metal by riffing the opening bars of Slayer's 'Reign In Blood' and Aerosmith's 'Walk This Way'. Yes there is plenty of metal flair but 'Fuck The System' and 'Beat The Bastards' are essentially a punk "fuck you" at heart. The Exploited divide opinions but for fans there was much to enjoy tonight, a menace laden 'Troops Of Tomorrow', the inevitable 'Dead Cities', 'Punks Not Dead' and 'Dogs Of War' and the traditional 'Sex and Violence' singalong on stage. Surprisingly it's set closer 'Was It Me', a song I was previously unfamiliar with, that leaves the biggest impression. Impassioned, bleak and displaying a rare glimpse of thoughtfulness and introspection its an unusual exit leaving a haunting feeling hanging over the venue as the band leave the stage.