KILLING JOKE, at the Academy, Oxford
KILLING JOKE Friday October 30th at the Academy, Oxford
Been a while since I've made the journey over to Oxford for a gig. It seems further than it actually is so when I saw this late addition to Killing Joke's tour schedule I decided to take the plunge and rekindle my acquaintance with the city and catch the industrial music pioneers in a smaller venue than London's cavernous Roundhouse.
So on the plus side tonight's venus is that more intimate gig but there are, for me, two big problems – the lighting and the sound. The band have pretty much zero front of house lighting so appear largely as silhouettes for much of the gig. Yes I get that this might be deliberate but it would have been nice to be able to see singer Jaz's facial expression from time to time. And then there's the sound. Maybe it was where I was standing but it was so, so bass heavy and muffled making it hard to pick out much in the way of detail. So already this wasn't going to be an absolute classic night.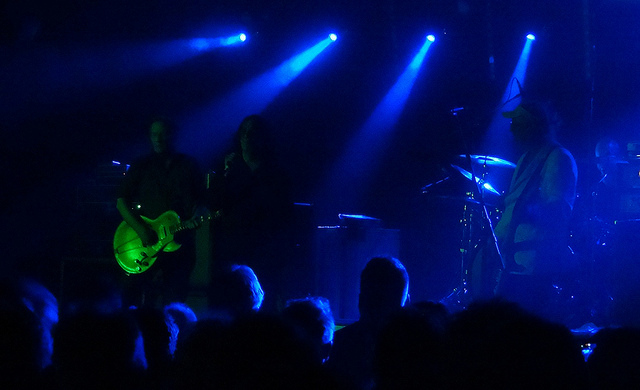 This is Killing Joke but based on the lighting you might just have to take my word for that….
With that out of the way it's time for to say what was right.
First off the material off their new LP 'Pylon' is fantastic. It's an album chock full of power and hard hitting lyrics and it works brilliantly live. Set favourite for me was 'New Cold War' with its simple and memorable hook but all the new songs slotted into the set effortlessly with not a duffer amongst them. And there was time for the old favourites too, the band kicking off with 'The Wait', then running through the classics – an atmospheric 'Requiem', a mechanical barking 'Eighties', a savage 'Pssyche" and their crossover masterpiece 'Love Like Blood'. They build 'The Beautiful Dead' patiently, tip toeing through the beginning before Big Paul's drums come crashing in. It's something else to see this classic line up smashing it out of the park, they're all here – Geordie, Youth, Big Paul and Jaz. So lighting and sound aside there's more than enough on show to make my trip to the city of dreaming spires a worthwhile visit, –  especially as I managed to get a copy of the new album signed by all the band. Chuffed with that and with a 10pm finish I was back home on the sofa by 11pm – unheard of before tonight!