PETER AND THE TEST TUBE BABIES / SKURVI / LAUNCH CONTROL / SECOND IN LINE at the Queens Arms, Reading
PETER AND THE TEST TUBE BABIES / SKURVI / LAUNCH CONTROL / SECOND IN LINE on Friday January 22nd at the Queens Arms, Reading
Something of the old and new sharing the stage tonight. Not that openers Second in Line are that new (they've got a good decade under their belts) but with the headliners Peter and The Test Tube Babies approaching 40 years now they do seem pretty recent in comparison. Second In Line are well rehearsed, the tight changes in 'Triple Threat' just wouldn't work without the band being a cohesive unit. Regular set inclusions 'Joanie Loves Chachi' and 'John Candy Is Dead' are catchy, memorable and fun. Their final song sees them go down to one guitar as guitarist/vocalist Gareth leaves his instrument behind to run through a spirited cover of the Descendents 'Hope'. Yeah, that's the ticket.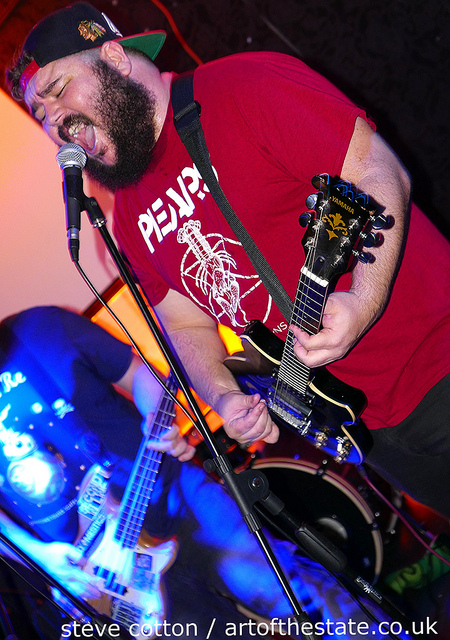 Second In Line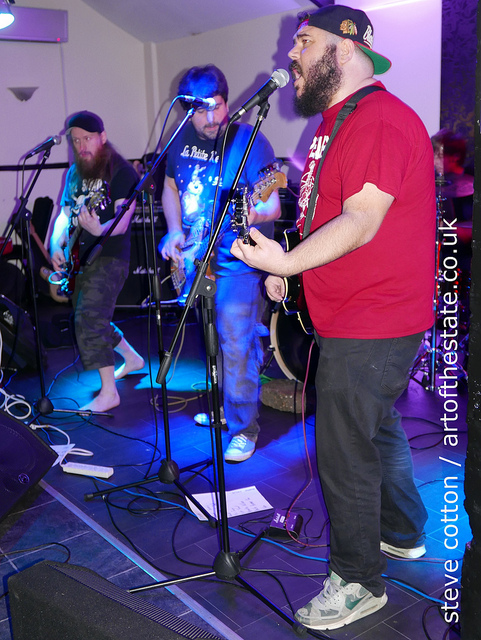 Second In Line
Launch Control are new to me. I wouldn't have known otherwise but I'm reliably informed that Mark Deans from Tindall is sitting behind the kit tonight instead of their regular drummer. A great job he does too, kicking things along nicely on up tempo US punk tinged songs such as 'Moving Targets'. Later on they drag Tindall's singer on stage with them too. Somewhat reluctant at first he's soon joining in and the band kick on, little leaps here and there and a first rate entertaining set all round.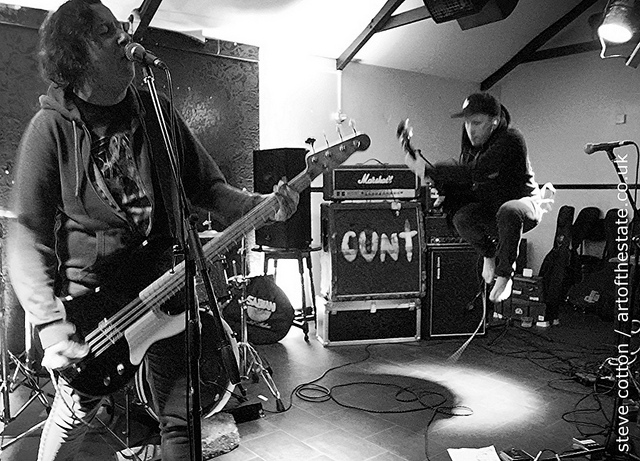 Launch Control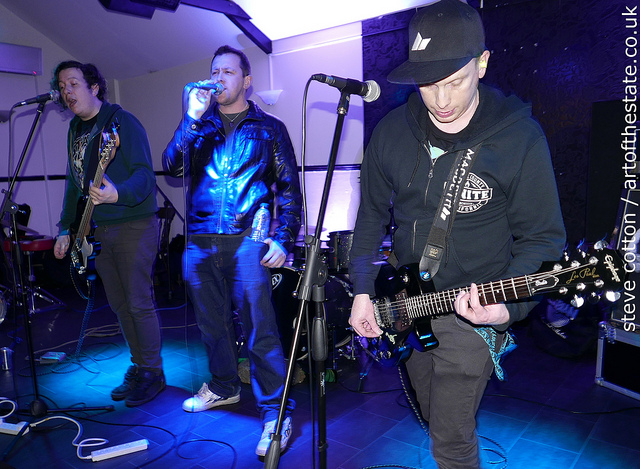 Launch Control with added Tindall
Skurvi hail from Brighton and play a more basic form of punk rock. With songs about drinking and worse they share a lot more than just their home town with Peter and The Test Tube Babies. Singer Jimmy is a great front man, engaging the crowd with a bit of banter and getting them to join in on plenty of "Woooooh ooooohh's". Drummer Craig was the star of the show for me though, man he hit that kit hard! They really connect with the crowd but then their song 'Three Cheers For Alcohol" is a real singalong, raise your glasses tune. With some more variety on offer with the slower paced 'Her' I find myself out in the bar trying to find a CD to buy. Trouble is they've recently sold out so I've had to make do with bandcamp until their album comes out around March.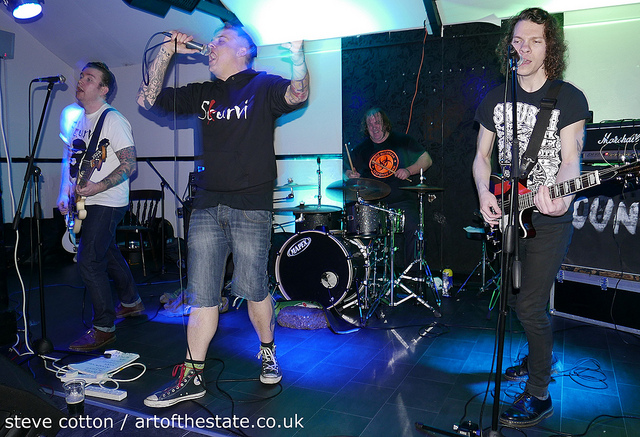 Skurvi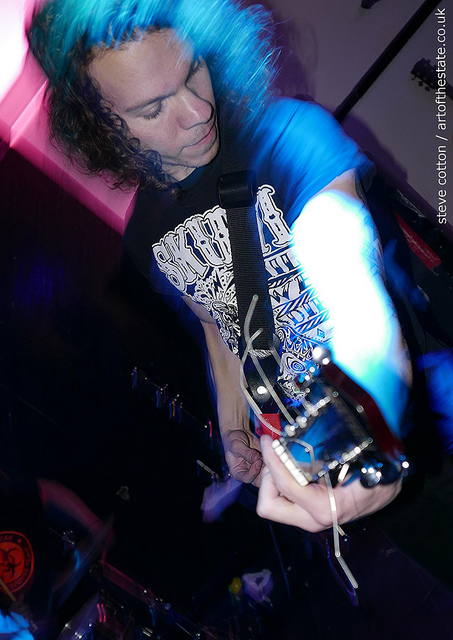 Skurvi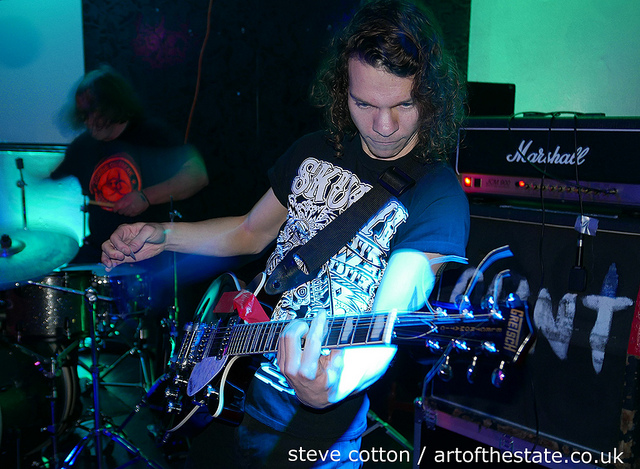 This is probably the smallest venue and the smallest crowd I've ever seen Peter and The Test Tube Babies play for. It's had something of a mates gig feel about it all night and as the band take to the stage I think it becomes obvious that maybe someone has enjoyed a little too much hospitality. Peter's OK, he's been busy all evening hustling on the pool table. Bassist H is just fine, debutant drummer Sam surely has too much to remember to get drunk but guitarist Derek is…pissed if not exactly proud. Some songs get their longest ever versions as no one seems to know where to end them while others misfire and go slightly out of time but as things go on everything starts to improve. When drinks are brought out from the bar during the bands set a plea of 'for Gods sake don't give him any more' is heeded. "Banned From The Pubs' sees one of the band quip "someone here should be" before they launch into a frenzied version. OK, so it wasn't the best time I've ever seen the band by a long way. I very much doubt tonight will be released as a live album anytime soon but one thing would have made the whole thing worthwhile on its own. The band included 'Peacehaven Wild Kids ' in their set for the first time in over twenty years. Love that song. Don't care that they did no encores (probably for the best tonight anyway!) – I left with the biggest grin  on my face.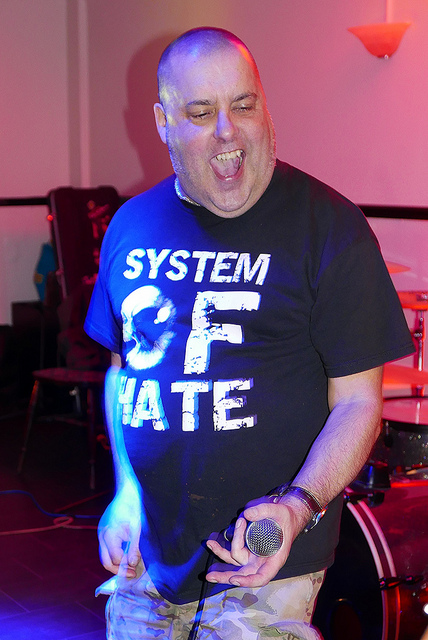 Peter Test Tube, try getting him off a pool table.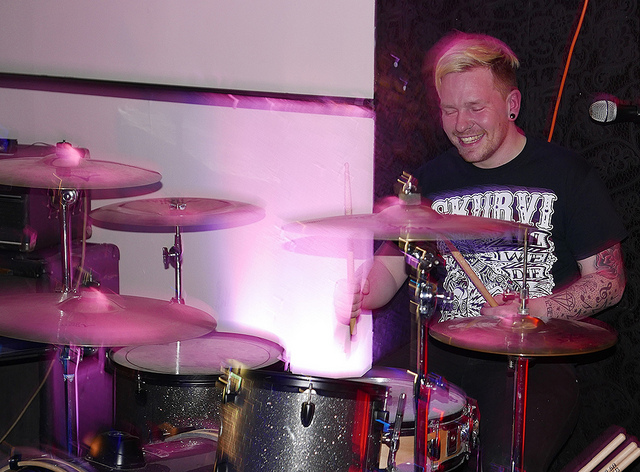 Test Tube Babies new drummer Sam