THE STRANGLERS / THE ALARM at the Hexagon, Reading
THE STRANGLERS / THE ALARM Tuesday 15th March 2016 at the Hexagon, Reading
Welsh rockers The Alarm inspire pure devotion from their fans but for others, myself included, they remain just another U2'ish reasonably successful act from the mid eighties. So without their addition to the bill tonight it's very unlikely I'd be seeing them as for me they are very much on my list of 'also rans'. That's a bit unfair on them though, they had some real standout songs that display a great sense of craft, grit and harmony. The only original member, singer and guitarist Mike Peters is funny, engaging and humble. His impassioned speech for his charity Love Hope Strength Foundation  borne out of his personal experiences perfectly hits the spot as do his recollections of seeing the Stranglers in Wales 'back in the day'. Tracks on offer alternate between acoustic and hard(ish) rock with the most anthemic songs in the form of '68 Guns' and the 'The Spirit of 76' really connecting with the crowd.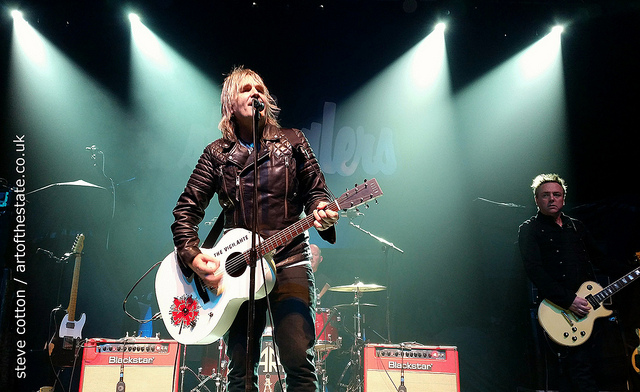 The Alarm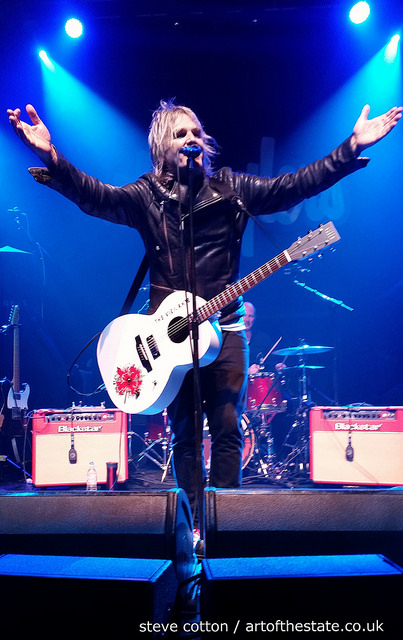 Mike Peters, The Alarm
Originally released in 1978 'Black and White' is the Stranglers choice of album to play in full on this tour. Their third, it met with a varied and at times lacklustre reception when it came out. To me though it's probably my favourite. With it's monochrome image of the four members striking poses on the cover and it's decidedly more experimental style it was the most eclectic of the early trio of work. Tonight the band and their entire back line appear in stark black and white themselves. Their amps are white, singer Baz Warne's shoes are white, even the microphone leads are blindingly white. The band, the aforementioned Baz, original bassist JJ Burnel and keyboard player Dave Greenfield along with a sadly necessary replacement for Jet Black on drums are, of course, dressed almost entirely in black.
'Tank' is a great opener, instantly getting the sprung floor at the Hexagon bouncing with rather pleased fifty somethings enjoying the chance to watch songs they are word perfect with appear all in order. It's an incredibly solid album with only a couple of awkward numbers (the rather plodding 'Outside Tokyo' and the distinctly odd 'Threatened'). That's being picky though with a menace laden 'In The Shadows', the swirling intro to 'Toiler On The Sea', the end of days broadcast like qualities of 'Curfew'…I could go on but suffice to say everything is played with an energy that defies their years.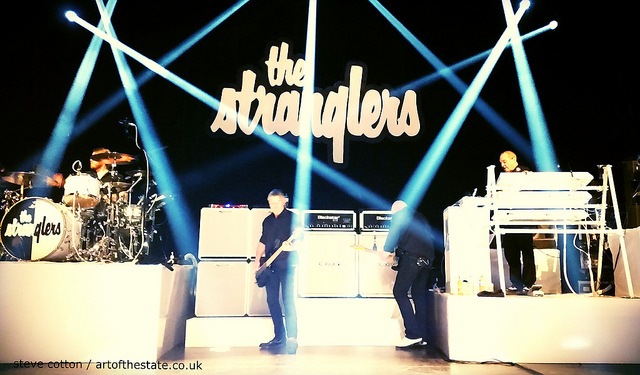 The Stranglers Black and White tour
Once 'Black and White' is done there's enough time for a few more recent offerings. 'Norfolk Coast' sounds amazing, a truly great Stranglers song in any era and one that proved they can still produce material that's up there with their best. The floor really gets bouncing again when they up the malice with '5 Minutes', a few more later and with a opening shout of 'Boogie' they finally leave the stage for the night with 'Go Buddy Go' and 'No More Heroes'.   Those fifty somethings (and some a lot younger!) leave the venue looking rather pleased. The Stranglers are on fine form, long may it continue.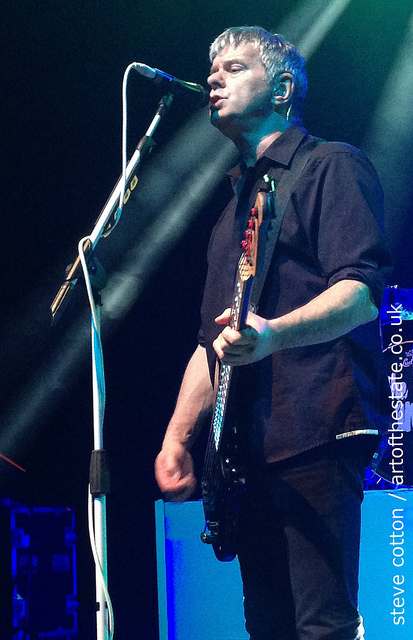 JJ Burnel, The Stranglers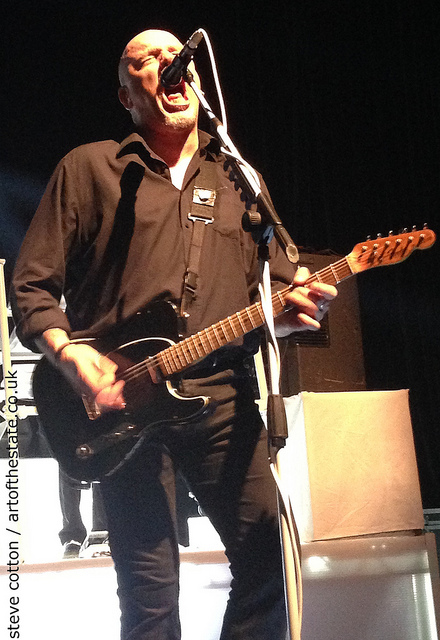 Baz Warne, The Stranglers