WOLF ALICE / PRETTY VICIOUS / ABATTOIR BLUES, The Forum, London
WOLF ALICE / PRETTY VICIOUS / ABATTOIR BLUES, Monday 28th March 2016 at The Forum, London
It's been a long time coming but when Wolf Alice announced they were playing on home territory again in North London a night at The Forum seemed like a big deal. It sold out straight away, another night was added, then another before the final tally was taken up to four. They could have done more. They seemed genuinely shocked but promised us a glittering night out.
With different supports each night my ticket got me Abattoir Blues and Pretty Vicious. Hailing from Brighton and seemingly named after a Nick Cave Album Abattoir Blues kick up a thunderous grungy juggernaut of sound occasionally bursting into full on rocking out mode for a few seconds at a time. Only trouble is when they stop I can't understand a word the singer says as he fails to engage eye contact with the crowd or  speak directly into the microphone.
Abattoir Blues
No such issues for Pretty Vicious. Confident and determined in equal measure they arrive on stage with a swagger, all rock n roll and skinny jeans. They know how to kick up a storm and immediately get right down to a bunch of upbeat, sometimes thrashy, always rocky numbers. A look down the front of the Forum show they have bought their own fans along too and there's a decent amount of lively dancing right in front of the stage. Expect to hear more from this outfit.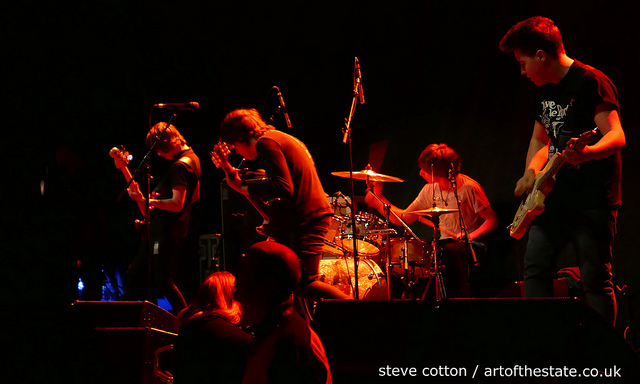 Pretty Vicious
The slow but steady 'Your Loves Whore' has the whole crowd singing along with Wolf Alice right from the start. Over on the right the familiar sight of blonde topped bassist Theo Ellis is missing due to illness. Genghar's John Victor steps into his shoes and delivers an admirable performance. In fact at several times I find myself transfixed by his rocking on his heels dance moves as he traverse's the stage like he's alway been in the band. Behind them lights twinkle like the embers from falling fireworks whilst the band work through song after song off their debut album 'My Love is Cool'- and that's another amazing thing – the band have only released one album to get this far. It's an incredible piece of work containing the Radioheadesque 'You're A Germ', the sparkly 'Bros' and tonights momentous set closer 'Giant Peach'. Kicking off with it's side stepping dance routine involving a member of the audience plucked out to appear on the stage and climaxing with an explosion of glitter blasted out all over the venue at the end the band left the stage looking pleased but relaxed. One more night left to go their fan base continues to build. But please, no stadium tours, not just yet. Lets enjoy this while we can.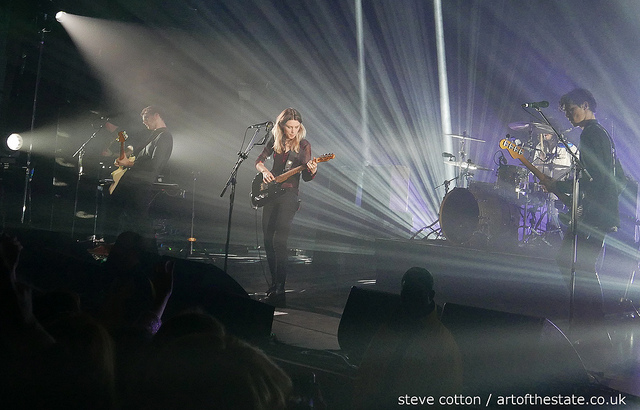 Wolf Alice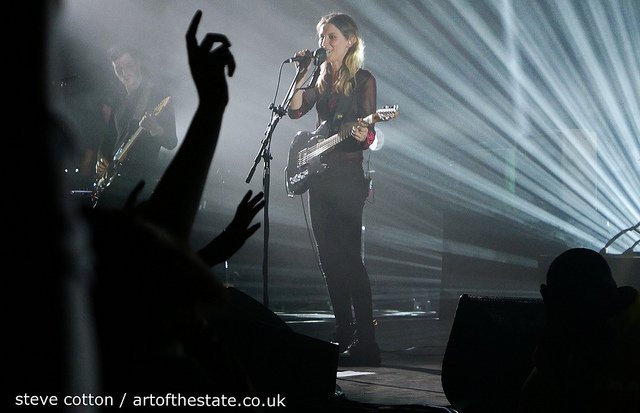 Ellie, Wolf Alice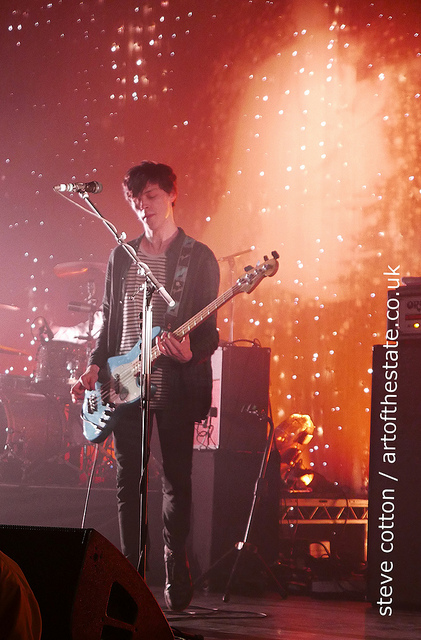 John Victor stepping into the the shoes of Theo Eliis for Wolf Alice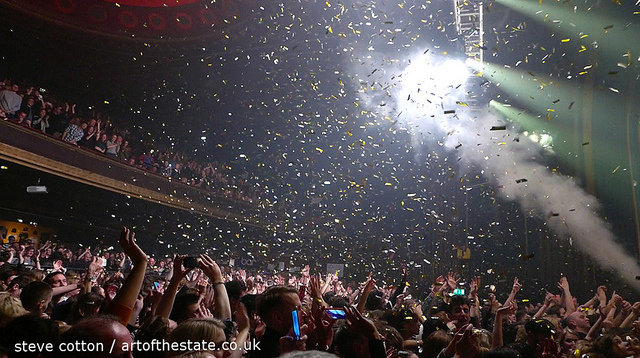 A glittering end