BOUNCING SOULS / PEARS at Stereo, Glasgow
BOUNCING SOULS / PEARS Wednesday 3rd August 2016 at Stereo Glasgow
Pears (the band at Stereo, Glasgow)
Work took me to Glasgow for the week. A quick perusal of the listings revealed only one remotely punk gig on during my time there – the tuneful sounds of Bouncing Souls juxtaposed against the hardcore of Pears and so I headed underground into Stereo's basement straight after the days work was done.
Pears are running on 100% from the very first chord. Gesticulating wildly, racing round the place vocalist Zach Quinn is engaging despite me not really getting a word he is singing. Maybe that's the fault of the sound which is a bit off as they cavort and career around their set and the stage. I really liked these, wish I could've seen them somewhere else on their UK tour.
Right from the first note Bouncing Souls sound is bang on. Louder, clearer and more melodic they are really the band 90% of the crowd have come to see. But I just don't get them. Too many 'wooh's" in their songs, too little aggression I feel like I'm in a very small minority as just about everyone is absolutely loving them. Down the front are the die hard fans with signed Bouncing Souls shirts from years ago having the time of their lives singing along to every word. It's clear the lyrics mean a lot to many in the crowd but I just don't get it. It's all too nice as the singer shimmies one way and the other and holds his mic like a crooner in a bar. Sorry, but not for me.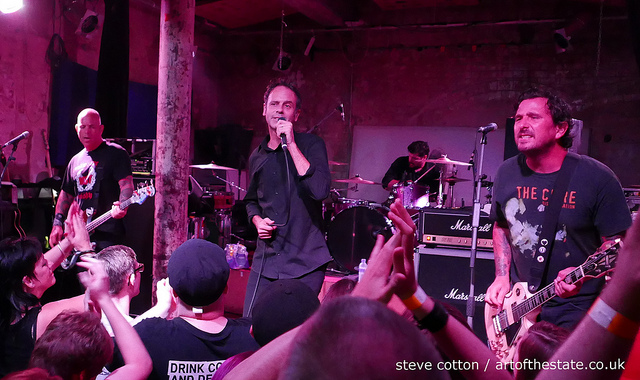 Bouncing Souls – at Stereo, Glasgow
On the way out the singer from Pears is sitting by the stairs, just passing the time and chatting to people as they leave. I love that, great non pretentious stuff. Don't ever lose it Pears.