TRESPASS 2 – CONFLICT, THE RESTARTS, SHOT!
TRESPASS 2 – CONFLICT, THE RESTARTS, SHOT! Saturday 17th September 2016, Thames Beach, Central London
There's a moment, down on the beach, watching SHOT! when it sinks in – this is actually happening, right here, right now. This gig had been looming large on the horizon for a long, long time standing head and shoulders above a bunch of great but not so challenging events. Trespass 2 had all the ingredients, an amazing location, a point to make, a DIY attitude and a trio of great bands.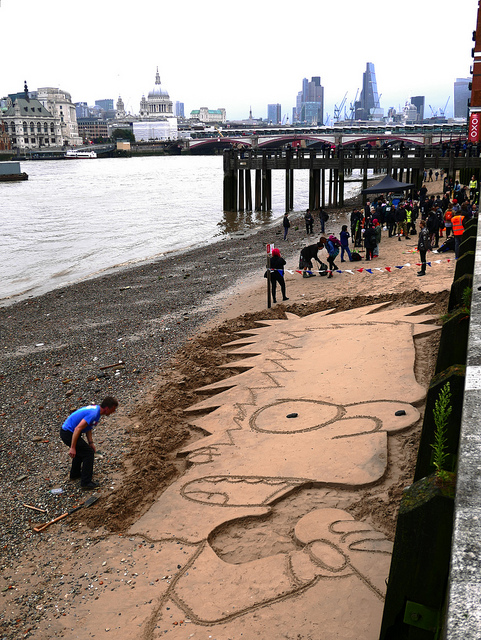 Trespass 2 – the start of occupying a location right in the heart of London
The event flyer didn't actually disclose the location, you had to get this on the day but there are very limited options in reality and that is kind of the point. Public space, truly public space is hard to find on the South Bank of the Thames or anywhere in central London. Whilst wide pavements and parks give the appearance of being open and free you are essentially there with the permission of the land owner – and that permission can be withdrawn at any time for any reason. Noise, such as that from a band playing, is seen as a disturbance and not as an essential part of people living in a city. It's happening all across London right now – venues being shut down due to noise complaints from new housing built nearby, once public spaces being redeveloped at a cost of the loss of access. Then there's the Garden Bridge, an un-needed £185m vanity project which has spent £40m without a single brick being laid. The protest against this is gathering momentum and was explained in a speech by Thames Central Open Spaces during the gig –  receiving widespread support on the night.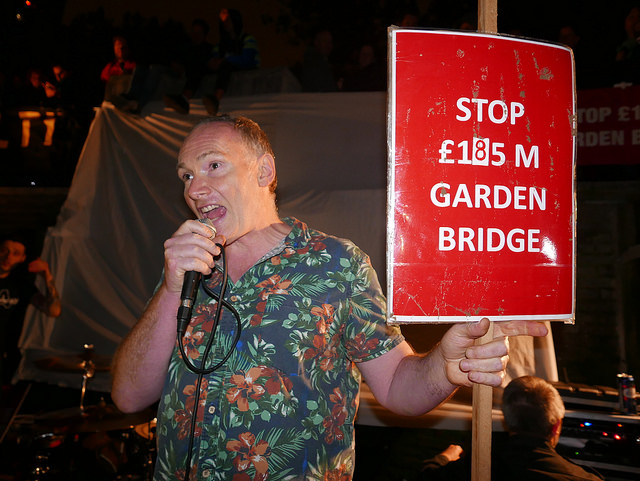 TCOS explaining their opposition to the Garden Bridge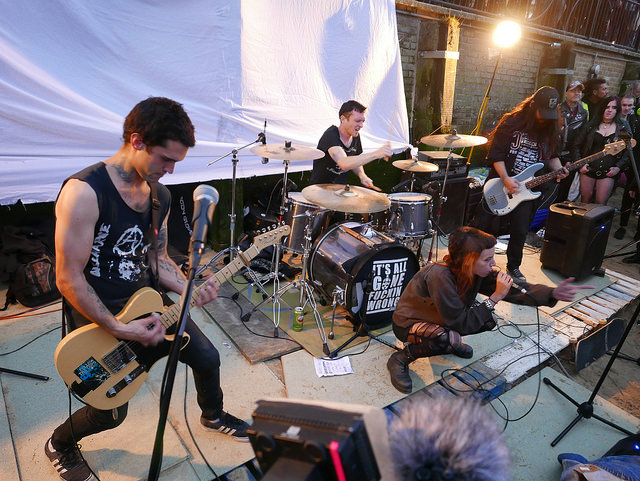 Shot! at Trespass 2
Shot! kicking things off with everything turned up to 10 from the start.
Setting up a gig like takes a lot of effort, hats off to the organisers and Mark Thomas again. Getting a bunch of equipment and bands on and off a stretch of sand that is only available for a few hours a day takes some doing at the best of times let alone when you have to field questions from building owners and the public alike. So it's just amazing when the gig starts roughly on time with the excellent SHOT! The London based band don't pull any punches heading straight into full on protest punk mode but they have enough variation in their set to engage with the general populace watching from a 'safe' distance above. 'Gotta Die' from their recently released Masquerade of Wolves EP is a stand out but everything in their short but solid set connects.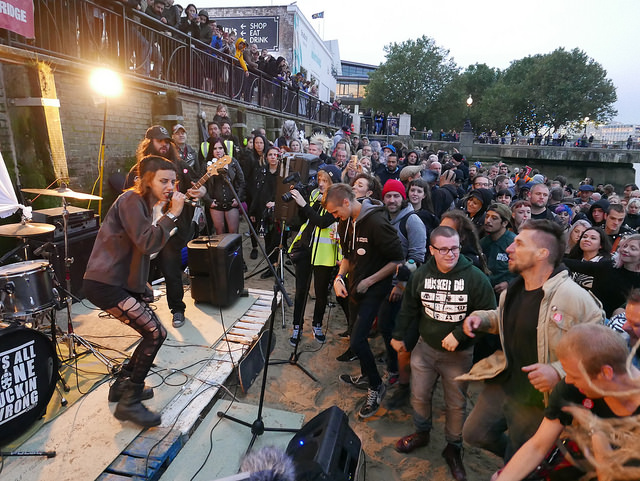 The Restarts share a drummer with SHOT! so there's little time needed between the bands. Guitarist and vocalist Kieran uses the platform to address not just the large crowd of punks in front of him but the wider crowd above – "come on down, we don't bite"! Most people have a pretty negative view of punk if they have one at all so it must have been something of a surprise to hear the band espouse their progressive and welcoming agenda. They play a set full of classics – 'Frustration', 'Outsider' and the skanking 'Drone Attack' before revealing their surprise for the night. They're joined by Blaine from the Accused (who happens to be in town and wanted to attend the gig) for a blistering version of that bands 'Slow Death' track. It's all going nuts down the front by now but there's a real fun spirit and dancing and falling over in the sand isn't exactly going to hurt anyone.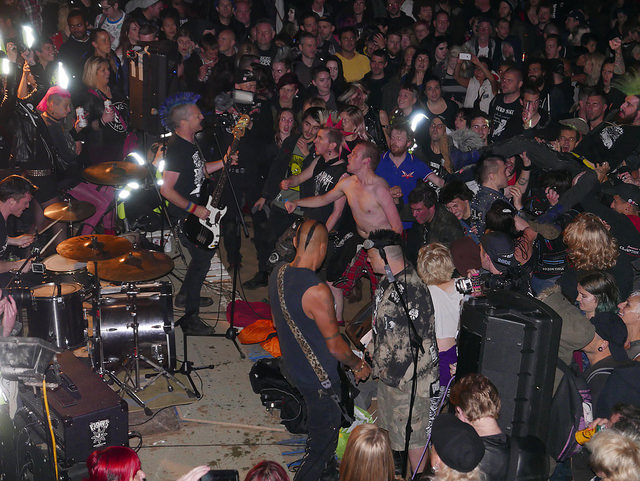 The Restarts at Trespass 2
Finally Conflict take to the stage (well, pallet boards to be precise) and just for tonight they have a different line up. Of course Colin and Jeannie are on vocals, Paul is on bass but Grand Collapse provide the drummer (Glenn Danzig) and Blatoidea's Manu is on guitar. They both do a great job and it's clear the band are relishing this type of gig. I've seen them several times recently but this one is more special. DIY, in your face, actually by the simple act of turning up and playing making a protest they seem fully energised and engaged. It's a cut down set (the tides on its way) but we get a bunch of classics from throughout their albums, 'Mighty and Superior' sounds immense and the 'Ungovernable Force' has the beach going wild. Suddenly it's all over and there's a scramble to tidy everything up and clear the beach before the waves reclaim it for themselves.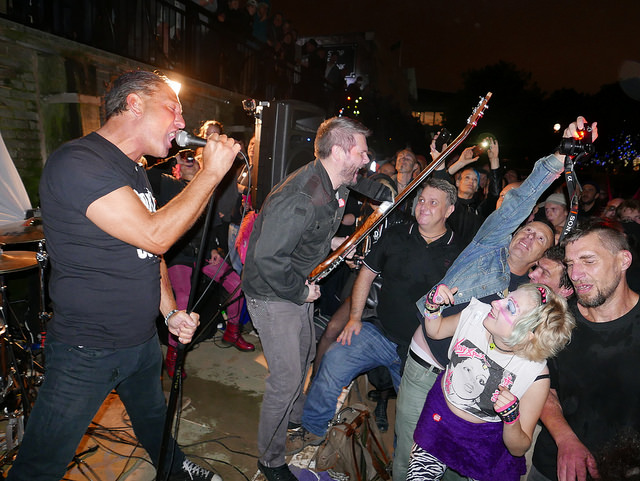 Conflict at Trespass 2
Manu from Blatoidea with Conflict
The question at the end of this amazing night was did the gig achieve it's aims? The answer? An emphatic 'yes'. It worked brilliantly as a way of communicating everything that is wrong with the Garden Bridge, it got everyone to stand together and allowed for communication to an audience wider than the London punk scene. For me it was one of those reaffirming gigs – there is still a point to all this punk rock stuff in 2016. It wasn't about just trying to blow on old embers to get a bit of warmth, this music, these ideas are all still relevant, still kicking out, still about the people not the profit. Colin from Conflict summed it up nicely in his post: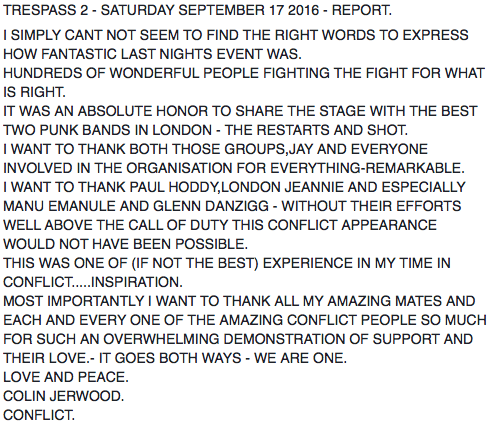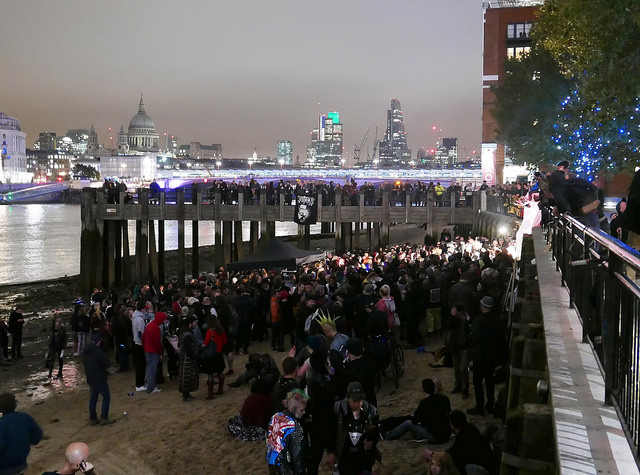 Conflict on the beach at Trespass 2
With thanks to the bands, DSI studios and the Trespass Crew, Sound solutions, Punk Ethics, Mark Thomas and every other beautiful person involved in setting this up.