RIPCORD / ENDLESS GRINNING SKULLS / VIOLENT ARREST – Basement 45, Bristol
RIPCORD / ENDLESS GRINNING SKULLS / VIOLENT ARREST  – Saturday October 15th 2016 at Basement 45, Bristol
It's 28 years since Ripcord exited the UK hardcore scene after a brace of fast paced and angry 'West Coast Thrash' albums – just to be clear that's 'West Coast' in terms of Weston Super Mare and not the USA. Like many bands of their time their legendary status has only been enhanced in the following years and unsurprisingly this one off reunion show to celebrate guitarist Baz Ballam's 50th birthday took a reported six minutes flat to sell out (somewhat longer than it would take the band to go through three of their songs).
The venue is Bristol's Basement 45, and as the name suggests its an underground cellar. With a capacity of 150 people spread over several rooms there's really only one room anyone wants to be in. You don't go to a gig like this to stand in the adjacent bar and it's already filling up in the curved tunnel like space. Violent Arrest take to the floor first – playing on the same level as the crowd – and kick off with a bunch of aggressive, fast paced short thrashers. John (drums) and Baz (guitar) from Ripcord are part of this band but don't hold back (impressive seeing as they have another longer set to come later). Welly (from Artcore zine) fronts the whole thing up and they really get things off to a flying start. Great stuff.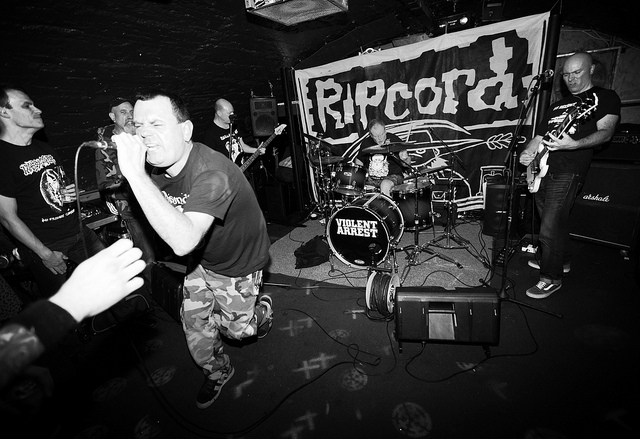 Violent Arrest
Endless Grinning Skulls kick up a thunderous sound and with them playing with just a foot or so to spare between them and the crowd this feels like a proper old school packed hardcore gig. The air is thick with heavy riffs, rock solid drumming and not a little chaos down the front. Their self titled closer is a firm favourite of mine with Andrew Morgan giving up on the guitar for the final minute and just screaming 'Endless Grinning Skulls' into the mic while the bass and drums keep the tribal beat going.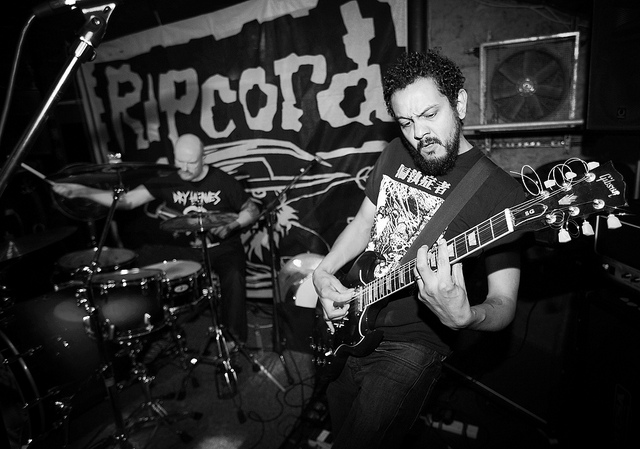 Endless Grinning Skulls
And then it's Ripcord's moment, vocalist Steve Hazzard gives the briefest of introductions and implores us to 'fucking have it' before they launch into their intro followed by the thrash outs that are 'So Strong' and 'Aim To Please'. Cue big smiles all round, they're nailing it, the powers still there. Especially poignant now that the subject of 'Thatchula' is no longer with us. It's pretty much a 'greatest hits' night delivered at a frantic pace with just the head nodding, crowd shoving slower moments of songs like 'Barriers' to give a little respite. By the end of their set the band look a tad knackered but when someone points out drummer John's 'not dead yet' they're off again playing 'Single Ticket To Hell' for a second time. Hats off to them, it really shouldn't be possible to still be doing this stuff properly nearly three decades later but damn they did it justice. One more chance to see them – when they play with Infest in Leeds and then that's it apparently….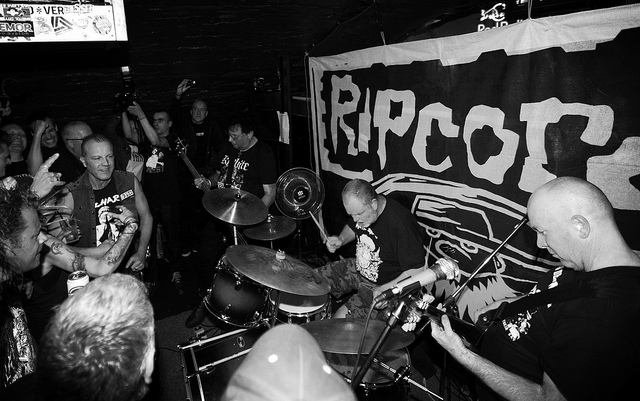 Ripcord at their reunion show in Bristol's Basement 45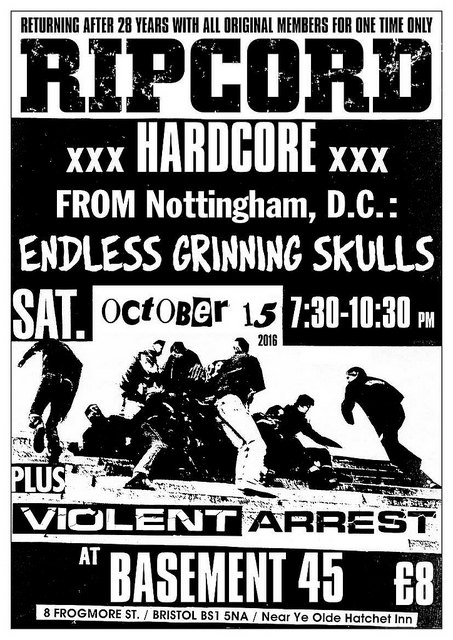 Ripcord reunion gig flyer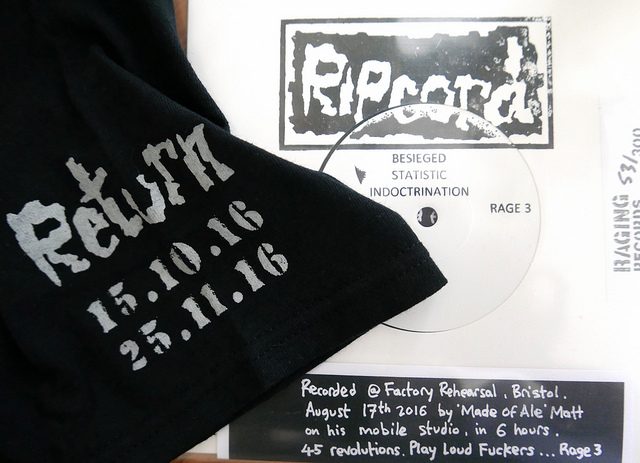 300 pressings of the Ripcord Besieged / Statistic / Indoctrination EP. Really nice piece of lining up there between the sleeve and the vinyl label!