PETER AND THE TEST TUBE BABIES / SKURVI / RAGE DC / TEAR UP / NOBELSCHROTT, New Cross Inn London
PETER AND THE TEST TUBE BABIES / SKURVI / RAGE DC / TEAR UP / NOBELSCHROTT – Friday December 30th 2016 at the New Cross Inn, London
Now something of a tradition Peter and The Test Tube Babies gig at the New Cross Inn in South East London is as good a way as any to see out another year. Five bands for 8 quid isn't a bad deal either especially considering first on the bill, Nobelschrott are from Germany. The all female trio from Berlin dressed tonight like they have mis-timed a halloween show start off a little uncertain but quickly hit their stride. It helps that they are enjoying themselves, plenty of humour means they fit on the bill nicely with a few memorable songs such as 'Girlie Band' with its tongue in cheek lyrics.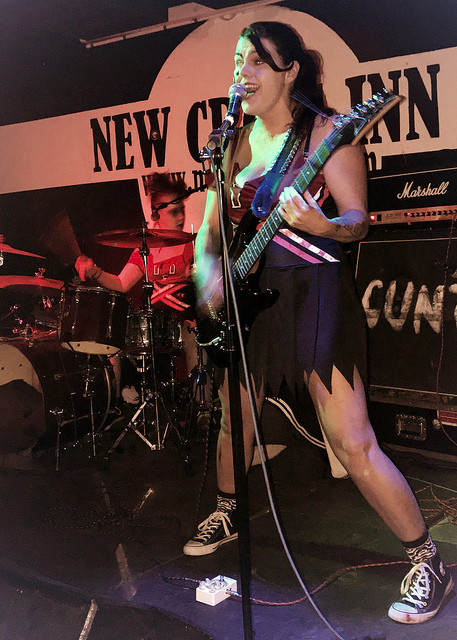 Nobelschrott representing Berlin well.
A lot more direct and obvious Tear Up are like the 30 seconds before a fight kicks off by a kebab van in Millwall. It's all a bit "he's a dirty, snidey cahnt", "lets fuckin' av it" and "go on my son" – so much so that the music kind of passes me by a bit. The targets on ditties like 'smoking ban' are not exactly my priorities either.
Tear Up tearing it up
Hello again to Rage DC – third time I'm seeing them in as many months so not too much to add. They are a little more subdued than their Aldershot performance – maybe as a result of not having as much of a stage to move around on but still turn in a blistering, tight an impactful half hour.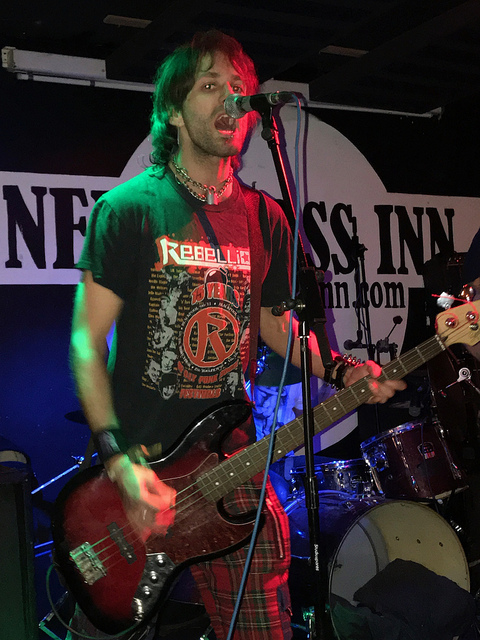 Rage DC (again)!
Skurvi are like the bastard offspring of Peter and The Test Tube Babies – they're from Brighton, sing about booze and tread on the edge of what is acceptable lyric wise but get away with it with a cheeky smile. And boy do they know how to write a chorus. Sadly there's no airing for my personal fave 'Three Cheers (for alcohol)" but it's all good and singer Jimmy delivers a masterclass in getting the crowd onside and singing. A special shout out for the guy on the drums – he really hits those things hard and drives the whole thing from the back. Great stuff.
Skurvi at New Cross Inn
Finally at 10.30 Peter, Derek, H and Scott take to the stage. Last time I saw them was in Reading which was drummer Scott's first gig and something of a drinkathon for some members of the band. As a result it wasn't the best gig I've ever witnessed by them (and I've seen more than a few) but tonight everything is sharp and well rehearsed. They're playing this one straight off the back of a run of gigs in Germany and Brighton and it shows. All the classics are here of course, Up Yer Bum, Banned From The Pubs, Never Made It, Keep Britain Untidy. There's even time for a new one in amongst these gems which sounded decent and upbeat – a new album on the way? Let's hope so. With a little nod to the recently departed George Michael during the opening of Elvis Is Dead and a quite amazing September I'm more than happy. Alcohol – know your limits!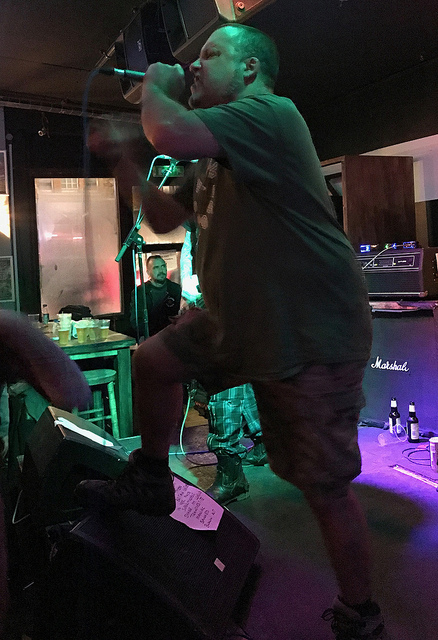 Peter Test Tube – is it me or is he getting slimmer?